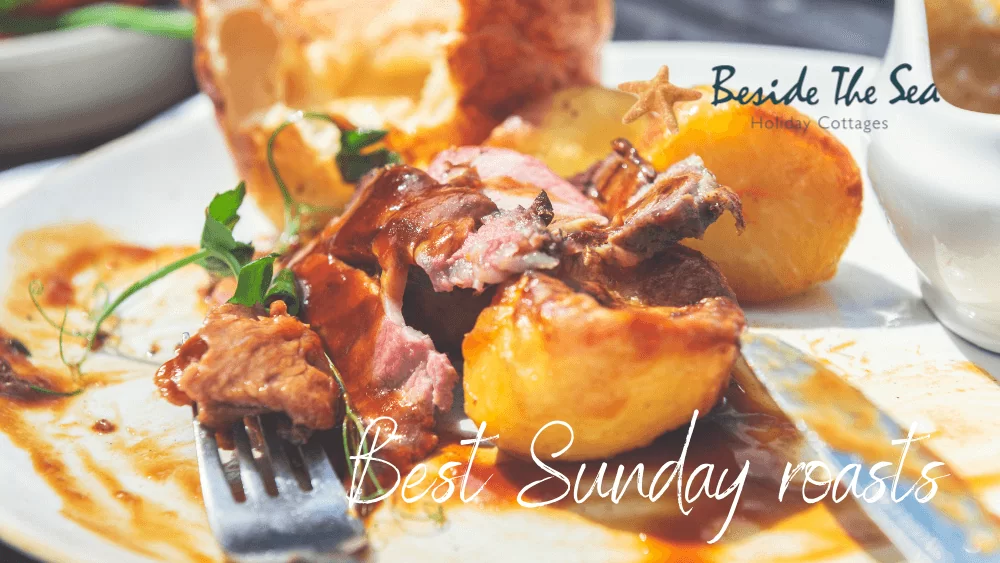 Even in high summer, a traditional roast dinner goes down a treat – especially when someone else is cooking it! There's something about a perfect Yorkshire pud, the flavour-packed gravy and all those trimmings that always do the trick whether you're going for a meat or vegetarian option. To ensure you enjoy the best when staying in Camber, check out our selection of venues serving the best Sunday roast in Rye. 
Best Sunday roast in Rye for historic atmosphere – The Mermaid Inn 
In a town that simply oozes history, this traditional pub stands out as one of its most emblematic buildings. The cellar is well over 800 years old, although the inn itself was rebuilt in 1420 after French raiders razed Rye to the ground. Sunday lunch is served in the Linen Fold Panelled Restaurant and has two or three courses including two meat options for roast. Vegetarians have a good choice and fresh local fish features high on the menu too. 
Best of all? You might see one of The Mermaid Inn's resident ghosts
Looking for things to do in East Sussex? Here are 50!
Best Sunday Roast for grown ups – The Owl 
On our doorstep and yours if you stay with us is The Owl, our local. Like the pubs of days gone by there's a family area if you're dining with children but under 5s are not welcomed and they're very clear about this policy. The Owlers Grill produces a Sunday roast everyone will enjoy – albeit not in high summer – choices are plenty, portions are huge, and there are usually two options for children's portions too. And the best bit of all? It's just over the dunes from the beach, so whichever roast lunch you scoffed can be quickly worked off with a walk along the shoreline. 
Best of all? Options are available for meat eaters, vegetarians and vegans. 
Need to walk off lunch? Check out these pawsome walks in Camber 
Very best Sunday Roast in Rye – The Standard 
In the heart of Rye you'll find our favourite Sunday lunch at the Standard Inn. Friendly staff, delicious Sunday roasts, and you'll want to feast here again and again. The most important thing to note is that you can't book, so turn up and grab a table on your wander past – you won't be disappointed!
Best of all? The roast potatoes are some of the best we've ever had! 
Want to know more about Rye? Read this brief tour of East Sussex history 
Best roast lamb in Rye – The Globe Inn
The Globe Inn is a unique and memorable place to to refuel anytime of the week, but on Sundays opt for the lamb. Every time, we say we'll try another dish but we fall at the mention of lamb on the menu without fail. Make your way here at the start of your stay and you'll want to
return again and again
!
Best of all? Well, it has to be the roast lamb!
Best Sunday roast in Rye for English wine – The Ship Inn 
For fine wining and dining on a Sunday in Rye, book your lunch table at The Ship Inn, dating back to 1592 and once a smuggler's warehouse. Dine in or out on the terrace on a choice of four roasts including a vegetarian option and there's also a good value children's roast, all the ingredients but half the size. If you're really hungry, go for extra roasts or Yorkshires. Do leave some room for the desserts.
Best of all? The Ship Inn serves a long list of English wines, still and sparkling, produced at the Balfour Winery in nearby Kent.  
Fancy discovering more of the best wines in East Sussex? Take a vineyard tour 
Best Sunday roast in Rye for brunch – The Gallivant 
If you don't fancy the full works, but still want a taste of traditional Sunday roast, head for brunch at The Gallivant by the beach at Camber. Their weekend offering (11.30am to 2pm) comes with lighter bites such as Mayfield Swiss cheese and leek kimchi as well as roast ingredients. The pork crackling with apple butter makes a great starter while for mains you can tuck into duck hash or Tamworth pork rib. 
Best of all? This venue is right on the doorstop of our Camber Sands holiday lets.
Book Camber Sands holiday cottages