Once the laughing stock of the vinification world, English wine now ranks among the best in the world. Vineyards have sprung up all over the country, but two regions reign supreme. When it comes to the best, the vineyards in East Sussex and Kent stand head and shoulders above the rest. 
But with over 100 vineyards dotted around the rolling downs across the two counties, choosing which to visit can be a challenge. But we've done the legwork for you (it's tough trying all that wine!) and selected the best eight vineyards in East Sussex and Kent.
When you're taking holidays in East Sussex and Kent be sure to add a visit to at least one vineyard to your must-do list. 
Did you know? One of the best ways to see vineyards in the area is to stay locally. Check out our selection of simply gorgeous East Sussex cottages. 
A heads-up on Kent and Sussex wines 
Both counties turn out to have ideal winegrowing conditions, particularly when it comes to sparkling. The limestone chalk soil is very similar to the terroir in Champagne. Add cool English summers into the mix, perfect for preserving acidity, and you get some seriously good bubbles. 
Grapes grown in Sussex vineyards
Vineyards here tend to favour Bacchus (developed in Germany in the 1930s), Chardonnay, Pinot Noir and Pinot Meunier grapes. On the note, Sussex wines have strong mineral elements with tastes of chalk and flint on the palate. 
Grapes grown in Kent vineyards
Chardonnay, Pinot Noir and Bacchus also make up the bulk of grapes in Kentish vineyards with the addition of Ortega. The Kent bouquet is also similar to neighbouring Sussex with minerals the most predominant. But on the palate, the Garden of England's fruits shine through and apples and pears are the strongest features. 
Did you know? Vines have been on English soil since Roman times and enjoyed a long heyday until the times of Henry VIII. It wasn't until the 1960s that the English returned their attention to growing grapes. 
Best vineyard in East Sussex for flowers and wine
Bluebell Vineyard
Looking over the vast expanse of vines that stretch across Bluebell Vineyard estate, you'd never know that the nearly 100 acres used to be home to thousands of pigs. But woods that crisscross the vineyard remain the same and provide a legendary spectacle of bluebells in the spring. 
This vineyard near Ashton produces mainly sparkling wines and good ones too. Also on the wine list are refreshing whites and a rosé with a gooseberry bouquet. All vegan friendly. 
Best vineyard in Sussex and Kent for organic wines
Oxney Organic
On the border between the two counties near Beckley, Oxney is also the largest organic vineyard in the UK. One fifth of the country's organic grapes grow on Oxney vines with a predominance of Pinot Noir and Chardonnay. Organic processes accompany the grapes from start to finish and the owners claim the future of English wine is organic.
Oxney produces four sparkling wines including two rosés plus the popular Chardonnay white and a Pinot Noir Rosé. 
Best vineyards in Kent for English sparkling wine
Gusbourne Wines
Our closest vineyard (~15 minutes' drive) and producers of our favourite English fizz, is Gusbourne. The popularity of their Champagne-method sparkling wine even reaches across the pond to the USA where the head sommelier of Herons in North Carolina was recently quoted in Wine Spectator saying "their blanc de blanc has a crisp and clear mineral streak that will make you happy you skipped the orange juice".
The vineyard is renowned locally for its food and wine events. You could line-up your stay here in Camber Sands with one of those and we'll help you source the cab home!
Did you know? Gusbourne is the only three-time winner of the IWSC English Wine Producer of the Year.
Chapel Down
In fact, Chapel Down in Tenterden produces some of the best bubbles in the whole country, according to wine expert Henry Jeffreys. He's a huge fan of Kit's Coty Blanc de Blancs (2014 vintage), that's all Chardonnay and he describes as "lemons and green apples mingling with rich patisserie notes. Just gorgeous."
The vineyard boasts the largest grape press in the UK too. And if wine isn't your thing, Chapel Down also produces gin, vodka and cider. 
Did you know? The French Champagne house Taittinger is building a vineyard near Chilham in Kent and plans to produce up to 400,000 bottles of bubbly a year.
Best vineyard in East Sussex for natural surroundings
Rathfinny Estate
The South Downs count as one of the most beautiful natural attractions in East Sussex and this vineyard makes the most of them. Its 226 acres flow along the Cradle Valley and although the vineyard is relatively new, you could almost be in Beaujolais country. 
The owners' ambition is for a glass of Sussex to be synonymous with a glass of Champagne. In the running, they have four sparkling wines and three still wines (one of each colour) plus a gin. 
Best vineyard in East Sussex for awards
Ridgeview Wine Estate
Something of a pioneer, Ridgeview has been producing wine on the edge of the South Downs for over 25 years. The vineyard specialises in sparkling wine and cultivates Chardonnay, Pinot Noir and Pinot Meunier grapes across its rolling fields. 
Ridgeview produces a wide range of bubbles and has reaped numerous accolades over the years. They include Best International Winemaker and two World's Best Bottle awards for its Blanc de Blanc. 
Best vineyard in East Sussex for diversification
Tillingham
The farm at Tillingham was planted with vines only in 2017, which probably makes it the newest vineyard in East Sussex (at the time of writing). Most excitingly, Tillingham is aiming for sustainable viticulture and farming methods (including allowing cows and sheep to graze amongst the vines) to produce biodynamic wines.
2020 saw the first vintage produced from their own vines – all previous bottles had been pressed from bought-in grapes while their own vines grew. While they do make Champagne-method fizz on the vineyard, their main focus is wine and that too is lovely to have not far from our doorstep.
Best vineyard in East Sussex tied to wine history
Charles Palmer Vineyards
Down the road from us in Winchelsea, the vines at Charles Palmer Vineyards grow in soil similar to the terroir of Burgundy. So you know you're in for a treat when you swing by for a tasting. Renowned for their sparkling wines – their 2014 blanc de blanc won a Platinum Decanter World Wine Awards in 2019 – it's also worth trying their still wines too.
The informal wine tastings at the vineyard include a brief talk about their mission here, the grapes and methods applied as well as a tasting of three of their wines in their dedicated tasting room.
Did you know? Winchelsea has a long wine related history. It once played a pivotal role in the import of wines from France. You can visit the cellars where the wines were stored during a visit to the town.
Wine tastings holidays in East Sussex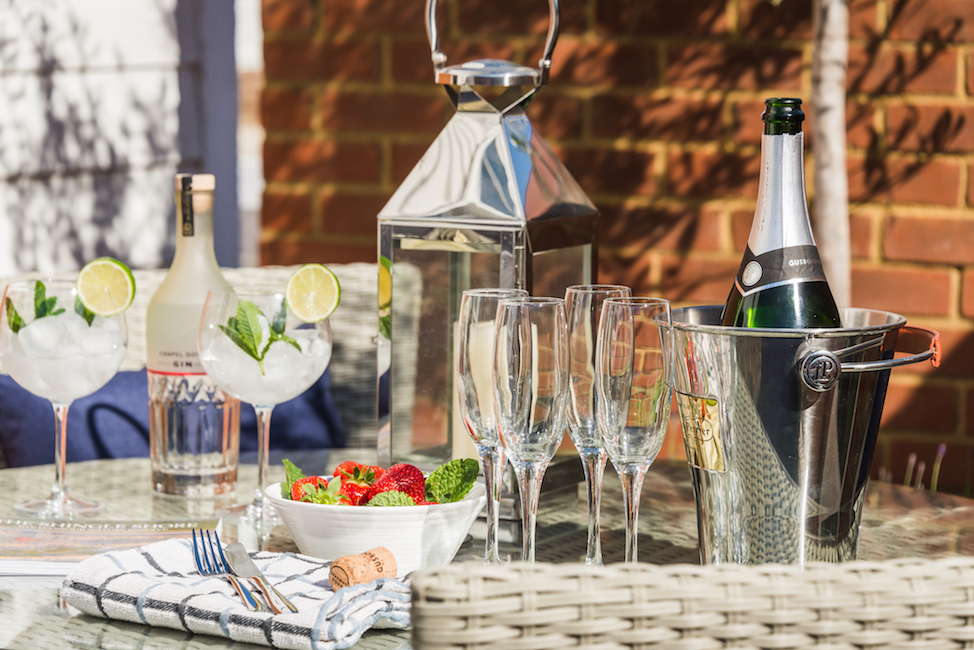 Stay at one of the lovely seaside cottages in our collection and you can combine the best of the Kent and East Sussex vineyards and coastline. We can advise you on taxi companies to use and there are even more wineries if this list is too short for you! When you can't or don't want to travel further afield, wine tastings holidays in East Sussex are an experience to remember forever.
>>> Book your East Sussex holiday cottages with us today