Tradewinds Camber Sands
Holiday Cottage in Camber Sands
Check availability and book this cottage
Your widget will appear here.
Tradewinds
Welcome to Tradewinds, a delightful two-bedroom holiday cottage that seamlessly blends traditional design and modern amenities, offering the perfect retreat for your next getaway. Set in the heart of the award winning development, White Sand, Tradewinds is enviably located between Britain's finest sandy beach and internationally significant grassland. Just a stone's throw away from the expansive Camber Sands and within close proximity to the vibrant, historic market town of Rye, you'll be spoilt for choice when it comes to exploring this remarkable region.
Perfectly positioned between the stunning Camber Sands beach and the beautiful SSSI marshland
Dining & Lounging
Escape to Tradewinds, where the ground floor boasts a fabulous open-plan lounge, kitchen and dining area. It's the perfect layout for groups with night owls who love to chat while others get their rest upstairs in the cosy bedrooms.
Relax after a day of Camber activities on the comfortable sofa or snuggle seat in front of the Smart HDTV. For cooler evenings, the gas fireplace creates a cosy atmosphere. And with high-speed WiFi, you can stay connected with friends or ask Alexa to play your favourite holiday tunes.
The fully equipped kitchen is modern and bright, with contemporary appliances such as an oven and 4-ring induction hob, fridge/freezer, dishwasher and microwave.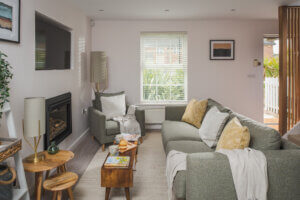 Bed & Bath
Guest Bedroom 1—First Floor: Experience ultimate relaxation in the master bedroom, featuring a plush king bed adorned with luxurious linens, promising a restful night's sleep along with contemporary lighting for a calming ambience.
Guest Bedroom 2—First Floor: The second bedroom offers two single beds, outfitted with supremely comfortable linens, tempting you to linger in bed a bit longer.
The shared upstairs bathroom boasts a bathtub with an overhead rainfall shower and a transparent glass screen, ensuring the space remains bright and airy while maintaining privacy. On the ground floor, an additional WC is available to prevent any queues.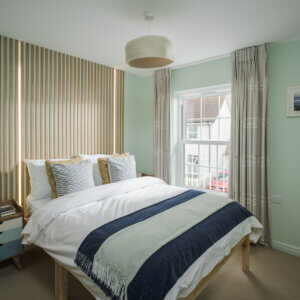 Outdoors
The fully enclosed garden captures Camber's glorious sunshine throughout the day. Indulge in alfresco dining, grilling up locally caught fish on the BBQ, as you delight in the refreshing sea breeze. The tranquil atmosphere is complemented by the soothing sounds of seagulls calling and sheep bleating from the nearby marsh.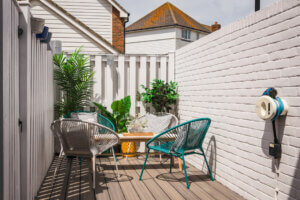 Practicalities
Bedrooms: Master bedroom – King size bed / second bedroom – two singles
Bathroom: Family bathroom – bath with rainfall shower, w.c and basin / ground floor cloakroom – w.c and basin
Kitchen: Single oven, induction hob, dishwasher, washer/dryer, 60/40 split fridge freezer, toaster, Nespresso coffee machine, kettle, microwave, washer/dryer.
Entertainment: Fast fibre broadband (500MB) / smart HDTV, Amazon Alexa speaker
Garden: Fully enclosed garden / weber gas bbq
Parking: There is off road parking for 1 car
Pet friendly: Well behaved dogs are welcome

Experience a Dog-Friendly Retreat at Tradewinds Holiday Cottage, Steps Away from Camber Sands Beach
At Tradewinds, we understand that dogs are cherished members of the family, deserving of a fantastic holiday experience alongside their humans. That's why our dog-friendly Camber Sands holiday cottage, situated within the prestigious White Sand development, is the perfect destination for you and your four-legged friend.
Your canine companion will be in hound heaven at the vast, dog-friendly Camber Sands beach, located just a stone's throw away from Tradewinds. With ample space to run around, intriguing sand dunes to explore, refreshing water to splash in, and a plethora of fascinating smells to discover, your dog will relish every moment spent at this breathtaking coastal location. Plus, with plenty of other dogs to play with, your furry friend is bound to make some new pals!
Tradewinds at White Sand isn't just an ideal place for your dog to enjoy, it's also perfect for you. After a day of frolicking on the dunes, take a leisurely walk together through the beautiful surroundings, exploring numerous dog-friendly walking routes in the area. When it's time to unwind, head to one of the many welcoming dog-friendly pubs nearby, where you and your canine companion can relax and enjoy a well-deserved drink.
Make cherished memories with your furry friend at Tradewinds, a dog-friendly Camber Sands holiday cottage that promises an unforgettable experience for both you and your loyal companion.

Savour the Flavours of Local Cuisine During Your Stay at Tradewinds Holiday Cottage
Indulge in an unforgettable culinary experience during your stay at Tradewinds, where a variety of dining options await to delight your taste buds. From cozy inns with roaring fires to elegant restaurants by the sea, and from classic fish & chips to gourmet farm-to-table dishes, you'll be spoilt for choice in this gastronomic haven.
Located beside the sea and surrounded by fertile farmland, it comes as no surprise that many of the ingredients used in local dishes are sourced from just a few miles away. Sample some of our favourite regional specialties, including the renowned Romney Marsh Lamb, succulent Rye Bay Scallops, and tender Dover Sole. And don't forget to treat yourself to traditional English pub dishes featuring Rye Bay fish, perfectly complemented by a glass of award-winning local sparkling wine.
If you prefer to showcase your culinary skills, the fully equipped kitchen at Tradewinds is the ideal setting for your gastronomic adventures. Stock up on fresh ingredients from the vibrant farmers' markets and charming delis nearby, and let your creativity shine as you prepare delicious meals in the comfort of your holiday cottage.
Whichever dining experience you choose, you're guaranteed to savour the exquisite flavours of local cuisine during your stay at Tradewinds Holiday Cottage.

Explore the Wonders of 1066 Country and The Garden of England from Tradewinds Holiday Cottage
Situated at the crossroads of 1066 Country and The Garden of England, Camber Sands is a truly exceptional destination, boasting a stunning coastline, picturesque countryside, ancient towns, and historic sites. Tradewinds, nestled within the White Sand community, serves as the perfect base for you to discover the abundant beauty and rich history of this remarkable region.
In Your Backyard
Embark on a journey through the enchanting landscape surrounding White Sand, meandering along lanes past sheep-dotted fields, orchards, vineyards, cobbled streets, and castles. The pristine Camber Sands beach is a mere three-minute stroll away, beckoning you to explore its golden shores.
Historical Sites
East Sussex and Kent, as the closest points to mainland Europe, have long been gateways for invaders, bearing witness to some of Britain's most significant historical events. This storied past has left the region teeming with sites of historical importance, from ancient ruins and castles to prehistoric coastlines and woodland.
Relive the nation-shaping Battle of Hastings, marvel at the moated Bodiam Castle, or wander the cobbled streets of the beautiful town of Rye, steeped in seafaring tales of naval battles, storms, lifeboat heroics, and smuggling.
Outdoor Activities
Tailor your holiday experience to suit your preferences. Seek adrenaline-pumping adventures with kite-surfing or zip-lining, or opt for more leisurely pursuits, such as long walks along the various paths and cycleways, or peaceful afternoons on the beach. Alternatively, combine both for a well-rounded experience.
Museums
For those seeking a cultural experience, explore the numerous museums and galleries peppered throughout the historic towns of the region. Discover vast collections of historical artifacts, fine art, landscape photography, and theatrical productions set in atmospheric locations.
With London only one and a half hours away, you can also take advantage of the capital's offerings, from West End shows and Oxford Street shopping to iconic landmarks.
Combining the cultural richness of Rye with the serene beauty of Camber Sands, Tradewinds Holiday Cottage offers an unrivaled location to experience the very best this unique corner of England has to offer.
Our Guide On Camber Sands & Surrounding Areas
Book with us Directly, Richard & Sophie
We're not a faceless agency, nor an owner who lives miles away. Camber Sands is our home too, we live and work here. When you book one of our cottages you will be dealing with us directly. Plus we'll be right here whenever you need us during your stay.