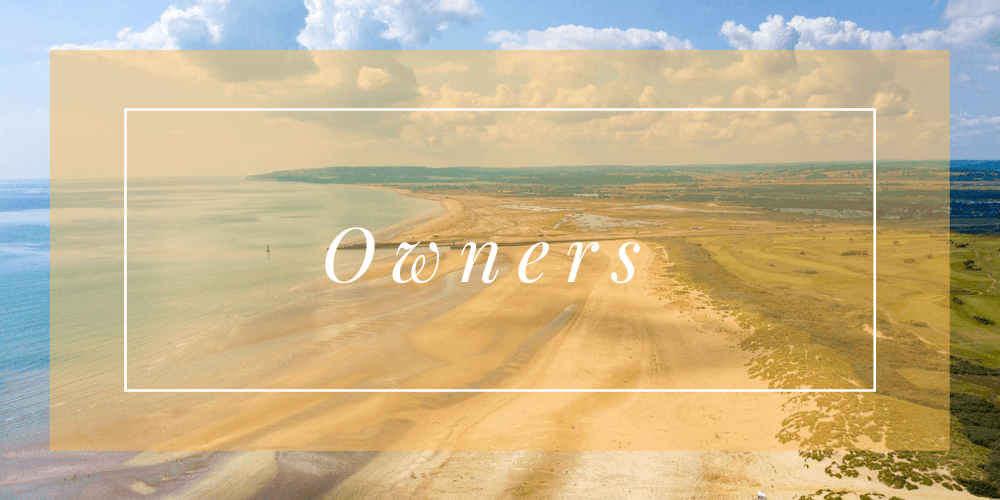 Homeowners, we started Beside the Sea Holidays in 2009 because we wanted our own guests to have the very best experience and to feel cared about when staying in our coastal holiday home, so that they felt inclined to leave rave reviews and book again or tell their friends. That is still our mission, whether it's our home or yours in the frame.
We are now looking for more coastal properties in East Sussex and Kent to join our portfolio.
Why join Beside the Sea Holidays?
Letting your coastal holiday cottage through Beside the Sea Holidays means you join a family run business founded on a passion for guest experience.
We live and breathe life by the sea, appreciating its role in shaping the best holiday memories and ones people want to repeat time and again. We've also been a part of the holiday rental industry long enough to understand its nuts, bolts and nuances as well as what guests really expect when choosing holiday lettings.
This all means we know exactly how each coastal holiday home can do more to attract and then delight guests all year round.
What makes us different
For starters, we care. And we're not just saying that. Our own Camber Sands holiday cottages are part of the Beside the Sea Holidays portfolio, which means we treat you and your holiday properties like one of our own.

Coastal cottages and nothing else
We do what it says on the tin – our portfolio only includes coastal cottages and beachside accommodation. So if your Kent cottage is on the seafront or your East Sussex holiday home is within skipping distance of the sea, we'd love to welcome you to the fold.
Kent and Sussex experts
We live in Camber Sands – East Sussex and Kent is our home. Our son Arthur goes to school in the local village, Sophie runs her way around the local area almost every day, and we make a point of walking Dougal, our dog, and exhausting Arthur on the weekends amidst the vast open spaces on our doorstep in East Sussex and Kent.
We know the local wineries, the publicans, cafe and restaurant owners, and we make a point of being part of the community personally and as a business in the local area.
Whatever your guests want to know. Wherever they want to go. However adventurous or solitary they wish to be, we'll know where to point them for an experience to remember as part of their stay.
Guest experience
We believe that guest communication and guest experience are two of the most important parts of how much people enjoy their stay.

Our Touch Stay digital guest welcome books ensure guests' questions are answered before they even think of them. And that they can plan their stay and book restaurants or venue tickets well in advance.
Our help and guidance
Many of our homeowners live far from the East Sussex and Kent coast, which further emphasises the importance of communication and their trust in us to look after their second homes and holiday lets.
We're on the doorstep and we only work with the highest quality partners to clean, maintain and present your home in its greatest light. We can advise you on all the requirements – from fire risk assessments to PAT testing and public liability insurance – and action them for you too.
Our Complete Care Cottage Company ticks all the necessary and nice-to-have boxes, so you don't have to lift a finger or even a thought.
Marketing your holiday home
Simply by joining our portfolio, you are increasing the visibility of your coastal holiday cottage. But why stop there?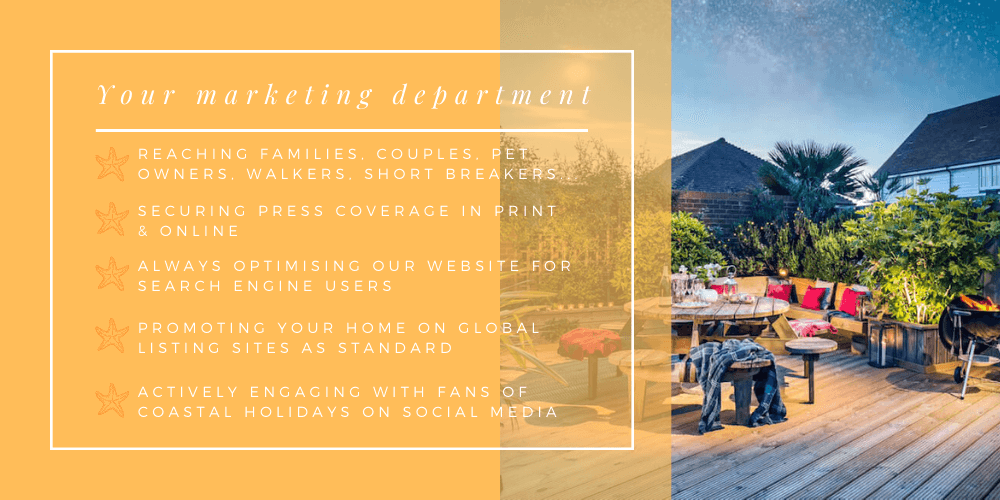 Our online presence
Starting with our own website, our Google-approved partner ensures we're always aligned with updates and committed to on-page best practice that means we reach your ideal guests with the right messages.
How we promote Beside the Sea Holidays
We do very little paid advertising. Credit due there to the optimisation of our site, the quality of our portfolio and the positive word of mouth it generates. We also successfully place our properties in the right newspapers, magazines and online publications (read all about it here) through our relationships with journalists and bloggers. And we occasionally run competitions and giveaways to reach more niche audiences too.
Listing on third party websites
We are long-time supporters of booking direct, which is why we invest heavily in our own online presence. But we have also benefitted from having a strong presence on listing sites including AirBnB. We were also approached by Plum Guide who hand-pick their favourite places to stay in Camber Sands to include in their luxury accommodation directory.
What our owners say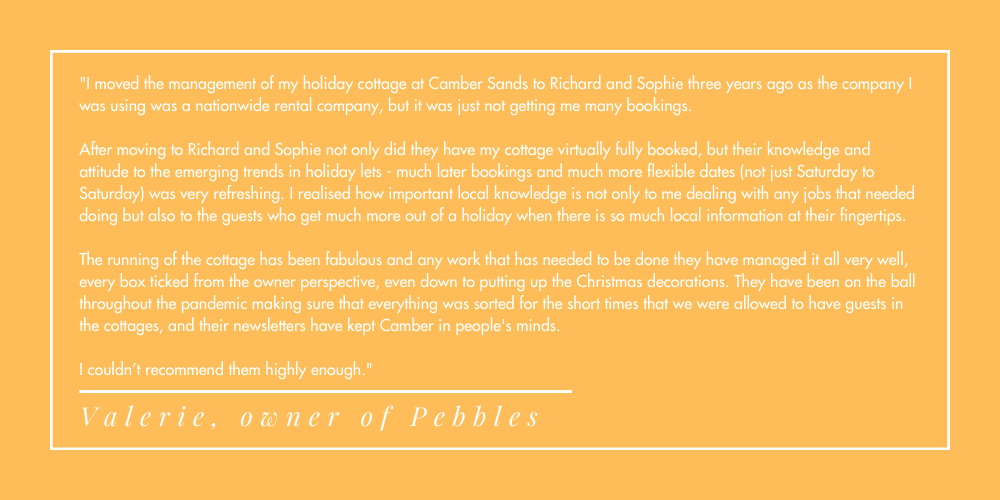 How to become a part of Beside the Sea Holidays
If you have a holiday home along the Kent and East Sussex coast that you would like to rent out with Beside The Sea Holidays, we (Sophie and Richard) would love to hear from you. Of course, if you simply have questions in the first instance, we're happy to answer those too!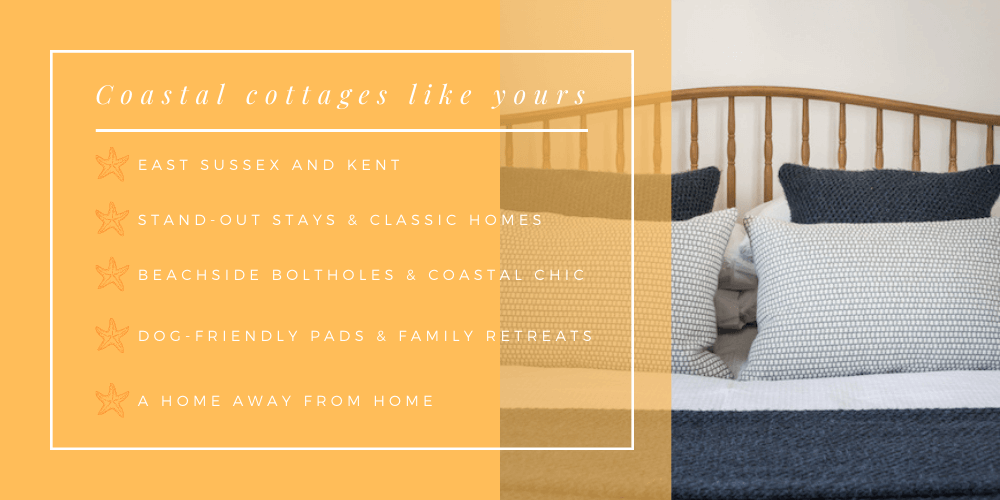 Homeowners also ask about…
Holiday home management services
We know how hard it can be to ensure your home is exactly as you would like it to be for every new guest – and for you when you visit too. Not having that faith in someone else was what led us to set up Beside the Sea Holidays in 2009. So, it's second for us to go the extra mile in making sure your property is in prime condition to welcome guests, that it appeals to the widest possible audience of visitors to Camber, and that guests cross the threshold into a place they don't give a second thought to calling 'home' for the duration of their stay.
Choose from our range of marketing and property management and maintenance services to suit your needs:
free professional photography
cleaning and changeovers
arrival basics provision
Quality in Tourism assessments
property maintenance checks
PAT testing and fire risk assessments
full service property management
Our response to Coronavirus
2020 and 2021 threw a curveball not even the experience of the travel and tourism industry could have counted on. Perhaps as a smaller business we were able to react quicker and more nimbly. From July 2020 for the duration of the year, we applied the Master Cancel Guarantee scheme to all new bookings, which covered Covid-related cancellations within 2 and 60 days of arrival.
In 2021 we introduced a no nonsense refund guarantee, designed to give prospective guests the confidence to book despite the restrictions of lockdown 3 and ongoing pandemic uncertainties. Feedback from guests who find themselves in uncertain situations, and feedback from homeowners who don't want the hassle of multiple date changes, has guided us to offer a Book with Confidence policy that provides reassurance of refund in the event of a Covid-related cancellation. We won't hold onto a guests' payment nor require them to move their dates for the sake of it.