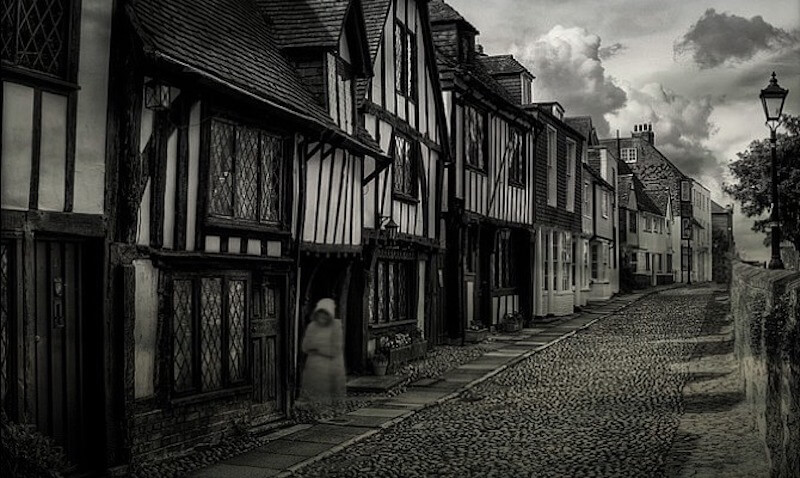 Invasion, battles, pirates, smuggling and murders — not many places have had such a dramatic and violent history as Rye's and a guided ghost walk around Rye will bring its spooky past and present to life.
A guided ghost walk around Rye will give you a mere slither of the spectral experience on offer in one of England's most haunted towns, and is a great way to start a haunting winter night.
Your guide will escort you through Rye's historic half-timbered buildings and winding cobbled streets, stopping off at the sites that are home to many things that go bump in the night – mixing tidbits of local history with some blood-curdlingly gruesome tales of murder and medieval slaughter.
A Guided ghost walk will take you through 900 years of horrible history, making these walks as fascinating as they are frightening. You never know, a phantom smuggler could stagger into your path at The Mermaid Inn or perhaps walking down Turkey Cock Lane the ghost of the poor monk who was entombed in a wall alive with his lover for trying to elope will drag his shadow next to yours?
A particular highlight is spending time in the Ypres Tower as featured in the popular tv series 'Great British Ghosts'. As you walk around the fortification you can understand why – this place has an ambiance that is more than a little eerie. Built-in around 1249 to defend Rye from French attacks and used for centuries as a prison, the Tower is packed full of history.
This is a great way to get an alternative perspective on the Rye's colourful history and with figures lurking in the shadows, it's a guaranteed fright night.
For non-believers, it's a chance to see the town transformed by an enthusiastic, knowledgable guide, who gives the buildings a life and history one would otherwise miss.
And for those who want to see a real ghost, try and catch a glimpse of the murderous Hawkhurst gang, plotting their next smuggling adventure in the Mermaid Inn, just don't let them see you…
Please contact the Heritage Centre for further information. Pre-booking is essential as spaces for these tours are limited and run from late September to late February. The cost is £12.00 per person (Please note that the Guided Ghost Walks Around Rye is unsuitable for children under 14 years of age)
Just ignore the disembodied footsteps following you round the cobbled streets…