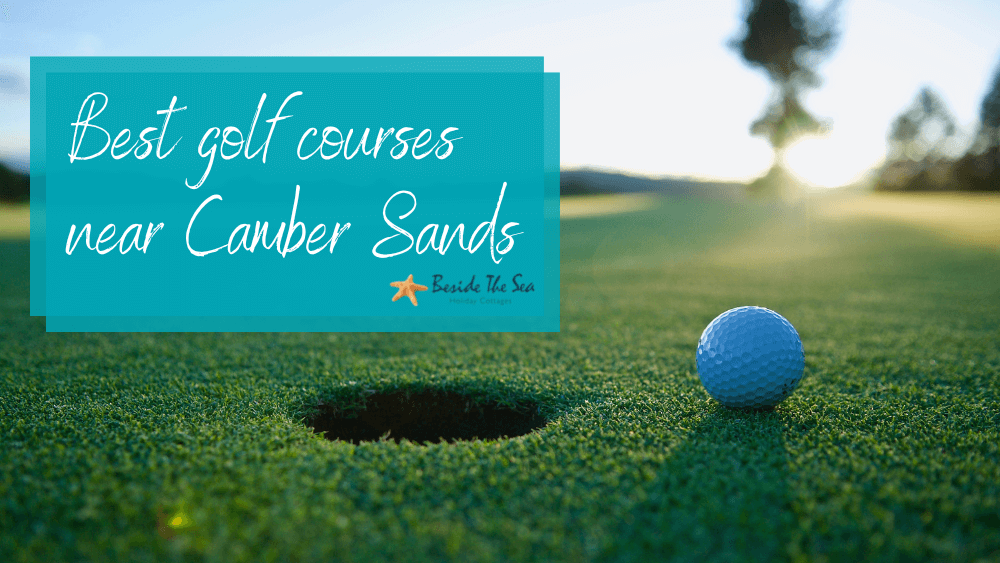 With its gently rolling countryside, spectacular views and plenty of sunshine, East Sussex makes it one of the top locations for golf in the UK. In fact, this small county is home to over 30 courses! As a result, golf fiends are truly spoilt for choice when it comes to a round on trimmed fairways and fine greens. But to ensure you get maximum enjoyment from your game when you're on holiday with us, we've put together a list of the best golf courses near Camber Sands. 
Best golf course on your doorstep at Camber Sands – 
Rye Golf Club
This historic club dates back to the late 19th century and consists of two courses, the Old Course and the Jubilee Course. Both sit on reclaimed marshlands within easy reach of Camber Sands and offer challenging play. The Old Course is particularly famous for its expectant par of 68. 
Rye Golf Club is private but visiting golfers can book and pay a green fee at the Club's discretion. Small groups (say, a foursome) looking for a game in the early morning have a better chance of getting a tee time. 
Did you know? The 13th hole was once part of the beach in 1894 despite being 300 metres from the sea today. 
Distance from Camber Sands – less than a mile and within walking distance of some of our holiday homes.
Best golf course near Dungeness –
Lydd Golf Club
If you'd like to combine a golf course near Camber Sands with a visit to Dungeness, Lydd is your best bet. The 18-hole course sits in verdant countryside just a short drive away. 
Lydd Golf Club comes complete with a pro shop and a Toptracer Range, allowing players of all levels to fine tune their techniques on and off the course. 
Did you know? 11 holes at this 18-hole course have their own lake, making play a watery challenge!
Distance from Camber Sands – 7 miles
Discover why Camber Sands makes such a perfect getaway for the beach (and golf)
Located near Hastings, this golf club is within 50 minutes drive of Camber Sands, making it perfect for a morning or afternoon round. The 18-hole course is most famous for its stunning coastal views, with Beachy Head taking pride of place. 
Like Rye Golf Club, Cooden Beach is one of the oldest in the county and dates back to 1912. It's also a private club, but visitors are welcome at any time of the year. 
Did you know? This course is famous for its challenging offshore winds and the direction can change with the tide, keeping even the best golfers on their toes!
Distance from Camber Sands – 24 miles
Another of the veteran golf clubs near Camber Sands and situated on the aptly-named St Andrews Road, Littlestone has its roots in 1888. It offers links play with sea views on the scenic surroundings of Romney Marsh. There are two courses, the Championship Links and the Warren, both with 18 holes. If you like a challenge, go for the Championship Links where some holes include sand dunes as natural bunkers. 
Visitors are welcome to both courses, although the Championship Links has limited tee times for non-members. There's also a Club House and Dining Room – check the smart-casual dress code first. 
Did you know? Littlestone's current design has remained practically unchanged since Alister MacKenzie suggested improvements back in 1924. 
Distance from Camber Sands – 11 miles
Read our top 10 must dos when you're at Camber Sands 
With historic Battle on its doorstep, this golf course allows you to spend a half-day on the greens and do a spot of sightseeing before or afterwards. It's easy to pace yourself because Sedlescombe Golf Club has 9-hole and 18-hole courses. 
Their names, Great Wood and Little Wood, give you an idea of what to expect from the scenery. Mature woodland and fine trees accompany you around both courses, where you'll also enjoy great views. 
Did you know? The Club also has a pro shop, tennis courts and a restaurant – something for all the family! 
Distance from Camber Sands – 11 miles.
Best golf course for scenic woodlands – 
Highwoods Golf Club
Highwoods isn't one of the nearest golf courses to Camber Sands and it takes almost an hour to get there. However, it sits near Bexhill and Hastings, offering sightseeing opportunities for the non-golfers in your group. 
As you'd expect from the name, trees take centre stage in this course, founded almost a century ago. Most of the 18 holes are par 4, with the occasional par 3 or 5. Additional challenges lie in the water features, including a stream that runs along six holes. In-the-know golfers claim that playing this course uses all the clubs in your bag. 
Did you know? Highwoods owes its scenic and challenging design to JH Taylor and HK Hawtree, both pioneers of public golf courses and early advocates of "golf for everyone".
Distance from Camber Sands – 24 miles.
Book your holiday home for golf courses near Camber Sands
If our list has tempted you to come to Camber Sands for the golf as well as a fabulous beaches, take a look at our holiday homes. We have a unique collection of 2, 3 and 4-bedroom cottages, perfect for a golfing break on the beach in East Sussex.