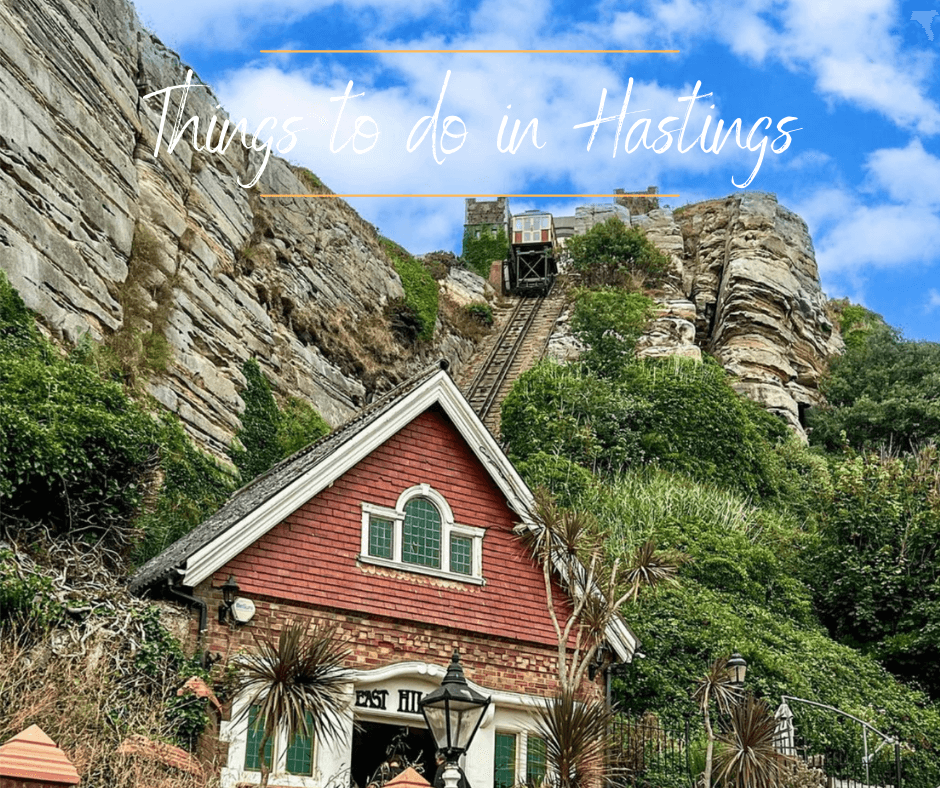 Mention Hastings and we're all transported back to a history lesson at school and 1066. But, while this East Sussex town was a turning point in English history, it also offers plenty to do and see beyond William the Conqueror. It's also somewhere we love to return to, time and time again. Naturally, we think our favourite bits are the best things to do in Hastings!
Our absolute must-dos include the most popular tourist attractions alongside some more unusual things to do in Hastings. Plus, there are some suggestions for a rainy day and to keep the kids happy.
Ride a funicular (any funicular)
Hastings sits tucked in a valley between two hills, making it difficult to get a perspective of the town when you're at sea level. But luckily, two funiculars come to the rescue and offer the best way to get your bearings and enjoy fantastic views.
Both railways date back to Victorian times and offer different destinations and vistas. The West Hill Lift looks out over the beach and the English Channel as it takes you to Hastings Castle, while the super-steep East Hill Lift offers views over The Stade before arriving at Hastings Country Park.
Explore England's first Norman castle
Built by William the Conqueror in 1067, just one year after he landed nearby, Hastings Castle now sits in ruins but still conveys a unique sense of history. And its clifftop position has probably the best views in East Sussex, particularly on a clear day when William's homeland is visible on the horizon. Ride up there on the West Hill Lift and take a picnic for lunch with a view.
Check out Hastings Pier
Along with Hastings Castle, the Pier ranks as the town's most iconic landmark as well as a quintessentially English seaside feature. While the original pier dates back to Victoria times, the present version received the Stirling Prize for architecture for its major revamp in 2017. Take in the new design as you stroll along the pier enjoying your ice cream or candy floss.
Did you know? Hastings is less than 17 miles from Camber Sands, making it perfect for a day trip or two when you stay at one of our Camber holiday cottages
Explore the Twittens
Take yourself off the beaten tourist trail to the west of the old town to explore the Twittens – stairways and narrow passageways unique to Sussex. Those in Hastings come packed with historic houses as they twist and turn their way upwards to West Hill, where you'll be rewarded with amazing views out to sea.
See how the gentry lived at St Leonards-on-Sea
Make your way slightly west along the seafront promenade to Hastings' next-door neighbour. This seaside resort dates back to the 18th century and was founded by the architect James Burton, whose signature also lies on Regent's Park and Bloomsbury. St Leonards-on-Sea contains some of the south coast's best examples of Regency pads, particularly on the marina. And Victorian homes line the leafy avenues leading uphill away from the seafront. While you're there, browse the art galleries, antique houses and boutiques before enjoying a meal at one of the excellent eateries.
Did you know? East Sussex might be a small county, but it positively brims with things to do. Here are 50
Treasure hunt around the America Ground
The triangle of land between Claremont, Robertson Street and Trinity Street was a no man's land for centuries until the early 19th century, when around 1,000 people set up makeshift camps on the site. When the council tried to evict them, the community declared themselves independent from Hastings as the 24th US state.
Watch this video to get a feel for the space.
Nowadays, the camps are long gone, but the area conserves its bohemian spirit in its stalls, independent cafés and restaurants, specialist stores and clubs. Our favourite things to do in this part of Hastings are:
The best bookshop in town
At The Hastings Bookshop, located at 5 Trinity Street, you'll find a fabulous selection of books. We love to ponder over the staff picks and locally themed books. There's a children's section too. For something specific to the area, these books might be of interest.
Skate underground
At Source Park, you'll discover the world's largest underground site for skateboarding and BMX riding that's, most impressively, housed in some Turkish baths. While you're there, marvel at the acrobatics, purchase skate-themed items in the shops, and grab a little something at one of the cafés or restaurants in the courtyard.
Marvel at The Printworks
This creative space at 14 Claremont dates back to 1878. Its unusual design is Venetian Gothic, a style you'd never expect to come across in Hastings! The interiors provide studios and office spaces, and it's host to a busy calendar of events, including live music, cabaret and literary salons.
Did you know? East Sussex has some of the best beaches in the south of England, but the best of all is Camber Sands!
Glimpse The Amsterdam
One of Hastings' greatest treasures only reveals herself at low tide when the remains of the Amsterdam emerge from the sand. The world's best-preserved East Indiaman ship ran ashore at Bulverhythe Beach during a storm in 1749 where it has remained ever since. You can see the tops of its ribs at low tide, but if you want to see more of this enormous ship, time your visit to Hastings with one of the exceptionally low tides.
Rainy day things to do in Hastings
If your visit to the town coincides with the rain, these indoor activities will keep you in the dry.
Visit the Shipwreck Museum
Paying homage to the area's maritime past, the Shipwreck Museum lives up to its name and includes treasures rescued from ships that have fallen into troubled waters in the English Channel. The star attraction is the remains of a Roman boat, dating back to 150AD and the oldest sailing ship found in northern Europe. Also on display is an extensive fossil collection, plus some dinosaur tracks. Find this museum in Hastings on Rock-a-Nore Road.
Take in a movie at the Electric Palace
If it's wet or you fancy sitting back to watch a good film, head for the Electric Palace at 39a High Street. Showing independent movies as well as a smattering of blockbusters, this volunteer-run venue is a gem of a cinema whose golden velvet seats date back to the 1930s.
Kids activities in Hastings

As we've learnt with Arthur, kids will love the Castle, funiculars and dinosaur footprints, they might not be so enamoured with an independent movie or Twitten trip. So, taking a leaf out of our family book, we suggest the following things to do in Hastings with kids.
Go underwater at Blue Reef Aquarium
Marvel at fish, coral, sharks and other sea life in over 30 watery displays. The highlight at this aquarium is the 15-metre-long underwater walkway where the animals swim above and around you. There are also themed events and regular feeding times.
Go underground with the Hastings smugglers
Smugglers Adventure takes you under West Hill into secret tunnels and passageways, once the thriving hub of local smugglers. As you make your way through the Hill, life-size characters and eerie lighting and sound effects await along with interactive games.
Did you know? Hastings is not the only great day out from Camber Sands – how about Dungeness?
Now book your holiday to East Sussex
We hope our favourite things to do in Hastings have inspired you to visit. If they have, take a look at our selection of holiday cottages in East Sussex and book your getaway to this lovely part of the world. Start your search