While some might lament the fact that summer is behind us, the arrival of autumn signals a time of wonder and transformation. It's the season of crisp mornings, ripening wild fruit, kicking up piles of leaves, and the scent of bonfires and wood smoke. Here are our top tips to help you make the most of autumn 2019 in camber sands.
Experience the Battle of Hastings.
In 1066, the Norman-French army led by William the Duke of Normandy took on an English army under the Anglo-Saxon King Harold Godwinson.
Over 950 years later, you can take a trip back in time to relive this most famous battle in English history – the Battle of Hastings!
On Saturday 12th – Sunday 13th October, over 600 warriors will take part in an epic re-enactment of this military clash at Battle Abbey.
There'll also be a host of other family-friendly activities to enjoy. Try your hand archery and meet beautiful birds of prey. Or watch an incredible cavalry horsemanship display and explore a medieval camp.
Explore medieval history.
The medieval treasures surrounding Camber Sands are a true highlight of an autumnal holiday. In the hilltop town of Winchelsea, notable sights include its 13th-century stone gates, the Court Hall Museum, and the beautiful St Thomas the Martyr Church – which wows with its stunning stained glass windows.
Once the haunt of smugglers and highwaymen, nearby Rye charms visitors with its one-of-a-kind shops, antique stores, and half-timbered houses.
On a brisk autumn day, nothing beats enjoying a creamy hot chocolate at Knoops. In fact, the hot chocolates at this quaint little establishment have received national press coverage!
As darkness descends, explore Rye's cobbled streets and crooked alleyways on a spooky ghost walk. Or enjoy a pint beside the crackling fireside of a centuries-old establishments, such as the Ye Olde Bell or The Mermaid Inn.
Enjoy the grape harvest.
Another great reason to spend autumn 2019 in Camber Sands…is the wine! Thanks to its rich chalk soil, the South East of England is producing incredible wines that are said to rival some of the best French Champagnes.
In autumn, the grapes are harvested from the region's award-winning vineyards, so it's the perfect time to sample the local tipple. Enjoy free tours and tasting sessions at Chapel Down and Gusbourne.
Go for a walk.
Bring your walking boots to explore the natural beauty spots close to Camber Sands.
Misty mornings and the golden colours of autumn bring a special feel to scenic woodland walks in places such as Ashdown Forest and Brede High Woods.
We also recommend grabbing your binoculars and visiting the wonderful nature reserves at Rye Harbour and RSPB Dungeness. Both locations offer the chance to watch thousands of migrating birds take the long journey to Africa as the chilly English weather settles in.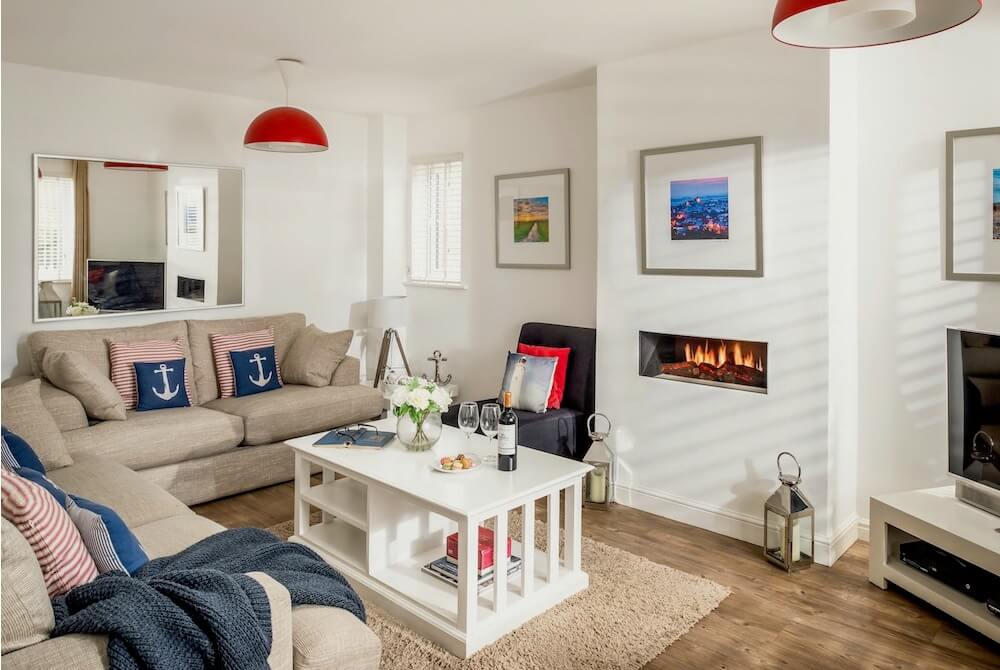 Spend autumn 2019 in Camber Sands.
Take a stroll around a medieval town, stomp through the leaves on a woodland walk, watch migrating birdlife in a sprawling nature reserve, and witness an incredible re-enactment of England's most infamous battle!
With its epic history and heritage, there's plenty of great reasons to spend autumn 2019 in Camber Sands. And of course, it's the season to enjoy some of the region's spectacular firework displays.
After your autumnal adventures, curl up in one of our cosy holiday cottages, complete with contemporary comforts, cosy fireplaces, and a fabulous location just minutes from the beach.