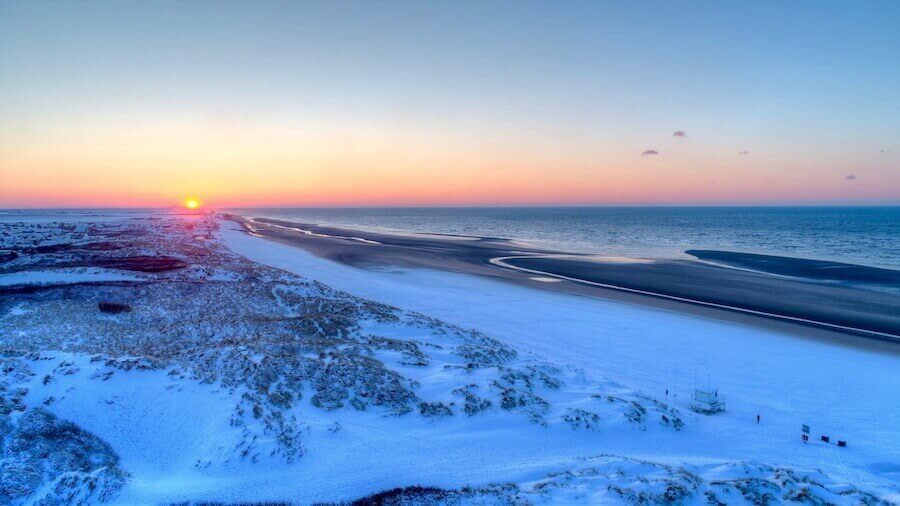 Winter 2019 in Camber Sands is the time to spend a frosty morning on a quiet marsh trail. Shop for Christmas gifts along Rye's cobbled lanes. Take a windswept walk along a deserted beach. And then warm up by the fire of a medieval-era pub.
Winter is coming and Camber Sands offers a wonderful setting for a coastal break. To make the most of winter 2019 in Camber Sands, we've put together some of our favourite experiences.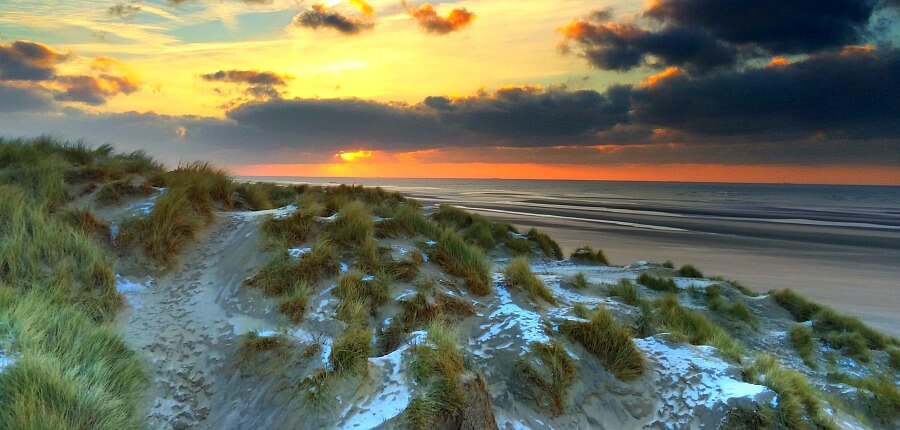 The whipping wind, the spray of the sea, and miles of glistening sand laid out before you. A coastal stroll in winter can be an invigorating experience. Especially in Camber Sands.
Wake early to see the pale sunrise over the deserted beach. If you're feeling brave, take a barefoot dip in the surf (yikes!), or simply watch the seagulls swirl in the breeze as you meander along the shore.
After blowing away the cobwebs, hike back over the grass-topped dunes for fish and chips at The Owl – it's just a quick stroll from the beach.
Bringing your pet pooch? You'll find some great dog-friendly beaches just minutes from our Beside the Sea cottages.

Grab your boots and binoculars for a nature trip around Rye Harbour Nature Reserve. It's currently teeming with winter wildlife, and you can hunker down in one of the reserve's excellent viewing hides to spot waders and wildfowl.
Dungeness National Nature Reserve is another haven for wildlife watchers. This designated Site of Special Scientific Interest has miles of nature trails, and its gravel pits are the perfect migration hotspot for an array of birdlife.
After a winter's walk, warm up in the cosy RSPB visitor centre. Large picture windows offer fabulous views of the waterbirds while you sip hot chocolate.
You'll be enchanted by the beautiful woodlands close to Camber Sands. Crunch along a frost-covered trail in Brede High Wood, or enjoy incredible sea views from the clifftops in Hastings Country Park.
The medieval town of Rye is a must-visit. Spend an afternoon Christmas shopping along its cobbled streets, dipping into quaint boutiques, bookstores, antique shops, and art galleries.
Be sure to visit Rye Deli to stock up for the festive season. You'll find everything from home-made pies and artisan bread to freshly baked quiches, fruit jellies, cheeses, and local brews.
Stray from the Christmas crowds to learn about the town's fascinating history at Ypres Tower. Gaze across the frosty landscape from the summit of St. Mary's Church tower. Or grab popcorn and catch a movie at Kino – an intimate two-screen cinema.
Creaking with age and brimming with character, nothing beats a winter's evening in one of Rye's historic pubs. Sip cask ales over fireside chats at the 600 year old Mermaid Inn – once used by smugglers to stash their booty in the pub's vaulted cellars.
Dating back to 1592, The Ship Inn is another atmospheric local with timber-beamed ceilings, regular live music, and a hearty menu full of local produce.
For a different vibe, grab tables at The Globe Inn Marsh. Tucked back on a winding lane on the outskirts of Rye, this clapperboard pub serves local beers and unusual gins, and its roaring log fires are ideal for warming toes on a wintry day.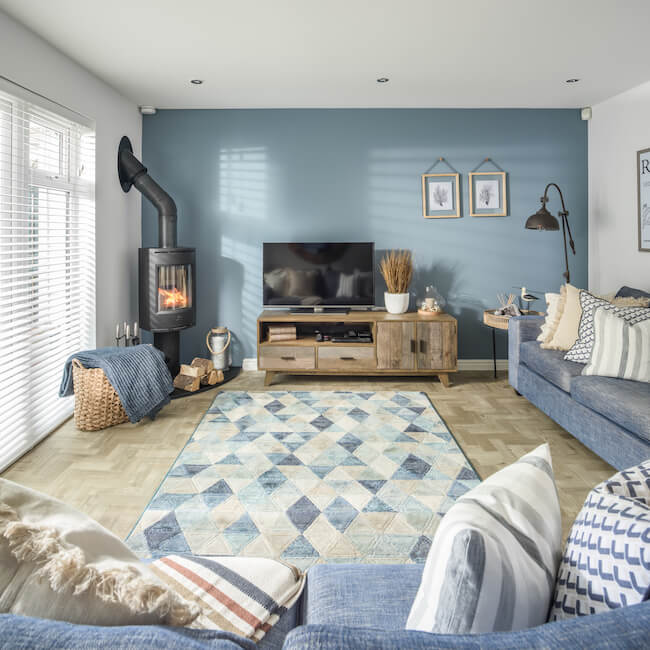 Winter 2019 in Camber Sands
Ready to book a winter break by the sea? Our awesome Sussex holiday cottages come with all the comforts of home, including cosy fireplaces, stylish furnishings, flat-screen TVs, and plenty of family-friendly entertainment.
Book from our full range of cottages today!