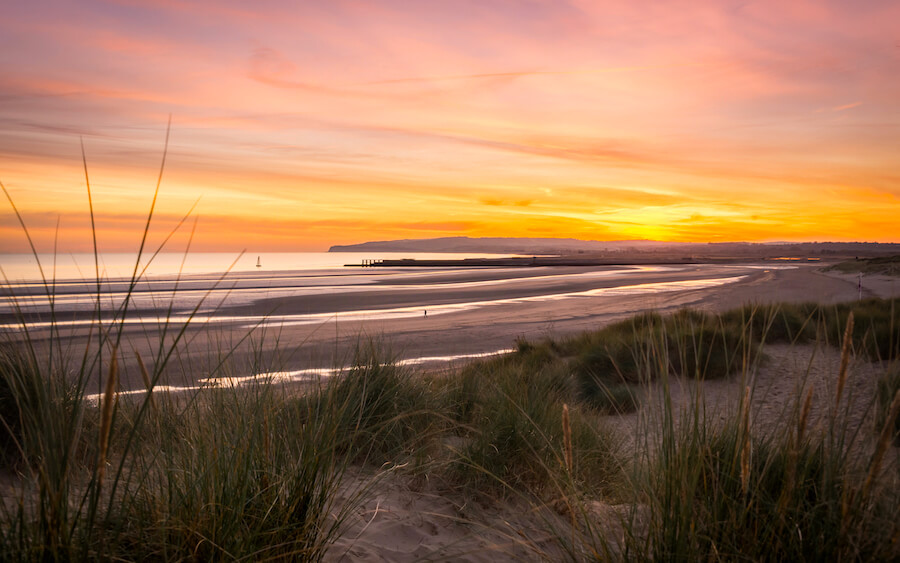 If you're a couple in search of a romantic coastal retreat in the UK, Camber Sands awaits, just a short 10-minute drive from the historic town of Rye. This picturesque destination offers an array of delights, from its stunning beach and exquisite dining options to centuries-old pubs, historical attractions, and thrilling seaside adventures. Here are some of the top experiences for lovebirds seeking a romantic getaway in Camber Sands.
Romantic seaside strolls
Set your alarm for a pre-dawn stroll along the dramatic seafront of Camber Sands. Rise early, and you might find yourselves with the whole beach all to yourselves. Kick off your shoes and relish the sensation of soft sand between your toes, or venture barefoot into the gentle waves for an early-morning paddle. As the crimson dawn breaks over miles of golden sand, you'll be grateful for your early wake-up call.
After a leisurely snooze to recover from your early start, pack a picnic and return to the beach. There's nothing quite like a romantic lunch amidst the dunes overlooking the sea. In the evening, return to the shore and treat yourselves to enchanting sunsets over the rolling waves.
Accommodation suggestion: Owlers Cottage
Adrenaline-filled kitesurfing
For adventurous couples, kitesurfing is a must-try experience in Camber Sands, especially during the summer months. If you're new to kitesurfing, The Kitesurf Centre comes highly recommended. Their expert team provides comprehensive instruction, complete with all the necessary gear.
Feeling inspired to stay out on the waves? You can book courses in a range of water sports, from powerkiting to hydrofoiling and stand-up paddleboarding.
Accommodation suggestion: Coastguards Cottages
Take a historic tour of Rye
Trade a day by the coast for the charms of nearby Rye. Wander the cobbled streets of this medieval town, discovering one-of-a-kind boutiques, antique shops, quaint cafes, and centuries-old inns. Rye is also rich in historical attractions. Visit Ypres Tower Museum, built under the orders of Henry III in 1249, to explore replica cells, medieval weaponry, smuggling exhibits, and a medieval herb garden.
Next, ascend to the summit of the 900-year-old St. Mary's Church for a panoramic view across Rye's rust-colored rooftops. In the evening, cosy up together for a spine-tingling guided ghost tour of Rye, followed by cocktails and dinner at The George, a Grade II listed hotel dating back to 1575.
Accommodation suggestion: Rufty Tufty
Fine dining at The Gallivant
A romantic coastal getaway often revolves around an intimate meal, and The Gallivant is one of Camber Sands' most alluring dining options. With its prime beachfront location, this award-winning restaurant draws inspiration from the beach style of New York's Hamptons.
The menu showcases a curated selection of locally-inspired delights, including succulent Romney Salt Marsh lamb rump, Rye Bay Dover sole, and St. Austell Bay mussels. Enhance your meal with a glass or two of chilled English fizz—The Gallivant boasts more English wines than anywhere else in the world!
Accommodation suggestion: Beach Boutique
Cosy up in your cottage
Wrap up your day in the comfort of one of our cosy cottages. Snuggle on the sofa with popcorn and a beloved movie, or step outside to your private garden for late-night conversations by candlelight.
Mornings can begin with freshly brewed coffee, followed by a revitalising coastal walk or a leisurely day spent in your pajamas, making it as lazy as you desire.
Book your romantic coastal break in the UK