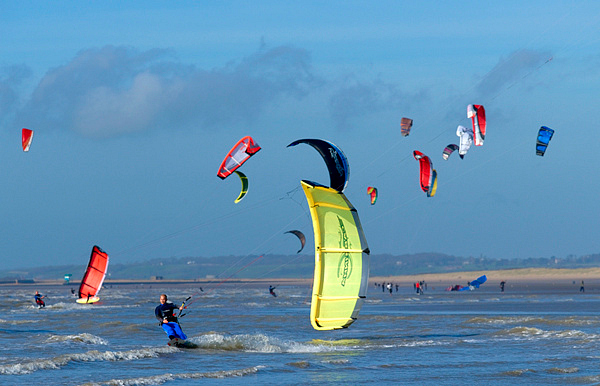 If your idea of getting outdoors goes beyond that gentle stroll after lunch and you're looking for something a little more intense, then grab your wetsuit and follow us!
Camber Sands is the home of kite-surfing. A combination of windsurfing, wakeboarding, surfing and kite flying; it's one of the fastest growing adrenalin inducing water-sports in the world.
When you think about it, strapping yourself to a small plank of wood while a huge kite pulls you through the water is probably bonkers. But then again, they said similar things about snowboarding, too – and look how much fun that is!
If you fancy finding out what all the fuss is about, why not head down to The Kitesurf Centre during your stay beside the sea, where one of the hand picked instructors who are all BKSA or IKO qualified, with a vast amount of experience will run through all the different courses on offer.
Open since 2007, The Kitesurf Centre is one of only three British Kitesurfing Association (BKSA) National Training Centres, and runs sessions for beginners, experts and those of us in between.
Camber Sands is the best and most popular kitesurfing beach on the South East coast, offering miles of sand, world class wind stats, shallow sea and safe conditions – perfect for learning to kitesurf.
One of the perks of kitesurfing in Camber Sands is that being located on the Dungeness peninsular – which not only offers the best wind along the whole of the south and east coast – presents a second beach option only 10 minutes from the kite school, allowing them to choose the best wind and tidal conditions each day.
Why not make a short adrenalin filled break of it!