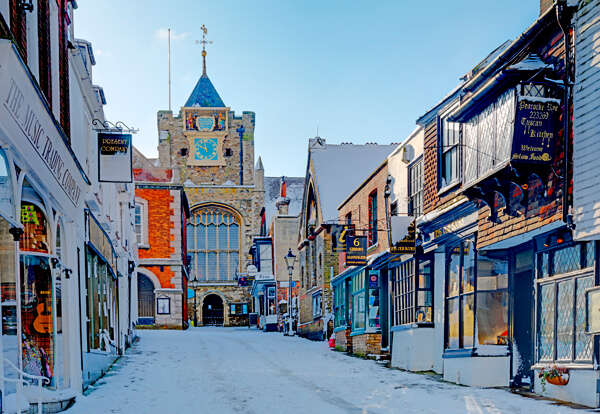 A visit to Rye can feel like walking into the pages of a Charles Dickens' novel. Especially at Christmas. You'll witness frost on cobbled streets, toy-stocked boutiques, charming tea shops, and tales of smugglers and ghostly sightings in timber-beamed inns.
As that magical time of year approaches once again, here's our guide to making the most of Christmas in Rye.
1. The Rye Christmas Festival
The spirit of the season comes to life with the start of The Rye Christmas Festival – held this year on Saturday 7th December.
Traditional fairground rides, street performers, pantomimes, storytelling, and an elf-training academy make this a fabulous family event. Bring your little ones to meet Santa Clause in his grotto. And be sure to attend the atmospheric carol concert at St Mary's Church.
Along with this host of activities, local food vendors and street buskers will be adding to the festive vibe throughout town.
2. Festive Shopping
One of the major highlights of Christmas in Rye is shopping. Along its winding streets, quaint boutiques, speciality stores, art galleries, and local craft shops twinkle with fairy lights. Find that one-of-a-kind gift for someone special, or simply come to soak up the wonderful atmosphere.
After a morning of shopping, Rye has plenty of inviting cafes, tea rooms, and pubs to take a well-earned rest. Sip a glass of mulled wine beside the fireside of a centuries-old pub. Or treat yourself to a mug of creamy hot chocolate at Knoops – pure bliss on a crisp winter's day!
3. Seasonal Events
During November and December, Rye will be hosting a series of themed events to get everyone into the Christmas spirit.
Dating back to 1723, Lamb House has a selection of festive events in store. We dare you to join their candlelit ghost tour (November 30th & December 7th) as you tip-toe along the creaking corridors of this beautiful Georgian home. Mulled wine and a mince pie are included on this spooky Christmas tour.
The ever-popular Rye International Jazz & Blues Festival is also getting in the festive mood. On Thursday 12th December, award-winning singer/songwriter Curtis Stigers will perform a special Christmas concert in the evocative surroundings of St. Mary's Church.
4. Winter Walks
Looking for a break from the crowds? Rise early and enjoy a dawn stroll through Rye's frost-covered streets. On a misty morning, the town's historic sights and half-timbered houses take on an ethereal feel.
Wildlife lovers should make a trip to Rye Harbour Nature Reserve. Expect to see large numbers of wildfowl and waders at this time of year.  Just outside of Rye, why not bundle up and walk along the beach in Camber Sands? Prepare to feel truly invigorated as you feel the spray of crashing waves along this endless stretch of shore.
5. Pubs and Inns
Rye is packed full of historic inns and restaurants offering seasonal menus inspired by locally-sourced produce.
Visit the William the Conqueror in Rye Harbour village for hearty pub grub and wonderful ales. Book tables at the lively Webbe's at The Fish Cafe – a must-visit for seafood lovers. Or head to the 600-year-old Mermaid Inn for a festive four-course menu, followed by a glass of brandy in The Giants' Fireplace Bar.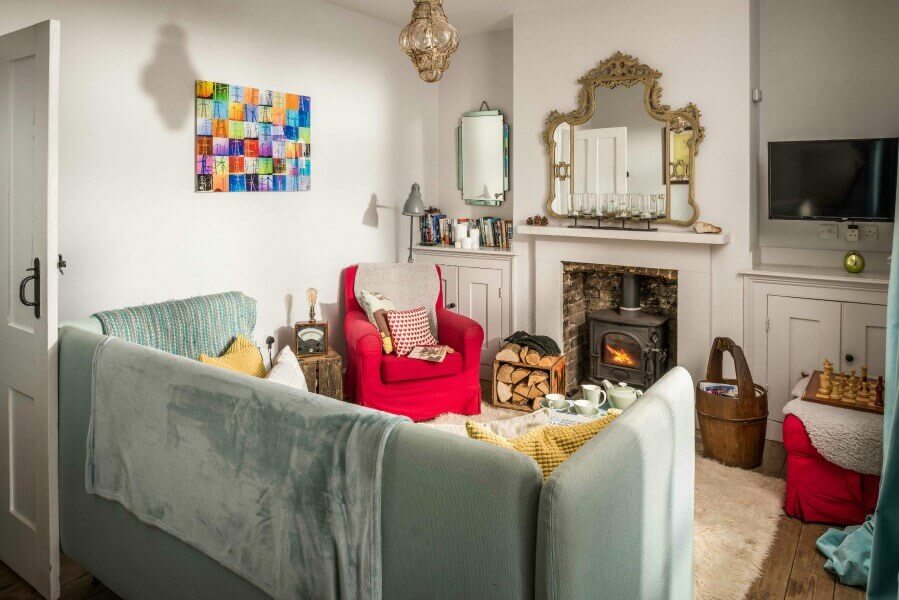 Christmas in Rye
Planning on a trip to enjoy Christmas in Rye? Charming boutiques, craft fairs, winter festivals, and medieval-era pubs all lie in wait.
Make an extended break of it and enjoy a stay in one of our cosy cottages. They're just a 10-minute drive from Rye, and many have crackling fireplaces to curl up beside with mulled wine and a Christmas movie.
Our selection of cottages are perfect for a seasonal getaway, so book your accommodation today.