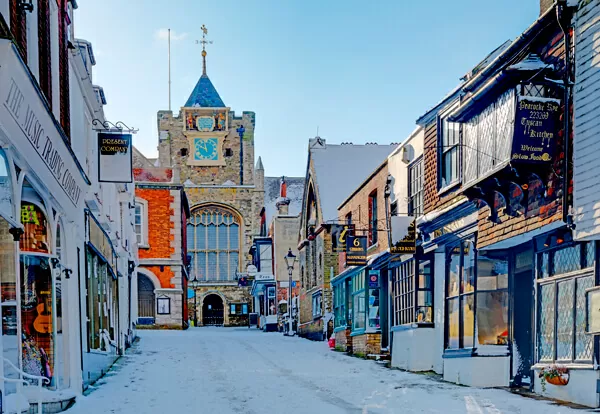 Embark on a captivating journey as you venture into the charming town of Rye, where the spirit of a Charles Dickens' novel comes alive, especially during the Christmas period. The cobbled streets shimmer with a delicate frost, while quaint boutiques beckon with their array of toys, and delightful tea shops offer a warm respite. Amidst the picturesque setting, tales of smugglers and ghostly encounters echo through the rustic timber-beamed inns.
Now, with the approaching magical festivities, we present a comprehensive and delightful guide to make the most of your Christmas experience in the enchanting town of Rye.
1. The Rye Christmas Festival
Experience the true essence of the season as the much-awaited Rye Christmas Festival commences on Saturday, December 2nd, 2023.
This joyful family affair boasts an array of timeless fairground rides, captivating street performers, engaging pantomimes, and heartwarming storytelling sessions. Delight your children with a visit to Santa Claus in his grotto, and don't miss the carol concert at St. Mary's Church.
Amidst the festivities, the town will come alive with the savory delights of local food vendors, and the charming tunes of street buskers will infuse the air with a merry and festive atmosphere.
2. Festive Shopping
Amidst the festivities, shopping stands as a major highlight of Christmas in Rye. Along the meandering streets, charming boutiques, specialty stores, art galleries, and local craft shops twinkle with the warm glow of fairy lights. Whether seeking that perfect, one-of-a-kind gift for a loved one or simply relishing the delightful ambiance, the shopping experience here is unmatched.
Once you've indulged in a morning of retail therapy, Rye generously offers a plethora of cosy cafes, tea rooms, and inviting pubs where you can unwind and recharge. Savor the comforting taste of mulled wine beside the crackling fireside in one of the town's centuries-old pubs. Alternatively, treat yourself to a heavenly mug of creamy hot chocolate at Knoops, a divine treat that brings pure bliss on a crisp winter's day.
3. Winter Walks
Yearning for a tranquil escape from the bustling crowds? Embrace the serenity by rising early and embarking on a peaceful dawn stroll through the frost-kissed streets of Rye. As the morning mist weaves its magic, the town's historic landmarks and half-timbered houses acquire an otherworldly allure, captivating your senses.
For nature enthusiasts, a visit to Rye Harbour Nature Reserve promises a delightful experience. Witness the vibrant spectacle of abundant wildfowl and waders during this time of the year, immersing yourself in the beauty of the natural world.
Venturing just beyond Rye's boundaries, Camber Sands beckons with its unending coastline. Wrapped in cosy layers, take a refreshing beach walk along the shoreline, where crashing waves greet you with invigorating sprays. Embrace the rejuvenating embrace of nature, leaving you refreshed and invigorated.
4. Pubs and Inns
Rye boasts an abundance of charming historic inns and restaurants, each presenting delectable seasonal menus infused with the essence of locally-sourced produce.
For a taste of hearty pub fare and delightful ales, make your way to the William the Conqueror nestled in Rye Harbour village. Seafood enthusiasts will find their culinary haven at the vibrant Webbe's at The Fish Cafe, an absolute must-visit. And for a truly enchanting experience, indulge in a festive four-course menu at the 600-year-old Mermaid Inn, followed by a gratifying glass of brandy in The Giants' Fireplace Bar.
5. Christmas Market
Celebrate the spirit of the season at the Rye Christmas Market, gracing Rye Creative Centre on November 25th and 26th, 2023. A wonderland of festive delights, the market brings together over 100 stalls brimming with traditional Christmas gifts, from meticulously crafted handmade ornaments to charming wooden toys and stylish festive clothing. Local treasures await as well, with a tempting array of locally-produced food and drink, featuring delectable cheeses, delightful chutneys, and fine wines. But the global culinary journey doesn't end there – indulge in an international feast of flavors, relishing German sausages, heavenly Belgian waffles, and mouthwatering Polish pierogi.
Children, too, are in for a treat, with a plethora of engaging activities, including face painting, arts and crafts, and, of course, the much-awaited visit from the beloved Father Christmas himself. An all-encompassing celebration of the holiday spirit.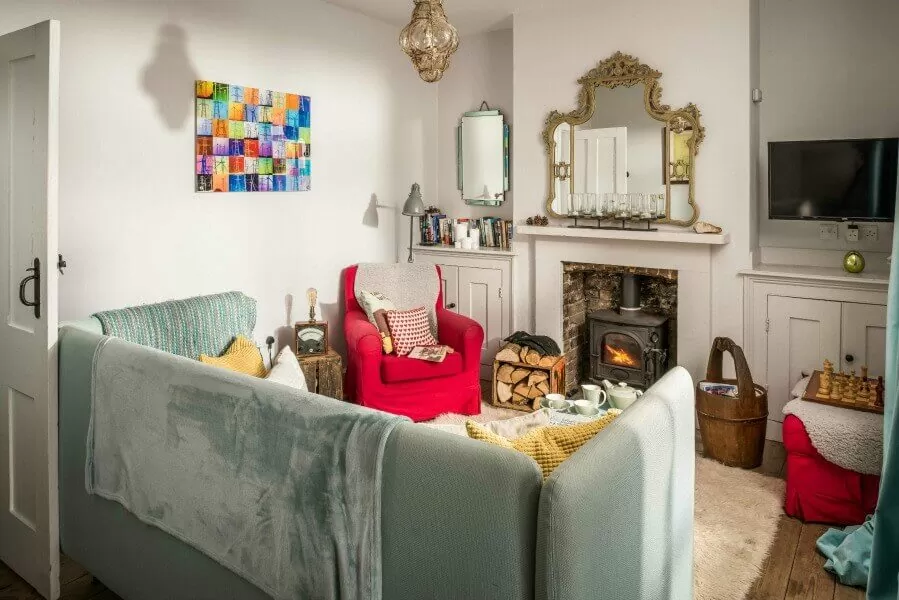 Christmas in Rye
Discover Christmas magic in Rye! Charming boutiques, winter festivals, and medieval pubs await. Stay in our cosy cottages, just 10 minutes from Rye, with crackling fireplaces for mulled wine and Christmas movies. Book now for your seasonal getaway!