Knoops Fine Hot Chocolate, Rye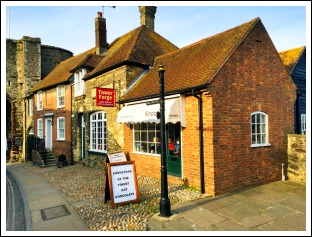 At last hot chocolate has caught up with other beverages with its own specialty Hot Chocolate Shop in England's finest small medieval town.
And surely it was about time too as, since the 1960's, the British taste for drinks (both alcoholic and non-alcoholic) and the appreciation of quality beverages has gone through a cultural and taste revolution.
The choices in beers and coffee in particular have exploded for both the home consummation market and in the choice of real ale pubs and high street coffee shops.
The Campaign for Real Ale (CAMRA) – formed in 1971 and arguably this country's most effective consumer protest group ever – ensured the survival of traditional brewing methods and thwarted the attempts of the corporate brewing giants who, through the acquisition and subsequent closure of traditional local family breweries, had attempted to introduce a bland range of keg beers such as Whitbread Tankard, Worthington E and most notorious of all, Watney's Red Barrel that would have given bitter, mild and pale ale drinkers, from John O'Groats to Lands End little or no choice at all.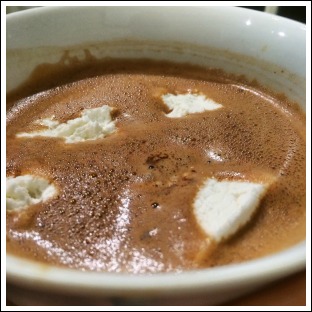 At the same time as these eponymous brands of keg beers were being advertised on TV the type and range of coffee available for home consummation offered little real choice in the supermarkets which mainly stocked various makes of Instant Coffee such as Nescafe and Maxwell House jars of powder liquid coffee in bottles such a Camp with its famous picture of an imperious colonial British Army Officer being served coffee by a "manservant" from the indigenous population.
In the fifties and sixties ground coffee was usually the preserve of the specialist "family grocers" in many market towns. Nowadays, however, you will find a large range of ground coffee choices in all supermarkets which have greatly expanded the appreciation of different types of coffee in the last thirty years or so. Filter coffee machines, which started off as fairly basic devices, have also evolved into some of the most sophisticated machines imaginable for the home.
Just as many households have abandoned instant coffee in favour of these this cultural change has been augmented by the spread of the specialty coffee shop – be they local and independent or part of chains such as Starbucks, Café Nero or Costa (coincidentally owned by the aforementioned Whitbread).
Our more refined towns and cities have also retained their specialist tea shops – such as the famous Bettys Tea Room in York.
One beverage that is perhaps more of a rarity to find being served in a specialist outlet though is hot chocolate!
Hot chocolate has hitherto perhaps been a product that sits alongside other beverage choices in a café or bar almost as an "also ran" and not in its own right! Perhaps seen a something you are more likely to make and serve at home! People of a certain age and above will remember the repetitive "hot chocolate, drinking chocolate" commercials for Cadbury's Drinking Chocolate for the sixties, seventies and eighties.
And, yes, compared to the number of pubs, coffee houses and tea shops that grace so many town centres and tourist destinations a specialty Hot Chocolate Shop is still something of a "find"!
But what a find it is when you come across a really great one!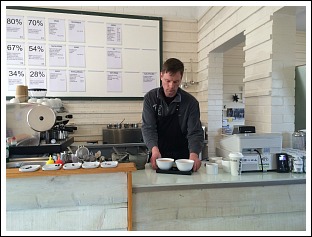 Perhaps it should be no surprise to find just such a place in Rye – England's finest small walled town and within easy reach of our holiday homes.
Located by the Landgate, in a former gallery at Tower Forge, on Hilders Cliff "Knoops" does for Hot Chocolate what the best coffee shops and real ale pubs do for their customers – they offer choice, quality and expert advice for the uninitiated.
There are at least nine different strengths of chocolate to choose from ranging from a mild 28% chocolate beverage to a super strong 99% – anyone familiar with the range of specialty chocolate bars from chocolatiers such Lindt or Green and Blacks will know all about these percentage strengths but if you are new to the concept and more familiar with a Cadburys Dairy Milk expert advice is to hand!
Opened in 2014 Knoops proprietor Lens Knoops, a charming German born businessman who is living his dream of providing quality speciality chocolate.
You can be talked through the myriad choices, not just in strength of chocolate, but also the exciting rage of natural flavour additives that go to enhance each chosen drink.
These are not syrups but fresh natural flavourings including chilli, cinnamon, lemon zest and even lavender. There is also Maldon Sea salt from Essex (as found in all the best food Halls in the world such as Harrods in London and Ka De We in Berlin) as well as marshmallows.
At Knoops There are more than 70 indulgent combinations featuring dark, milk and white chocolate plus added flavours to choose from!
For newcomers Lens Knoops will usually recommend you to start off with a 50% chocolate blended, with your chosen flavour, with the skill and care of a cocktail waiter – but with a little less flamboyance!  
Furnished in a basic style with a few wooden benches and table Knoops is nonetheless welcoming and serves both a take-away market and customers wanting to consume their chocolate on the premises from the generous bowl like cups the chocolate is served in. There's enough room to linger over your chosen coffee and chat but it is not intended to be an internet café or Wi-Fi zone.
Prices range from £3 to £4 for the chocolate plus a small add-on for some of the flavours so it is comparable with the prices charged in a specialty coffee shop.
You can even buy your own branded take-away mug to serve as both a souvenir of your visit and as a reminded to come back soon which we are sure you will want to!