When the rain falls, a coastal break in Camber Sands is never a wash out. If you're happy to brave the elements, you can enjoy muddy walks through the surrounding woodlands and countryside (although we suggest a good brolly and wellies!).
That said, we don't blame you if you'd rather opt for a day indoors. So if the storm clouds gather during your coastal getaway, here are five fun things to do in Camber Sands when it rains.
1. Wine tasting
Southeast England now produces some of the best white wines in the world. In fact, it's even been compared to French Champagne, with many English wines coming out top in blind taste tests!
Frankly, we think that's a pretty good reason to sample the local fizz at any time of year.  And if you're visiting Camber Sands on a rainy day, nothing beats a crisp glass of wine by the fire of a local pub. Drop into the Mermaid Inn (first built in 1156) and enjoy a drink in the atmospheric Giant's Fireplace Bar.
In the surrounding region, you can also tour prestigious vineyards, including The Gusbourne Estate and Chapel Down Winery. Both offer tasting sessions and sit-down meals to complement the wines.
Our cosy cottages also have everything needed to host your own wine tasting and dinners, with full kitchens and large dining areas to spread out together.
2. Smugglers Adventure
In the 18th and early 19th centuries, the Sussex coast was a haven for smugglers. Bloodthirsty gangs relied upon a network of caves and tunnels to carry and stash prize goods, including brandy, tea, coffee, spices, and lace.
Today, you can learn about the life of a smuggler at Smugglers Adventure in Hastings. Explore underground caves, passages and tunnels, and come meet some of the infamous pirates and smugglers who used the same hideaways to stash their contraband.
There are also plenty of hands-on activities and games to keep the kids entertained. And if the weather happens to improve during your visit, you're just 1 mile from Hastings Castle –another top family attraction.
3. Live music in Rye
The cobbled streets of Rye are brimming with live music venues. On a rainy evening, you can catch local musicians playing in a host of venues around town.
With its low ceilings, timber beams, and crackling fireplace, the 15th-century Ypres Castle Inn offers an inviting spot to watch live bands.  Performances happen every Sunday between 5-7pm.
For a change of scene, head to The Grapevine –a chic champagne and jazz bar that hosts live music every Friday to Sunday. While the rain falls outside, enjoy the chilled atmosphere, great jazz and a glass or two of fizz.
The William the Conqueror is another top spot to watch local talent. Located close to Rye Harbour, this recently renovated pub has a fun nautical vibe and hosts bands and artists every month.
4. Shopping in Hastings or Rye
On a wet or wintry day, you could always splash the cash on a shopping spree in Hastings or Rye. Both towns are full of stylish boutiques, galleries, antique shops and vintage stores.
The High Street in Hastings has dozens of independent shops, including AG Hendy. Housed in a Georgian townhouse, this former soda-bottling shop is replete with quirky items, including ostrich feather dusters, bottle brushes and vintage kitchenware.
Heading to Rye? This medieval town is a shopper's paradise. Hunt for rare antiques in the quaint Strand Quay Antiques, treat the kids to a "make & take" session at Craft Magic, and visit Purdie Gallery for unique limited edition artwork.
5. Catch a movie in a converted church
When the weather turns a little inclement, escape the downpour and snuggle up with a good movie. Few places are as inviting than the independent Kino Rye.
This intimate two-screen cinema is housed in a converted church. You can catch all the latest movies in a low-key setting, and there's a great onsite cafe to grab a bite before or after the performance.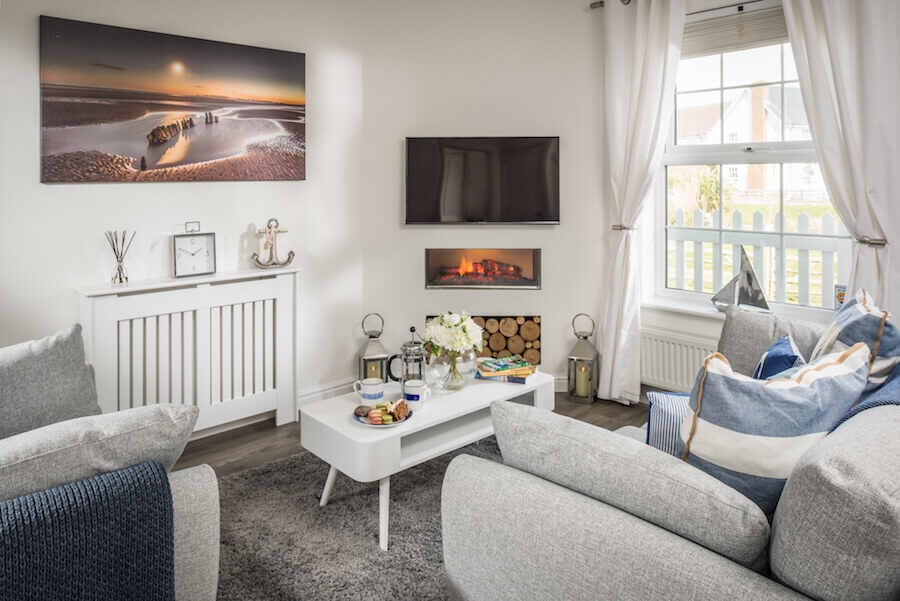 Things to do in Camber Sands when it rains
From wine tasting and live music venues, to great shopping and family attractions, you'll find plenty of ways to spend a rainy day in Camber Sands.
Our contemporary cottages also have everything needed to hunker down in comfort, including cosy fireplaces, fully equipped kitchens and flat-screen TVs. Book your stay today!