Raise a glass to British bubbly!
Being in the heart of the UK's best wine growing region – due to the sunny climate and perfect soils for growing French thrashing wines – makes our cottages in 1066 Country perfect for wine tasting holidays.
You may be surprised to hear that wine is produced here in England. You may be even more surprised that our wines regularly win awards over their French counterparts and when you book one of our wine tasting holidays here in 1066 Country, we will show you why!
When William and Kate tied the knot, it was fizz from Chapel Down in Tenterden that was served at the banquet tables, rather than Champagne from across the Channel.
A vineyard tour makes for a great day out, where you will not only learn about why our vineyards are so special, but you will be able to taste and buy the many award-winning wines on offer.
Wine played a great part in the fortunes of some of the port towns. Winchelsea owed much of its wealth to the wine trade it had with Gascony and you can visit many of the medieval wine cellars on one of the guided tours.
If the weather is inclement then head to Olde Worlde Wines in ancient Rye, where you can sample their recommended "wine of the day" and, as an added bonus at weekends, explore the atmospheric candlelit cellar – a unique opportunity to taste and to buy.
A visit to one of 1066 Country's vineyards makes for a great day out where you can enjoy tastings and tours, whether you are a novice, an enthusiast or just love a drop of wine or two, the vintners of 1066 Country welcome you!.
With British wines scooping up international awards, there's no need to nip across the channel to enjoy a vineyard tour.
So come to 1066 Country and raise a glass to British bubbly!
[frame type="right" width="230″ height="143″ src="http://1066countryholidays.com/wp-content/uploads/2011/09/6105315347_385eff2790_o.jpg"]
Our most famous fisticuffs, re-lived! October 15-16th
Step back in time to the famous battle that's outcome is still felt today as over 400 sword and axe-wielding soldiers clash in the re-enactment of the 1066 Battle of Hastings, on the very battlefield where it took place. Immerse yourself in medieval life as you stroll around the living history encampments; be amazed by the Norman Cavalry display; watch the chain mail and weaponry makers and take an entertaining look at the Bayeux Tapestry on a washing line! Marvel at the medieval falconry and see if you have what it takes to be an archer in battle in the have-a-go archery!
It really is one of the best family days out in history, so get in touch and book a historic holiday here!


The 40th Rye Arts Festival – 10th-25th September
The wonderful light and its microclimate have made Rye a haven for artists and writers. Henry James lived in Lamb House where he wrote several books and E.F.Benson immortalised Rye in his 'Mapp and Lucia' books. Rumer Godden, E Nesbitt and John Fletcher are amongst the many celebrities to have lived in or near Rye. The artist Van Dyck was a frequent visitor as he crossed the channel to his native Flanders which is why there are so many pictures of ships tied up on the Strand.
Rye is the perfect backdrop for an Arts Festival. It was started in 1972 and is one of the top ten small festivals in Britain, providing a. diverse mixture of musical, literary and theatrical events with the emphasis on quality, intellectual weight, style and fun. And the visual arts are equally well catered for with the galleries running shows, especially for the festival. The venues include St Mary's Church, the delightful churches in the neighbouring villages of Iden, Playden and Winchelsea and the Barn Theatre
at Smallhythe Place where Ellen Terry lived.
Winter Sun?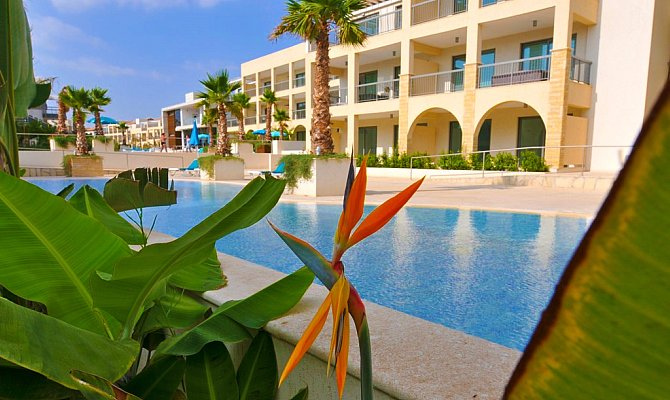 Sadly the end of summer is sneaking up on us but don't despair, we have the perfect cure for those of you that suffer from S.A.D. With the school holidays coming to an end it's time to start planning your winter break to ensure you get your vitamin D, and we have the perfect location for you!
With more than 320 days of brilliant sunshine a year you can be sure of winter sun in Cyprus and where better to stay than at the Grove Spa.
Get in early and beat the rush!
Feeling lucky?

Until next month,
Happy holidays!
Richard