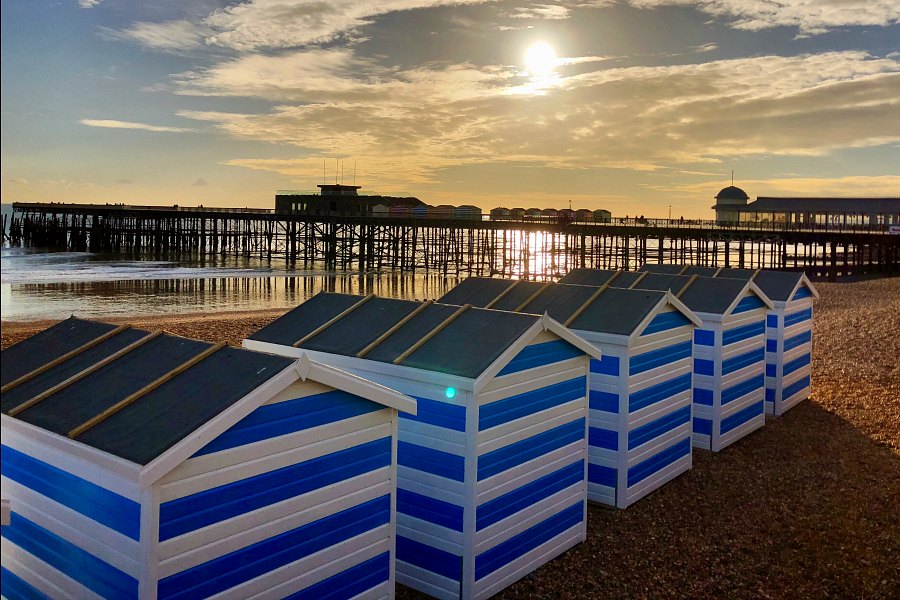 Hastings Pier is back! If you're a fan of fun by the sea (who isn't?), the return of the pier from 2016 is great news!
The landmark construction that first opened in 1876 is once again home to merriment for guests of all ages—like summertime movies and vintage holiday markets.
But families with young children will be especially delighted by Hastings Pier. Whether your little ones love carousel rides or water slides, big burgers or blueberry pancakes, there's a smile-worthy something for every kid.
So without further ado, here's how young families can best spend their time at this historic attraction.
Go for a ride.
Glimpse the sea while you and the little ones go for a spin on the carousel—Hastings Pier's festive centerpiece. Or plan your trip for special summer days when the 50-foot tall Giant Water Slide makes its appearance.
And if that isn't enough excitement, take a 20-minute walk along the seafront to Flamingo Park. (Bonus: walk down to Marine Parade and you can take the Hastings Mini Railway the rest of the way.) At this kid-approved amusement centre, you can paddle your way across the lake in a swan boat or down the river in a log flume, come face-to-face with phantoms on the ghost train, or challenge the whole family on the bumper cars.
Fill your bellies.
There's no better way to kick off a day on Hastings Pier than with a lumberjack breakfast or Huck Finn pancakes at Pelican Diner. Getting a late start? Stop in for the Atomic Ranch burger with Mexican hot sauce, or a Mousetrap Melt (grilled cheese with garlic butter).
Take in ocean views while the kids snack and you sip a cocktail at The Upper Deck Bar & Terrace, or grab a good old-fashioned burger at Cut in the Hut. And of course there's Billycan—the pride and joy business of a heroic circus rigger—serving up artisanal coffee for you and sweet smoothies for the children.
Enjoy fresh catches.
Want to teach junior how to cast a line? Fishing is a favourite pastime on Hastings Pier, but it only takes place at certain designated dates and times. Timetables are always on display at Paul's Tackle—stop in or give them a call to find out when the next fishing date is. If you can catch a nighttime fishing event, we recommend it: reeling in catches together in the twilight is a memorable family experience.
Rather let someone else do the work? Grab fresh seafood at the Fish & Chip Bar at the end of The Pavilion. It's the ideal way to enjoy the sea's bounty with the little ones in tow: you'll get to taste delectable dishes made by The Pavilion's chefs without having to book a table in the main dining room and keep the kids entertained through a long dinner.
Experience the Hastings Pier excitement.
All year long, Hastings Pier hosts fun-filled events designed to put a smile on young guests' faces. Come during Summer Marquee and choose from a programme of kid-friendly entertainment—like movies on the pier, cooking classes, and magician shows.
Visit during the off-season for family-focused festivities like pumpkin carving workshops, spooky ghost walks, circuses, pirate days, and holiday markets. Keep up with the latest happenings here.
Venture out.
Make the pier a pit stop on a day-long tour of the Hastings seafront. We've already suggested riding the train down to Flamingo Park, but there's still so much left to explore.
Dazzle the little ones at Blue Reef Aquarium, where they'll look up at the sea life from a vast glass archway. Hourly events guarantee you'll see something special during your visit—whether it's the Giant Pacific Octopus gulping down his lunch or the archerfish shooting jets of water.
Older kids love following Hairy Jack through underground caverns at Smugglers Adventure, teeing-off with fellow swashbucklers on the pirate-themed course at Hastings Adventure Golf, and getting serious air at the Trampoline Park.
Need a place to stay while you and the family explore Sussex? Beside the Sea has a full offering of family-friendly cottages in picturesque Camber Sands—including accommodations fit for the littlest guests. Start planning your family getaway here.