Over the centuries, the southeast coast has been the invader's gateway to Britain. As the closest point to mainland Europe, it's witnessed some of the most important moments in this country's history.  And it's also home to some of the most famous castles in England.
These iconic monuments have seen powerful kings, famous dukes, wealthy aristocrats and military commanders. Each left behind their own indelible legacy. From dramatic clifftop ruins, to majestic moat-surrounded forts, the following five castles are a must-visit.
1. Dover Castle
If you only decide to visit one castle, make it Dover Castle. Perched atop the White Cliffs of the Kentish coast, this medieval castle dates back to the 11th century and features enormous ramparts and ditches believed to have originated in an Iron Age hillfort. Through the ages, it's been of huge strategic importance: it has guarded the English coastline for 20 centuries.
Step back in time and explore the lavish rooms of the Great Tower, home to Henry II's medieval court. Learn about royal life through interactive exhibits and games, meet a cast of costumed characters, and take the seat of regal power in the Throne Room.
Visitors can also wander deep within Dover's White Cliffs to explore the secret tunnels used during World War II. Here, atmospheric recreations bring back to life the story of the Dunkirk evacuation, complete with real film footage, recordings and vivid special effects including projections of swooping Spitfires.
2. Leeds Castle
Described as "the loveliest castle in the world", 900-year old Leeds Castle is undeniably one of the most famous castles in England. Set amid 500 acres of gorgeous parkland and landscaped gardens, it straddles two islands on a magnificent moat.
Through the centuries, Leeds Castle has been a Norman stronghold, a royal residence, and a royal palace. Its most famous occupant is arguably Henry VIII, who ordered a major renovation from 1517 to make the castle more comfortable for himself and first wife, Catherine of Aragon.
Today, visitors from around the world visit this stunning castle to soak up history and explore its beautiful grounds. Here, you'll find a maze, vineyard, aviaries, and parkland wildlife. Daily activities and events include falconry demonstrations and punting on the moat. Pet owners will especially love the world-famous Dog Collar Collection, which offers a fascinating insight into how dog owners have spoiled their pets for over 500 years.
3. Walmer Castle
From the Duke of Wellington to the Queen Mother, the illustrious Walmer Castle has been the residence of many famous names in English history. Set on the picturesque Kent coastline, this famous English castle boasts sweeping sea views. It was originally built in the 16th century as part of a chain of coastal artillery forts.
Here, you'll learn more about the Duke of Wellington's life. Along with the armchair in which he died, you'll get to see a pair of original Wellington boots! Head outside to take in the beauty of the castle's glorious 8-acre gardens and woodland.

4. Hever Castle
The childhood home of Anne Boleyn, the charming Hever Castle is a beautiful double-moated castle dating back to the 13th century. You'll need to walk across a drawbridge to reach the castle. Them, you'll pass under two portcullis that lead into an inner courtyard.
Its elegant rooms are filled with antique furniture, original tapestries, Tudor paintings, and Anne Boleyn's prayer books — signed in her own handwriting.
Save time to admire the castle's award-winning gardens – sprawled across 125 acres. Breathe in the scented air of the pretty rose gardens (with over 4,000 rose bushes!). Enjoy boating on the glittering 38-acre lake. And, of course, save time to stroll beside the iconic Pompeian Wall – located in the Italian Garden.
Bringing the kids? They'll love the children's playground, miniature model houses, archery sessions, jousting, and heading off for adventures inside the 100-year old Yew Maze.
5. Hastings Castle
Offering a dramatic clifftop setting, Hastings Castle was built under the order of William the Conquerer when he landed in England in 1066.
Converted into a tourist attraction in 1951, Britain's first ever Norman castle now offers an array of family-friendly interactive exhibits and experiences. Watch a fantastic 20-minute video to learn about the legendary Battle of Hastings. Explore the remains of the chapel and the famous whispering dungeon. Kids will love imagining themselves as medieval knights among the castle ruins.
Be sure to visit the atmospheric Smugglers Adventure Experience. Here, notorious smuggler Hairy Jack leads visitors through a labyrinth of underground tunnels and secret passageways, with a cast of pirates, smugglers and bootleggers lying in wait.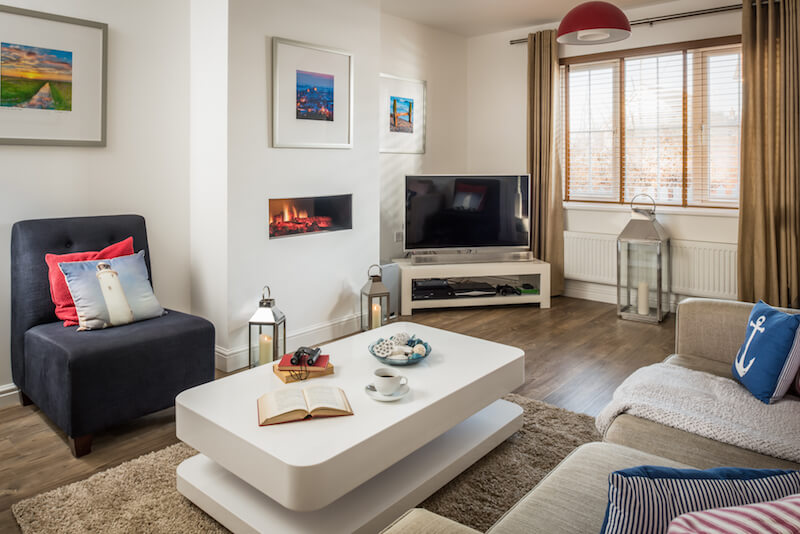 Discover Famous Castles in England
When you book a stay with us at Beside The Sea, you'll find yourself surrounded by enthralling medieval history and some of the most famous castles in England. Learn about centuries of English royalty and dramatic military battles. Plus, you'll have a chance to explore some of the most picture-perfect gardens in the country.
Feeling inspired to visit? Book from our range of rentals today.