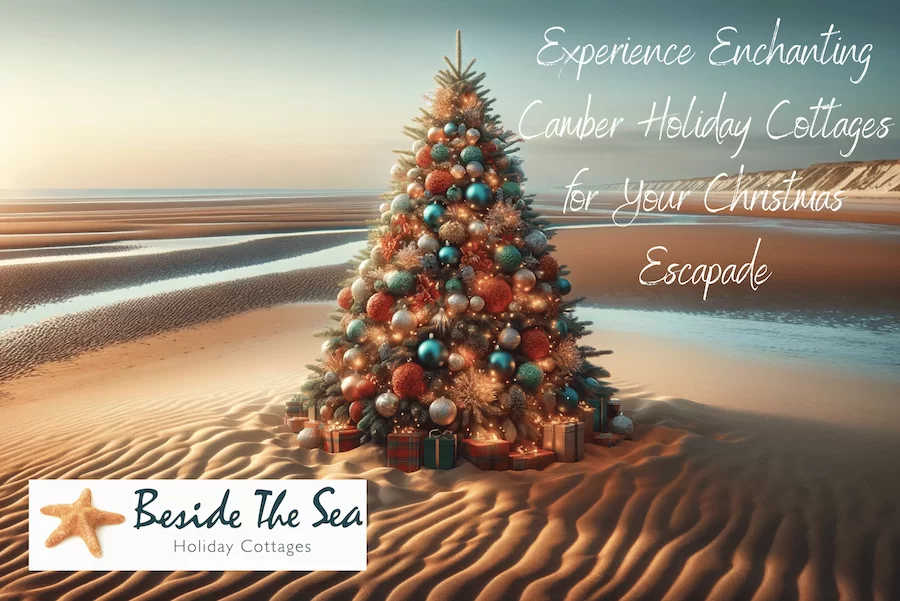 The festive season is knocking on our doors, and we've got a sleigh-full of holiday cheer waiting for you here in Camber! Our handpicked holiday cottages blend yuletide joy with seaside serenity, perfect for family gatherings, romantic escapes, or solo retreats. Imagine unwrapping Christmas magic by the sea!
Just a snowball's throw from the beach, Ocean Beach marries coastal living with modern flair. It's a symphony of sea sounds and festive delights. Whip up a Christmas feast in the well-equipped kitchen and unwind in the tranquil sitting room. Evenings glow with the warmth of mulled wine by the log burner. And when it's time to rest, the tranquil bedrooms, adorned with cosy furnishings await.
Get ready for a cosy Christmas by the coast at Seasalt Cottage! Nestled in the charming Whitesand development, this stunning retreat is just a five-minute stroll from the gorgeous Camber Sands. Imagine starting your mornings with a fresh espresso in our fully enclosed garden, breathing in that crisp sea air.
Seasalt Cottage blends coastal charm with modern comforts, featuring superfast fibre-optic broadband for all your holiday streaming needs. It's a place where relaxation meets convenience, ensuring every moment of your stay is as memorable as the last.
For those bringing the whole crew, The Rock isn't just a house; it's a festive escape where countryside charm meets coastal bliss. Picture yourselves strolling along the beach with the crisp winter air or cycling through serene trails, all with a festive twist.
And when the day is done, snuggle up in our cheerfully decorated bedrooms, where sea-inspired decor meets holiday sparkle. Don't forget, the historic town of Rye, with its yuletide charm, is just a sleigh ride away!
Minutes from the beach, Seaglass Cottage dazzles with its bright, nautical-themed decor. It's a beach lover's Christmas paradise! The cottage features a cosy living room with a fireplace, a farmhouse dining table, and a sleek kitchen. Drift off to sleep in one of three luxurious bedrooms, serenaded by the soft sea breeze.
Can you hear the jingle bells? That's right, Christmas is on its way, and our Half Moon Cottage is dressed up in its holiday best, waiting just for you! Imagine being only a merry five-minute walk from the sparkling Camber Sands beach, where the sand glistens like winter snow.
Half Moon Cottage isn't just a place to stay; it's a festive wonderland in its own right. With its sea-blue charm and a garden perfect for snowman-building (white Christmas permitting!), it's the dreamy backdrop for your family Christmas card. And guess what? Your furry family member doesn't have to miss out on the holiday fun – we're totally pet-friendly!
Wrap-Up
Our Camber holiday cottages are ready to host your dream Christmas by the sea. Whether it's vintage charm, modern elegance, or a family-friendly adventure, we've got the perfect seaside retreat for your holiday celebrations. Choose your favourite and let the Christmas magic begin!