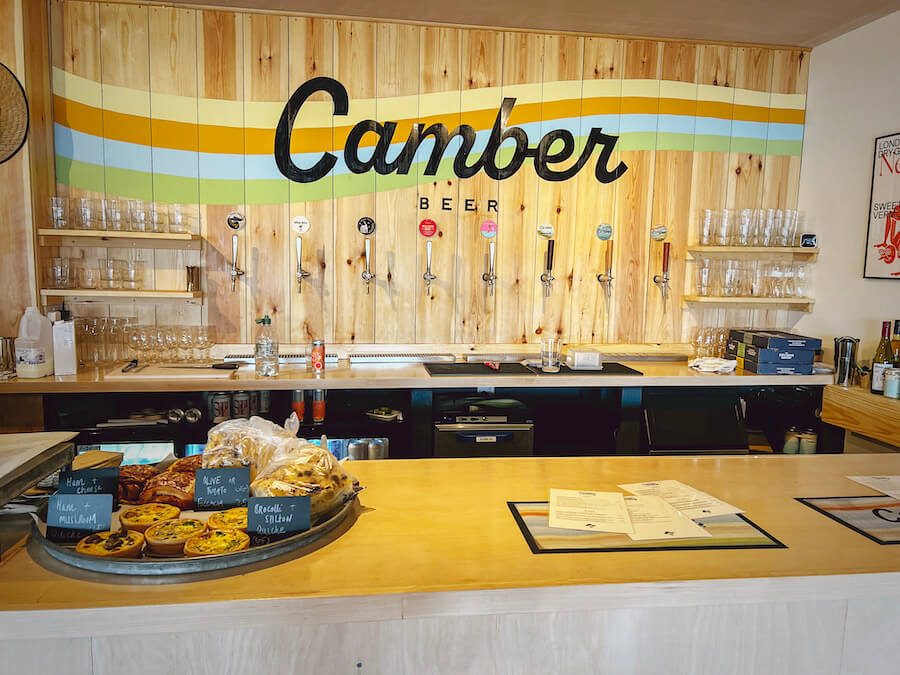 Remember that whiff of excitement in the air when we chatted about Camber Beer last summer? That sense of promise and the eagerness of something special brewing? Well, drumroll please… it's all bubbled up to a grand reveal! The geniuses behind Camber Beer have unveiled their latest adventure – the Camber Landing. Nestled in the heart of our beloved coastal village, this sun-kissed haven is not just another spot on the map; it's a destination.
Camber Landing is a delightful concoction of retail therapy, aromatic coffees, and evenings graced by the mellifluous tunes of good music. Just picture this: after a sun-soaked day on the golden sands of Camber Sands, you step into this haven. The morning welcomes you with the invigorating aroma of Allpress coffee, paired perfectly with buttery pastries that melt in your mouth. As the day matures, the twilight hours serenade visitors with the rich taste of Camber Beer, complemented by the refined flavors of natural wine. It's not just a place; it's an experience, an emotion.
And here's the cherry on top – Andrew Dumas, the mastermind behind Camber Landing, has carved out this space to be a paradise for all. Whether you're young or old, a resident or a traveler, with two legs or four, there's a spot just for you from sunrise to sunset. Children can play freely, dogs can lounge, and for the digitally inclined, a comfortable nook awaits.
But wait, there's more! With a jam-packed calendar bursting with summer events, there's never a dull moment. Dive into beach cleans, sway to the rhythm of bi-weekly food trucks, or simply soak in the vibes of this beachy wonderland. Alexa Shaw's influence sprinkles some extra magic, bringing you a slice of 'Rae in Rye' with their signature textiles and deli treats.
In essence, Camber Landing is more than a place; it's the soul of our community. So, let's toast to long beachy days and even longer beachy nights at the Camber Landing! Celebrate the spirit of Camber with every visit.