As well as picturesque landscapes dusted with gold and auburn, autumn is also great for food and drink festivals and discovering the most famous battle in history.
Autumns Festival Highlights:
The Rye Arts Festival 12th-28th Sept

The wonderful light and its microclimate have made Rye a haven for artists and writers, making this pretty town the perfect backdrop for an Arts Festival.

The Rye Arts Festival attracts a stimulating array of authors, performers and artists both high profile and emerging, national and international.
The Festival is Rye's principal annual arts event, taking place from the 12th-28th September. It has developed over the past 42 years into one of the most successful and respected small festivals of its kind, dedicated to high quality performances in music, literature, theatre, and other art forms coupled with a range of activities in heritage and the environment.
In recent years, Rye Arts Festival has featured, among others, Dame Ellen MacArthur, Sandy Gall, Sir Max Hastings, Tasmin Little, Benjamin Grosvenor, The Zemlinsky Quartet, The Sitkovetsky Piano Trio, Lord David Owen, Adam Nicolson, Frances Spalding, John Julius Norwich, A.N.Wilson, Richard Lester, Professor Robert Winston, Professor David King, Courtney Pine, The Big Chris Barber Band and the Ukulele Orchestra of Great Britain.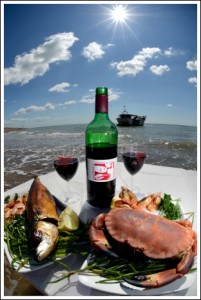 Hastings Seafood & Wine Festival 20th and 21st Sept

For Foodies head over to Hastings on the 20th and 21st September for the 9th Hastings Seafood & Wine Festival.
Indulge in a mouth-watering weekend of delicious seafood and luscious wines at this spectacular festival on the Stade Open Space, next to Hastings iconic fishing beach.
Enjoy succulent seafood and local produce from an array of stalls, all washed down with wine from surrounding vineyards.
Superb live music and street entertainment completes the lively festival atmosphere, making this an unmissable event. The festival is centered around The Stade and Rock-a-Nore Road in the heart of the Old Town, although businesses across the whole of Hastings join in with special menus and entertainment.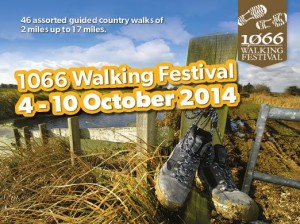 1066 Walking Festival 4 – 10 Oct
This new 1066 walking festival, set in Sussex countryside around Hastings and Battle, offers walks to suit all tastes and fitness levels – with many free of charge. Even the most casual walk includes key historic sites from the famous Norman conquests of England, like the remains of Pevensey Castle and Battle Abbey or the field on which King Harold fell.
Wild Boar Week A Celebration of Game in Rye 25th Oct – 2nd Nov

Wild Boar Week in Rye, East Sussex offers the perfect opportunity to indulge in culinary delights from the dark ages … and more than boar! Rye's restaurants will be showcasing an array of gamey treats from pheasant to pigeon, ale and cider to mead. You'll also find wild boar events including wild boar woodland tours, live music, quiz nights and more!
1066 Battle of Hastings 11th & 12th Oct

Re-live the atmosphere and tension as over 400 soldiers clash in the re-enactment of the 1066 Battle of Hastings. Get up close to the knights and their horses in the new cavalry encampment. Immerse yourself in medieval life: watch the chain mail and weaponry makers and take an entertaining look at the Bayeux Tapestry.
Discover the events leading up to the battle in a specially commissioned play. Marvel at the medieval falconry and see if you have what it takes in the have-a-go archery. Witness the battle unfold and see England change forever at one of the best family days out in history!