Dear Beside the Sea Holidays team
I was showing my 6-year-old Cali some photo's of Camber Sands as it is such a fantastic seaside holiday destination. That clear shallow water for the kids to play in and sand dunes to run their energy off, not to mention that fabulous open stretch of golden sand. Plenty of space to build a whole village of sandcastles!
"Oh we do love to be beside the seaside!"
The fact that we discovered your stylish comfortable holiday cottages are just a few minutes walk from the beach and have a garden area for those evening BBQ's too really means they tick all the boxes for a fun-filled family holiday.
I think the properties look fantastic, beautifully decorated and furnished – a far stretch from some of the seaside holiday lets I have seen on offer. Learning how you put so much care and attention into your welcome packs too, having different little treats depending on who is coming to stay really says a lot about your customer care and reassures that a top-quality memorable holiday can be expected.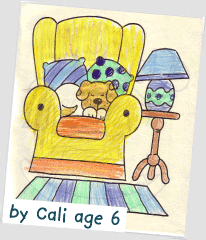 I was also telling Cali about Oscar who I have been tweeting with this week (I have promised him some BBQ sausages when we visit) and we are looking forward to playing chase with him on the beach.
Cali thinks it is a fantastic idea of Oscar's to put Slobber Chocolate Brownies and special doggie water bottles in the cottages when you are having a four-legged guest coming to stay. We have been telling all our dog owner friends about your ideal pet-friendly pads!
Cali has even coloured in this picture which looks a bit like Oscar to send to you. We do hope Oscar likes it!
Lots of Love Ces and Cali xx
(your no.1 fans)