Breeze past Brighton and come see another side of East Sussex where rolling weald-land and wildlife-rich marshland meet the vast sandy beaches as the county greets neighbouring Kent. There are endless reasons to visit East Sussex, but we've collated our favourite five that feature heavily in our Camber getaways recommendations. These are the reasons we love our corner of East Sussex so much and hope you will too.
Horrible histories
Battlegrounds and fortresses scatter East Sussex, holding tight to the frontier heritage of southern England. The East Sussex coastline has a long-lived history at the forefront of England's defences whether its Roman history, medieval battles or the 20th century's world wars that pique your interest.
Hastings
No trip to East Sussex would be complete without a venture to Hastings and the site of its 1066 battle. You won't find any illustrious reflections on these events like you might in France in the form of the Bayeux Tapestry, but time your visit right and take in a jousting event or battle re-enactment and you'll more than get a feel for bygone times.
Pevensey Castle
One of seven castles in East Sussex, Pevensey is perhaps most famous for being where William the Conqueror landed with his troops ahead of his Battle of Hastings success. Yet it was originally the site of a Roman fort and it is thought that William structured his own fortress within those existing foundations. The ruins are fascinating when one considers all that has happened here – come armed with your imagination to bring the ruins to life.
Tip top towns
Seaside towns in East Sussex are blend their rich heritage with more modern coastal associations. You'll find promenades and cockle stalls alongside ancient buildings and cobblestone streets, a certain charm that is rarely found elsewhere.
Rye
You can walk to Rye from Camber Sands – there's a lovely circular walk – and once you're there, those sensible walking shoes will serve you well on the cobbles too! Slow your pace on Mermaid Street in Rye as much to protect your ankles as to take in its timber-framed buildings and independent shops and boutiques. From top to bottom and looking out to sea, it's a captivating part of this ancient town.
Yet Rye is a haven for wildlife too. Rye Harbour is a Site of Specific Scientific Interest, which extends into Rye Harbour Nature Reserve stretching through Romney Marsh and onto Dungeness in Kent. This low lying wildlife rich zone is abundant with birdlife in particular but flora and fauna allowed to thrive here bring pollinators and naturalists too.
Bexhill-on-Sea
When you visit East Sussex, the seaside town of Bexhill – affectionately referred to as Retro on Sea – is brimful with period architecture and fascinating ties to the past. Its recently renovated King George V Colonnade graces the seafront in its white washed glory. The renowned De La Warr Pavillion stands boldly behind – now a contemporary arts venue it is where Bob Marley held his first UK gig in July 1972. Bexhill Museum is a magnet for any motor racing fans as the town was also the location for Britain's first motor race meet in 1902.
Captivating coastline
The East Sussex coastline is stunning and varied in equal measure. From the golden sands at Camber to the shingle at Pevensey Bay and the rolling white cliffs of Seven Sisters. Visit East Sussex for the coastline alone and day trips might involve walking boots, buckets and binoculars.
Pelham Beach
It's easy to make a day of it in Hastings. When you're ready to relax, hire a deck chair, unravel a blanket and settle in for an afternoon by the shoreline. With a backdrop of its Georgian and Victorian seafront buildings, plonk yourself somewhere between the harbour and pier with an ice cream and listen to the waves. Should boredom ensue, penny slot machines await in the arcades, like the good old days!
Seven Sisters
On your bike – load yours on the car or we'll point you to where you can hire them – to take in the chalk cliffs and valleys of the Seven Sisters Country Park. If you'd rather not get a bruised bum, hire canoes or paddle boards (or book lessons) at Buzz Active Cuckmere where the calm waters mean you can paddle confidently while taking in the views.
Sensational sunsets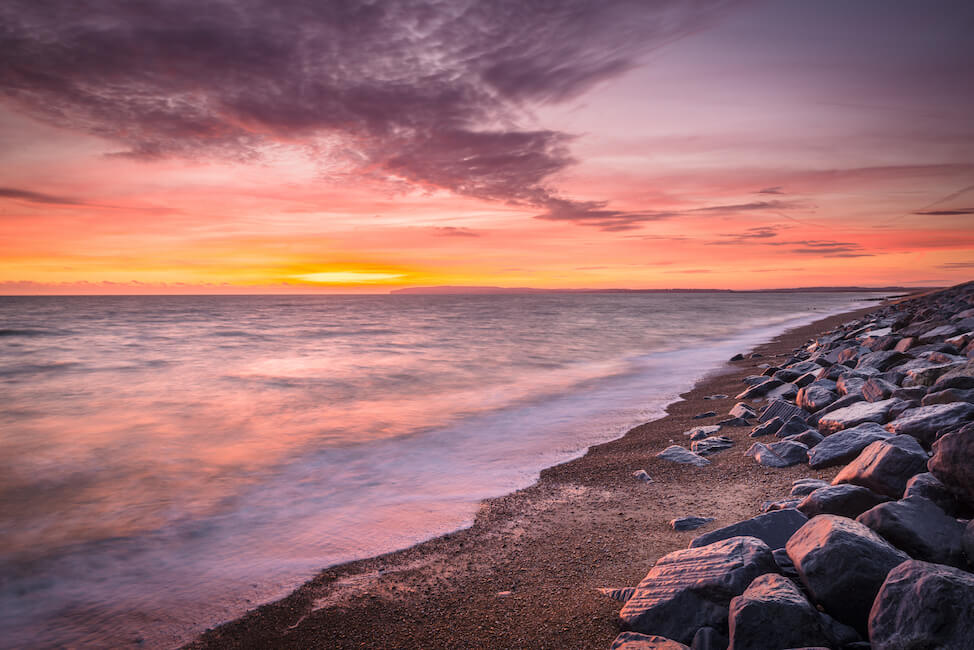 Whether you're an old romantic or a photography whizz, you'll want to capture the playful colours of the sun in the sky when you visit East Sussex. No special equipment required, unless you're a dab hand with an SLR, we've taken ample stunning sunsets with an iPhone too.
Firehills
Bring a picnic and a ball or a pack of cards or Uno. Make an evening in the country park at Firehills and settle in to watch the sun set in golden glory as it sweeps away over Firehills. Aside from our home turf (more below on that!), Firehills is our favourite sunset spot in East Sussex. Don't worry, if you like we can remind you when you get here!
Camber Sands
The fiery and pastel hues of the sky in Camber as it sinks into night are, as noted by Time Out, a photographer's dream. But it's not just epic sunsets in Camber. Early birds will enjoy similar skyline glories with Camber's epic sunrises. An East Sussex holiday could even have you burning the candle at both ends!
Abundant activities
The list of things to do in East Sussex is endless, but we can help tailor it to your preferences. Just let us know what you most enjoy doing or would most like to discover during your stay in East Sussex and we'll be happy to help provide ideas for your itinerary. For now, our favourites…
Wine tours and tastings
The vineyards of East Sussex and Kent are already renowned for their wines and English fizz. Our favourite vineyards – that all offer a variety of tours, tastings and self-guided walks, are Gusborne (try their pink fizz), Chapel Down (hot summer days and their chilled Bacchus are a match made in viticulture heaven), and Charles Palmer (their Pinot Noir has won awards for very delicious reasons). Or make a day of it with Vine & Country vineyard tours.
Cruise your way around
Take to the East Sussex waterways and you have a choice of adrenalin pumping activities or serene explorations. One of our favourite family friendly activities in East Sussex is the Bodium cruises. Hire a boat and cruise your way to this stunning restored moated castle, visit the castle and then make your way back. Currently closed due to coronavirus, your options range from hiring your own boat for up to 24 passengers or taking a ferry.
Coming to visit East Sussex?
You'll need somewhere to stay. That's where we come in. Make Camber Sands your home for your East Sussex holidays. We've told you about the sunrise and sunset, and the surf. And everything else in here is on our doorstep – put it on yours too.
Book Camber Sands holiday cottages
Enjoyed reading this? PIN this post to share it with others: