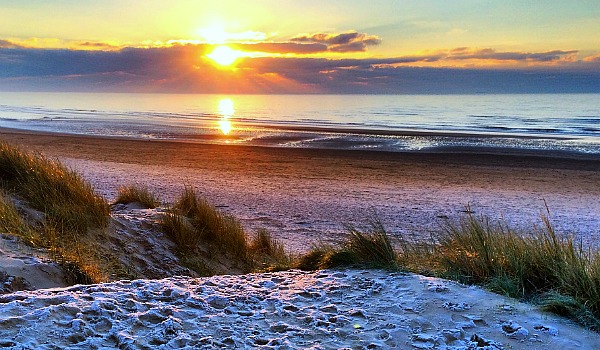 Going back to the rat-race and drudge of the working week, after all the build up and culmination of end of year festivities can be a bit of a bore. The mornings are dark, and the evenings cold and unwelcoming on your commute home. The lightness and warmth of Spring feels like a lifetime away. What you need is to get away from it all, with a weekend Beside The Sea!
A winter visit beside the sea is invigorating and sure to help blow away the cobwebs.There is nothing quite like reviving your senses with a brisk, invigorating walk in the crisp winter sea air, followed by an afternoon warming your cockles in front of an open fire at a cosy Inn.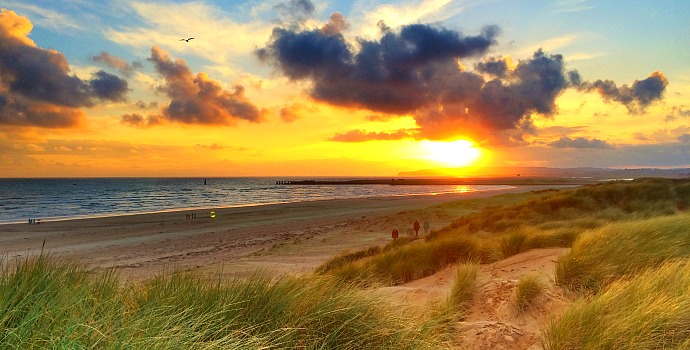 Camber with its big, beautiful – and often empty at this time of year – beach is the perfect place for a walk in the winter, along with the neighbouring Cinque Port town of Rye, with it's pretty cobbled streets and array of excellent Inns and eateries makes a weekend with us the perfect antidote for back-to-work blues.
Arrive on Friday evening to a cosy holiday cottage, equipped with everything you'll need, enjoy a late check out of Sunday and use your weekend to do as much or as little as you like.
Get up early and enjoy a winter sunrise over the deserted beach, sauntering over the mountainous dunes and welly-booting through the shallow surf, accompanied by the seabirds chasing their early morning snack. Or lay-in, relax and simply stroll to nearby The Gallivant for a late breakfast or brunch.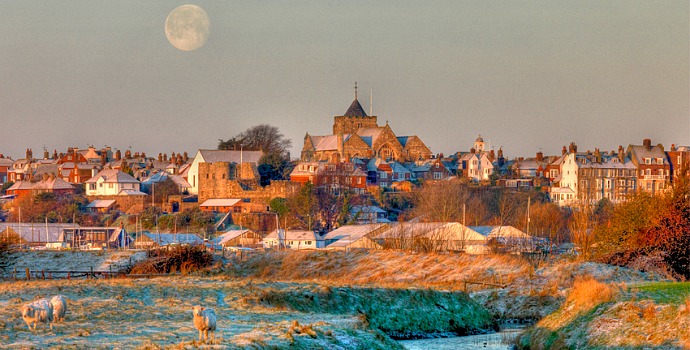 Enjoy exploring the treasures of Rye and it's – at times dark – history. The tourist  information centre is a great place to start learning about the chequered past of the pretty town, whose magical atmosphere is somehow heightened in winter, when the historic streets are visited by a rolling fog and a chill wind, straight off the sea.
Immerse yourself in the ambiance with a walk along winding cobbled streets, or climb up the steps of St. Mary's Church tower for views of our misty and magical frost-coated landscape. Or spend time seeking trinkets and treasures in the many antique shops and boutiques the town boasts. Follow up with a leisurely lunch at one of the town's many tearooms or public houses serving splendid food, much locally sourced. Why not treat yourselves to a piece of cake in Hayden's , afternoon tea at The George or a hot chocolate from Knoops, purveyors of the finest hot chocolate (try with a hint of chilli!).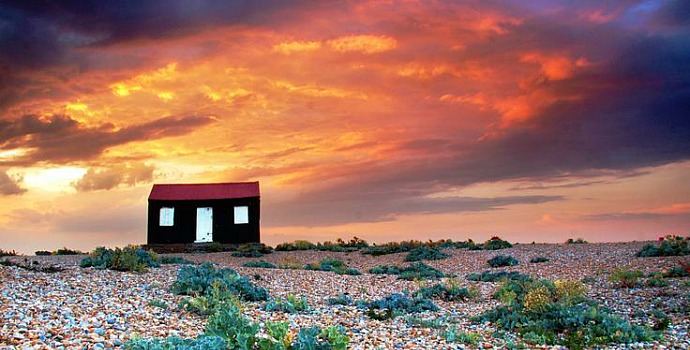 If you're looking for winter wildlife or a country walk (to make you feel less guilty about the preceding cake). Head to Rye Harbour Nature Reserve, which is teaming with wildfowl at this time of year, or take a stroll in the Firehills at Hastings Country Park. Don't forget your camera though, the early sunsets mean you can get some fantastic photos of the huge winter sun as it sets in the blood-red sky.
So whether you're after a romantic weekend for two or a warm and family-friendly retreat, this is the perfect place for you to start.

For the latest news, pictures and videos from Beside The Sea follow us here