Camber Sands offers an idyllic seaside retreat for year-round fun. But there's no need to limit yourself to the beach! Along with its long and sandy seashore, Camber Sands boasts a fantastic location near a host of attractions, from epic coastal castles and stunning natural scenery, to wonderful wildlife and world-class wineries. So come with a sense of adventure, and make the most of the following top five days out near Camber Sands!
1. Safari Parks
Nature lovers are in for a treat, with two of the UK's top wildlife parks right here in Kent!
Head to Howletts Wild Animal Park to see the largest herd of African elephants in the UK, Kent's only giant anteaters, and a family of western lowland gorillas. You can also meet mammoths and sabre toothed Smilodons at the park's Animals of the Ice Age zone. And kids can make like a monkey as they climb and swing through the canopies at Treetop Challenge.
At the larger Port Lympne Wild Animal Park, there are over 700 rare and endangered animals, plus unique safari experiences. Visit the UK's largest dinosaur forest – complete with prehistoric life-sized creatures that come to life with a virtual reality app. All told, these two incredible safari parks promise the ultimate wild adventure!
2. Dover Castle
Spectacularly perched on the White Cliffs, Dover Castle lets you experience 2000 years of British history. Wander among the lavish rooms of the Great Tower to learn about King Henry II's royal court. Meet a cast of costumed characters, take a snap of the kids perched on the royal throne. Then climb the spiral staircases to reach the castle roof for sweeping views across the entire grounds.
Dover Castle is also home to the Secret Wartime Tunnels. Buried deep within the White Cliffs, this underground experience whisks you back to the Dunkirk evacuation of WWII. Descend into the (at times claustrophobic) tunnels. Immerse yourself in the sounds and smells of an authentic underground hospital. And listen to swooping Spitfires and anti-aircraft guns boom all around you.
3. Bodiam Boating Station
Nothing beats a day of splashing around on the river at Bodiam Boating Station. Hire kayaks and boats for a morning on the water, enjoy a spot of fishing, or bring your pet pooch and take a stroll amid this official Area of Outstanding Natural Beauty. Be sure to treat yourself to a cream tea in the quaint cafe and garden.
We also recommended booking the scenic 3.8 river cruise to the magnificent 14-century Bodiam Castle. The banks are teeming with wildlife along this scenic journey, so you might want to bring your binoculars. If you're lucky, you might spot one of the region's resident kingfishers, cranes, or even a nesting barn owl.
4. Tour a world-class winery
Kent is situated at the heart of the UK's wine-growing industry, producing quality sparkling white wines that rival the finest Champagne. To sample some of the nation's finest fizz, take a short drive from our coastal cottages to two of the country's leading vineyards.
Chapel Down in Tenterden offers guided tours around their rolling vineyards and state-of-the-art winery. After learning about the intricate art of wine-making, tutored tasting sessions let you sample some of their prestigious bottles.
Named English Wine Producer of the Year at the 2017 International Wine and Spirit Competition, Gusbourne in Appledore boasts a variety of guided and self-guided tours. Their exclusive tailor-made private tours are a true treat for wine connoisseurs. Feel free to drop by Gusbourne's tasting room at any time for sampling sessions.
5. Battle Abbey
A fantastic family attraction, Battle Abbey is the site of the 1066 Battle of Hastings – the most famous military encounter in English history. Today, you can step onto the very same field where this history-defining clash took place. An audio tour (including a special children's version) lets you relive the battle's pivotal moments.
Learn more at the visitor centre, where interactive displays and videos bring the battle vividly back to life. Then explore the crumbling Battle Abbey – a Benedictine abbey dating back to the 13th century. Serenity awaits in the Duchess of Cleveland's Victorian walled garden – home to historic varieties of fruit trees, seasonal wildflowers, and the abbey's honey-producing beehives.
Days out near Camber Sands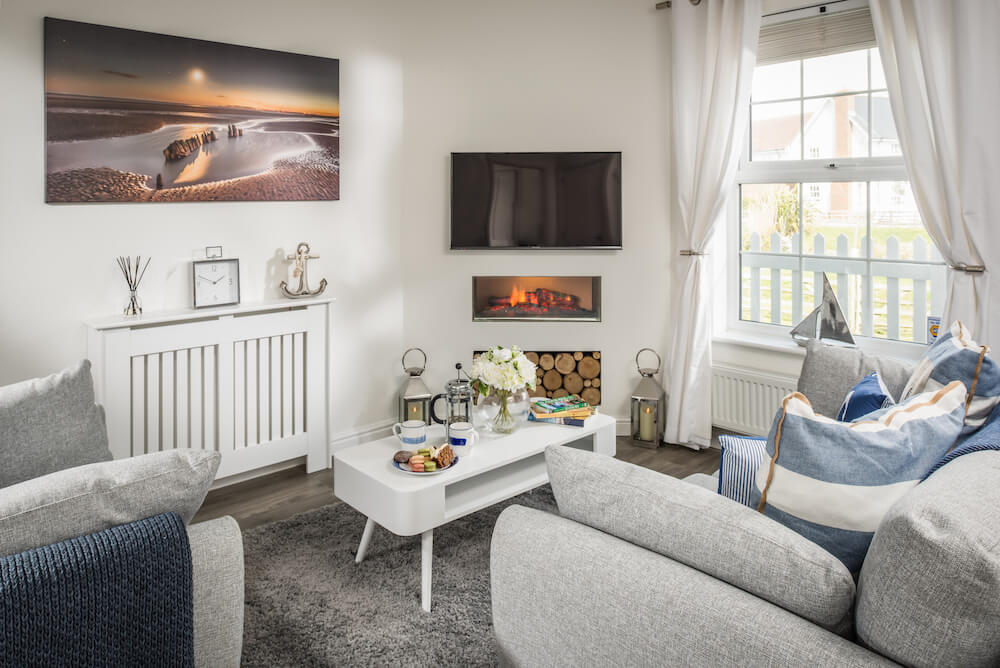 With its medieval attractions, stunning natural scenery, centuries-old castles, and world-class wineries, you'll find an array of unforgettable ways to spend your days out near Camber Sands.
When you're ready to book your trip, Beside the Sea presents a diverse offering of cosy cottages. Find the perfect base to unwind when you return from your adventures. Find the rental that best suits you today.