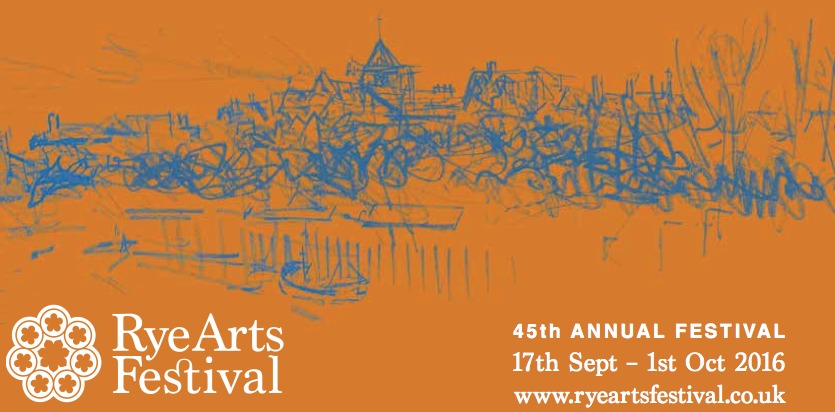 As we wrote on our website last year the medieval walled town of Rye – just three miles from Camber where Beside the Sea Holidays offer an unsurpassed choice of quality holiday home lettings all the year round – is not like most small towns!
Once again to enhance the towns early autumn calendar of things to do, following another successful August Jazz and Blues Festival, comes perhaps the largest of the towns major headline cultural events in the shape of the 45th annual Rye Arts Festival 2016 running for 15 days from 17th September to 1st October.
The Rye Arts Festival 2016 events are all colour coded in the Festival Brochure – which Beside The Seas resident junior events coordinator Arthur is pictured browsing –  into Literary, Classical, Contemporary, Visual Arts, Walks & Tours, Exhibitions and Fringe.
There are far too many events to be able to mention them all but we will look at one example of each.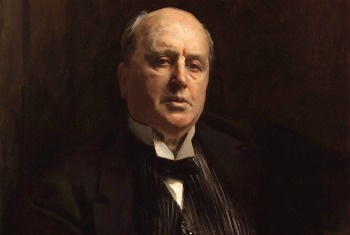 On the literary front, towards the start of the festival on Sunday 18th September, Andreas Prindle welcomes you, in the guise of literary giant Henry James, to the 18th-century Lamb House his home from 1897 to 1916. Now in the ownership of the National Trust the house, where James was visited by friends including Kipling, Chesterton, Wharton, Belloc and E F Benson (who later lived there himself) is now run as a writer's house museum.
Other literary events feature Dame Joan Bakewell and Lloyd Grossman among the famous names putting in an appearance this year.
There are no less than a dozen events for Classical music lovers culminating, on Saturday 1st October (the last day of the festival), in Don Pasquale performed by Euphonia soloists directed by Alisdair Kitchen at the Rye Creative Centre Theatre. Doors open at 18.00 and tickets cost just £15.00.
There is a choice of five Contemporary Events including the intriguingly named The Coal Porters – the world's first 'Alt-bluegrass' act demonstrating the power of fiddle, mandolin, banjo, acoustic guitar and doghouse bass all matched with four-part harmonies and melodies. Rye Community Centre is the venue for this event on Tuesday 20th September.
Many of the Visual Arts events at the festival take place at the exquisite Kino Cinema and prominent among these is a showing, on Sunday 25th September, of the magnificent film "Merry Christmas Mr Lawrence" that will serve as a celebration of the life of the late and truly multi-talented David Bowie who sadly passed away in January of this year. Bowies most mainstream and, perhaps famous films is set in a WWII Japanese POW Camp also stars Tom Conte. It is based on Sir Laurens van der Post's own experiences as a prisoner of war.
For visitor's eager to discover more about the highways, by-ways and history of Rye among the Walks & Tours this year are two opportunities to accompany Rye's principal historian, former Mayor Jo Kirkham, who will be the guide for walks taking in St Mary's Church, Church Square, the Gun Garden, Watchbell Street and the famous Mermaid Street. The walks are just £7.50 per person and take place at 11.00am on Tuesday 27th and Thursday 29th September meeting at the Rye Heritage Centre.
There is literally a plethora of Exhibitions to choose from this year including three at Rye Art Gallery featuring such subjects as "From Brighton to Rye" with paintings and drawings, "Artists of WWI and WWII" and "Rye Royal in the 20's" all with free admission.
Finally, from this year's programme there are a number of Fringe events prominent among which is "One For The Road" a band playing the music of one of the forgotten rock superstars of the sixties Ronnie "Plonk" Lane – a contemporary in the Faces of Rod Stewart and Ronnie Wood (now of the Stones) who sadly died of MS in 1997. Lane was an associate musician of Jeff Beck, Eric Clapton, Andy Fairweather-Low and other great musicians from that golden era of British music. The event is at the Oak, Rye Foreign on Sunday 18th September with free admission.
The above are just a sample of Arthur's brochure choices from this year's high quality Rye Arts Festival 2016 event. Try and take in as many as you can!
Yes, Rye is once again punching above its weight for a small town in terms of quality local events to delight locals and visitors alike and Beside The Sea Holidays are again proud to be sponsors of this annual event.
We believe, with our focus on a quality, hands on holiday homes letting and management service for home owners in Camber and their guests, the Rye Arts Festival 2016 is a perfect fit and something that brings visitors back again year after year.
Discover for yourself the rich history of 1066 Country with its delightful mix of culture, legend, countryside and even the UK's only desert in nearby Dungeness.
There are literally scores of things to do and places to visit, including the Rye Arts Festival 2016 events this September.
There are, of course, some of the UK's best places to eat – whatever your taste or budget – whether you're looking for fine dining, a pub lunch, fish and chips, gourmet burgers or the quintessential English Tea Shop they are all to be found in Rye – with a further selection in the surrounding towns and villages – to maximise your holiday or autumn weekend break experience!
* Further information can be obtained from the event website www.ryeartsfestival.co.uk and in the Festival brochure a copy of which can be found in all of our properties.