Welcome to the Rye Arts Festival, the wonderful light and its micro climate have made Rye a haven for artists and writers – the perfect backdrop for a festival of the arts and is widely considered to be one of the best small festivals in the country.
The Rye Arts Festival is a 2 week event full of Literary Events, Classical & Contemporary Music, Walks, Tours, and Theatre.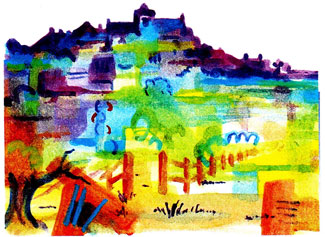 A notable feature of the Rye Arts Festival over the years has been a gradual evolution – maintaining traditional and well-loved items while introducing new initiatives which themselves often then become established in the programme.
This year continues that trend. Novel developments include a "come and sing" performance of Fauré's serene Requiem which will be a splendid conclusion to the Festival, and holding the literary events in a marquee in Lamb House Garden, the home of Henry James, by kind permission of the National Trust. This will be a wonderful setting for all the talks and is particularly fitting for the talk about the letters of Henry and William James by J C Hallman.
Another novelty will be Stephen Preston's delightful and original history of bird song The Bird Fancyer's Delight in music. Examples of new initiatives which are now established include the Ryesing stars – young musicians Katie Stillman and Simon Lane and the Jaquin Trio. Another young star who has already risen spectacularly is the pianist Benjamin Grosvenor who is an international sensation at the age of only 21.
The Rye Arts festival classical music programme contains a wide range of other events to tempt you, from renaissance choral works to the cello sonata by Britten to celebrate his centenary year.
The contemporary music programme is no less varied and inviting. The Rye Arts Festival has attracted such international stars as the American blues guitarist Kelly Joe Phelps and the Irish Folk Band Lúnasa, while among other treats, Kanda Bongo Man makes a welcome return to Rye.
Once again the Rye Arts Festival programme of literary events is rich in items to amuse, stimulate and inform. As with the other sections, it is invidious to select from such an attractive list, but Richard Davenport-Hine's discourse on the Profumo scandal (An English Affair) is sure to intrigue while John Marzillier's talk on one-off traumatic events (To Hell and Back) will provide insights into an important but rarely discussed issue.
So, what with Puppet Shows, Cellar Tours, the ever-popular Romney Marsh Churches Tour, the World War II guided walks and a range of Fringe events the Rye Arts Festival is offering a wonderful programme which you will find hard to resist.
During the run up to the Rye Arts Festival, further information can be found on the Rye Arts Festival Blog and this year you can also sign up to be kept up to date with events and news via Twitter (@ryearts)
We know that many events will sell out quickly so to make sure you get your tickets you can complete the booking form on the Rye Arts Festival website.
Rye Arts Festival Events
All events are listed on the Rye Arts Festival events page here
All you need to do is pick your favourite cottage!