Move over Oscar! There's a new cool cat in town!
When it comes to your "paw friendly" holiday pads, you seem to have forgotten that us cats like holidays too!
We're members of the family, and, when we send our pets (humans) on holiday, we want to join the fun.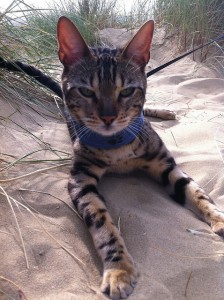 And whoever said "cats don't like beaches?". You can see from this photo of me at Camber Sands, that is not the case.
I recently joined my pets at a lovely little cottage called "SeaBreeze".
On arrival, there was a refreshing bowl of water and a cat treat! I had a good sniff around, gave the house the "paw print of approval", and then settled on the comfy sofa to relax after the long journey.
My pets were very keen to go and investigate the beach, so I put on my cat jacket and led them across to the sand dunes.
The beach is absolutely stunning and I loved playing on the dunes as you can see.
Camber Sands is several miles of beautiful sandy beach. The sand felt very soft on my sensitive paws. The water is clear and shallow – great for little human kittens to play safely.
After a fun day at the beach, it was back to the cozy cottage for some of my gourmet cat food and then it was time for a lengthy nap. The purrrrrrrrfect end to the purrrrrrrfect day!
My dreams that night were of scampering through the sand dunes chasing bugs … .
While I was resting, my owners popped over to The Gallivant Beach Bar, just 2 minutes walk from the house. I heard them saying that they enjoyed some yummy fish and chips. Pity they didn't bring back a sample in a catty bag for me to try….
Anyway, if there are any cats out there reading this, then don't be afraid to go on holiday with your owners. Cats are welcome in many holiday cottages too meaning that we don't have to suffer the stress of being put in kennels!
Love,
Dylan the Bengal