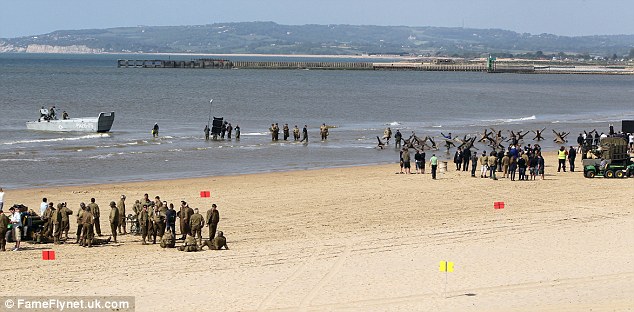 Landing craft packed full of soldiers, crashed airplanes and destroyed tanks scattered along the beach, this may sound like D-Day, but in fact this was Camber Sands last week and it was Hollywood's stars doing the invading!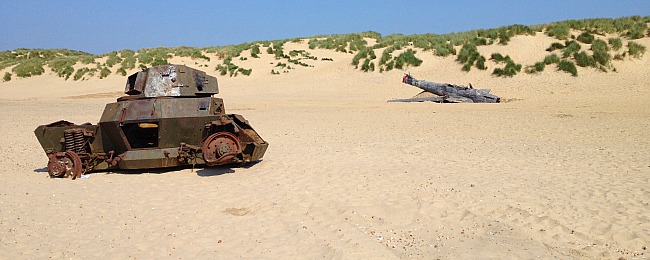 There's was lots of excitement in Camber last week as Hollywood A listers including George Clooney, Matt Damon, Bill Murray, Hugh Bonneville and Jean Dujardin arrived to film scenes for the new film The Monuments Men – Based on the book The Monuments Men: Allied Heroes, Nazi Thieves and the Greatest Treasure Hunt in History by Robert M. Edsel – directed and starring George Clooney the film is set to be released in December.
Clambering over the dunes last week you were greeted by a war zone with landing craft packed with soldiers, the beach littered with crashed aircraft, sand bag bunkers and an assortment of second world war vehicles and in the middle of that lot, George Clooney directing it all!
Later in the week the production moved to Rye with one of the shops in the Strand being transformed into a German butchers and dentist. It was in Rye that some of our guests managed to meet George Clooney and Matt Damon as they chatted to people in the town whilst taking a break from filming and doing a bit of exploring of medieval Rye themselves!
Camber is often used as a film location and in photo shoots, so don't be surprised during your stay if you see someone you recognise!
You can see some pics of Camber after the filming here The Monuments Men starring Camber Sands
Want to do a bit of celeb spotting ?