If the lull of waves lapping the shore is one of life's greatest pleasures in your book, then holiday cottages on the beach probably top your list of places to stay in the UK. Or anywhere else in the world for that matter. 
All of our coastal holiday homes are within a few minutes' walk of the beach depending on your pace, haste, or eagerness! What's more, whether you're travelling solo, romancing it up with your other half, dragging along the brood, or gathering with wider family or friends, we've got holiday cottages on the beach for all group sizes.
Let's take a look at a few…
Holiday cottages on the beach for couples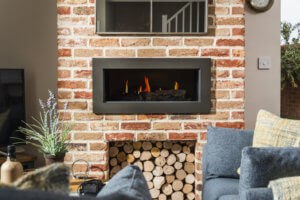 Our smallest holiday homes have two bedrooms, which means that romantic breaks by the sea are always sumptuous round here. Find yourself hunkering down somewhere like Owlers Cottage that'll greet you with its whitewashed weatherboarding gleaming with the reflection of the sun. 
Named after the smugglers that once were rife in these parts, the crisp and plush interiors at Owlers couldn't provide a greater contrast to the antics you may just have been imagining. Revel in the property's generous 21st-century riches and spread your time inside between the spacious open plan living area, the snuggle seats and the enclosed garden that calls the sun pretty much all day long.
Holiday cottages on the beach for couples are designed with downtime in mind. Just the two of you, maybe with Fido in tow, fresh air calling, toe-dipping essential whatever the weather. The coast is yours to explore.
> Book a romantic beach break in the UK 
Holiday cottages on the beach for families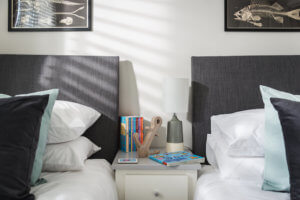 Where better to spend a family holiday than by the seaside. (Most) kids love sand and aren't that fussed if the odd grain makes it into their sandwiches either. Days at the beach have rarely been easier than during a stay in Camber Sands. 
Our three-bedroom holiday homes on the coast are perfect for most families and the grown-ups are always looked after. Like The Rock, the master bedroom typically enjoys an en suite bathroom for those moments when you have to go to the loo just to get some peace and quiet! Some second bedrooms provide a double, others a twin, and the third bedroom is always a twin. So there's room for everyone even if there's a teenager in tow who likes their privacy.
Holiday cottages on the beach for families all come with ample sofa space, dining space and great gardens for gathering the tribe while planning the day ahead. 
> Book UK family beach holidays
Holiday cottages on the beach for large groups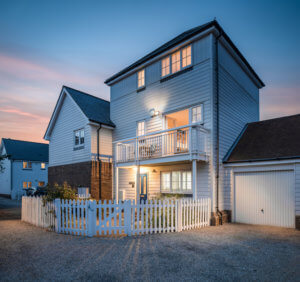 Our largest group size here in Camber Sands is 10 guests. We've found over the years that these four-bedroom properties attract two families with one or two children each, a larger family with lots of children or an extended family group.
Large group holiday houses on the beach, like Salty Towers, rise up over three floors making the most of the views from the living room. The ground floor provides a study cum extra bedroom where you can take that urgent work call if you really must, or chuck the kids in there for movie night while you enjoy a grown up dinner of freshly caught and locally sourced deliciousness.
If extra guests decide to tag along, our big holiday homes on the coast tend to have at least one sofa bed available – just let us know if you need it and we'll provide the linen. 
> Book large group holiday houses by the sea
Pet friendly holiday cottages on the beach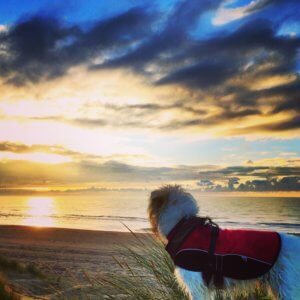 It's heartbreaking to leave Fido at home, especially when our vast beach is left largely open to dogs all year round (it's clearly marked where they can't go in the summer). So you'll find that almost all Beside the Sea Camber Sands holiday cottages are pet friendly. 
Dory joined us at the beginning of 2020 and is a fine example of dog friendly places to stay in Sussex. Its contemporary yet classic nautical hues bring a sumptuous class to your stay with hints of rustic finishes brushing up elegantly alongside oh so soft fabrics. Out through the kitchen doors, the fully enclosed garden can be enjoyed by all from dawn to dusk. If two couples are travelling together, the twin beds in the second bedroom can be set up as another king, upon request. 
Catering for everyone in your party, we can already see the dog pulling at its lead (and your arm) in the direction of the dunes. He can smell what you're about to see and can probably just about here – there's no mistaking the sounds and smells of the great British seaside.
> Book your pet friendly cottages on the beach
Baby friendly holiday cottages on the beach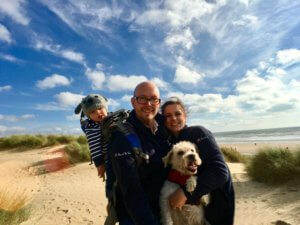 With a babe in arms or toddler in tow (or both!) you deserve some quality time and whatever rest you can get. Rest assured our baby friendly holiday cottages on the beach come prepared for them as well as you, so you can pack as light as having small children allows. 
All our baby friendly boltholes, like Beachcomber, come with a travel cot, highchair and stair gate as standard. Please drop us (Richard and Sophie) a line if you have any questions or special requests – we're parents too. 
If your smallest is snuggled in a baby carrier, the coast and the marsh are yours to explore on foot. There are wonderful walks galore and those that lead you on a circular walk to Rye will be rewarded with many a fascinating boutique, local producer and a wealth of heritage beneath your feet. For those on a toddler friendly holiday, have we mentioned the beach?! Dune sliding, sandcastle building, hiding toes in the sand, collecting driftwood and shells, and jumping waves all surprise and delight the young ones time and again. 
> Book baby friendly holiday cottages in Sussex 
Remote holiday cottages on the beach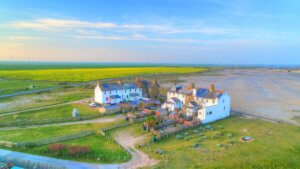 Out at Jury's Gap, we have two former coastguard cottages where the sea and sand are just at the bottom of the steps! In a small cluster of cottages, right on the sea wall edge, this is where the wind howls and the waves truly crash into the coast. 
These are period cottages with all the quirks of age old buildings, but that's half the joy of staying here. Can you imagine yourselves as the coastguards for whom these were once home, on high alert, waiting for a call to help a stranded vessel. 
History abounds inside and out – the cottages lie surrounded by the marsh and the sea where some of our coastline's rarest species thrive. Quite unique and a rather remote place to stay in Sussex too!
Camber Sands holiday cottages on the beach come in all shapes and sizes. Plus there's plenty to keep you active and relaxed while you're here. Choose places to stay in Camber Sands.
Enjoyed reading this? PIN this post to share it with others: