The scent of roasted chestnuts, children waving sparklers, fireworks bursting in vivid color across the night sky – Bonfire Night conjures up quintessential images of late fall and winter celebrations. But in East Sussex, you don't have to wait for the cold to experience the magic.
Bonfire Night festivities actually take place throughout the autumn here, with epic displays happening nearly every Saturday from early September to late November. So break out your coats and scarves ahead of schedule to join one of the most eagerly awaited events of the year months sooner.
Take advantage of East Sussex's unique early Bonfire Night celebrations and savor all the classic sights, smells, and excitement of this beloved tradition without the winter wait. The fireworks beckon – it's time to usher in the festive spirit!
The true history of Bonfire Night?
On November 5, 1605, Guy Fawkes was arrested for attempting to blow up Parliament in the foiled Gunpowder Plot, commemorated annually in the UK each November 5th. However, the roots of Sussex's Bonfire season stretch back much further.
Some believe the tradition has links to ancient end-of-year rituals where flaming torches were paraded through streets to banish evil spirits. Others trace its origins even earlier to pre-Christian winter festivals and customs.
Whatever its exact beginnings, the establishment of Sussex's bonfire societies has spawned an iconic annual tradition that many feel surpasses all other Bonfire Night displays across Britain. While the failed 17th century Gunpowder Plot provides the nominal inspiration, Sussex's Bonfire Night owes its spirit to centuries of history and folklore.
An incredible atmosphere
Modern day Bonfire Nights in East Sussex draw tens of thousands to witness the dramatic displays!
Costumed marchers parade through the streets wielding flaming torches, burning effigies, and pounding drums. Their costumes represent figures ranging from Roman soldiers to Confederate troops, pirates, smugglers, and more.
Amidst these spectacular processions, fireworks boom and burst overhead, lighting up the night. The sights, sounds, and energy create a one-of-a-kind multi-sensory experience focused around enormous bonfires.
In addition to the exhilarating atmosphere, many events raise substantial funds for local charities and causes. The celebrations bring communities together for both entertainment and altruism.

Rye Bonfire Night
Though some Bonfire Nights in East Sussex retain a boisterous vibe, many now have a distinctly family-friendly atmosphere. One such popular event for all ages is Rye Bonfire Night on Saturday, November 11th 2023. On this evening, Rye's cobbled streets overflow with thousands gathering to witness a magnificent spectacle of lights and sound. From costumed torchlit parades to dazzling fireworks overhead, it captivates both adults and children. This time-honored tradition transforms the historic town into a venue filled with revelry, entertainment, and community spirit for revelers of all ages.
A raucous parade of drums, smoke, and blazing torches will light up Rye's dark streets as costumed societies march along a set route. Historic attire from various eras brings color and pageantry. A fire-breathing dragon and burning boat follow the procession's tail end. After an enormous bonfire is ignited, awe-inspiring fireworks will crackle and boom overhead for the gathered crowds.
For full details on the revelry in store at this atmospheric event, visit the Rye & District Bonfire website. Don't miss out on this iconic Sussex celebration filled with tradition, excitement, and community bonding.
Find your favourite festival
Meanwhile, Bonfire Night in Lewes is a raucous event that makes most November 5th festivities seem subdued, often drawing up to 80,000. Six distinct Bonfire Societies take over the town with their own traditions and elaborate costumes.
In Hastings, a giant beachfront bonfire coupled with seaside fireworks produces an unforgettable ambience.
Events across East Sussex attract tens of thousands, with each locale boasting unique flair. Check the events here.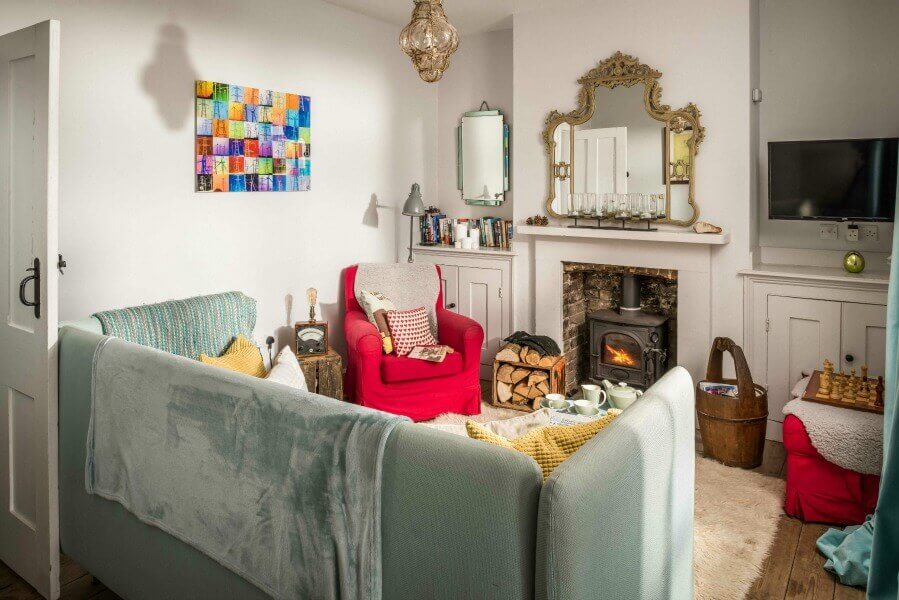 Bonfire Nights in East Sussex
Whether intimate community gatherings or sky-filling extravaganzas, Bonfire Nights across East Sussex guarantee lasting memories.
If you're ready to join the revelry and pageantry, our cosy Camber Sands cottages provide the ideal homebase. Just minutes from Camber's beach and a quick 10-minute drive to Rye's festivities, they allow easy access to the region's celebrations.
A front row view of the bonfires, parades, and fireworks awaits – book your Camber stay now!