Roasted chestnuts, young children clasping sparklers, and the fizz and boom of fireworks across a colour-streaked sky.
Bonfire Night is undoubtedly one of the most eagerly anticipated times of the year. But why wait until winter to enjoy all the fun?
Bonfire Night in East Sussex actually takes place throughout the autumn. In fact, epic displays happen nearly every Saturday from the start of September until late November.
So grab your coats and scarves and join in with one of the most magical evenings of the year.
The true history of Bonfire Night?
On November 5, 1605, conspirator Guy Fawkes was arrested just as he was preparing to blow up the Houses of Parliament.
The country commemorates the foiled Gunpowder Plot each year on November 5th. But the roots of the Sussex Bonfire season date back much further.
Some believe that it's linked to a far older end-of-year tradition, when flaming torches were carried through the streets of towns to symbolically ward off evil spirits. Others believe it even dates back to pre-Christian winter festivals.
Whatever the true origins, the formation of the Sussex bonfire societies has led to an annual tradition that arguably surpasses all other displays across the country.
An incredible atmosphere
Today, tens of thousands of spectators come out to watch dramatic bonfire nights in East Sussex!
Costumed marchers –from Roman centurions and Saxon warriors, to Confederate soldiers, pirates, smugglers, and jailbirds – wield flaming torches, burning effigies, and thumping drums.
Amid these spectacular parades, booming fireworks light up the night sky. The multi-sensory atmosphere is something to behold – enormous bonfires act as the focal point of the evening.
In addition to the rousing atmosphere, many of the celebrations raise thousands of pounds for charities and other good causes.

Rye Bonfire Night
While some of the bonfire nights in East Sussex are still pretty riotous, many have a distinctly family-friendly feel.
Popular with adults and children alike, Rye Bonfire Night is one such event. On Saturday 9th November, the town's cobbled streets come to life as a crowd of thousands gather to watch a spectacle of light and sound.
A revelrous parade of drums, smoke, and flaming torches will illuminate Rye's dark streets, with various societies dressed in all manner of historically-inspired costumes.
A fire-breathing dragon and a burning boat will bring up the rear of the procession, which winds its way along a dedicated route. After a huge fire is lit, the crowds will be treated to a sky-splitting display of fireworks.
For more information, visit the Rye & District Bonfire site here.
Find your favourite festival
Elsewhere, Bonfire Night in Lewes is a riotous affair that makes most November 5th celebrations seem tame by comparison. It often attracts up to 80,000 spectators, and six separate Bonfire Societies celebrate across town, each with their own unique traditions and costumes.
In Hastings, a huge bonfire along with fireworks on the beach create a unique atmosphere right beside the waves.
Tens of thousands of participants attend similar festivals across the county. Check out all of the 2019 dates here.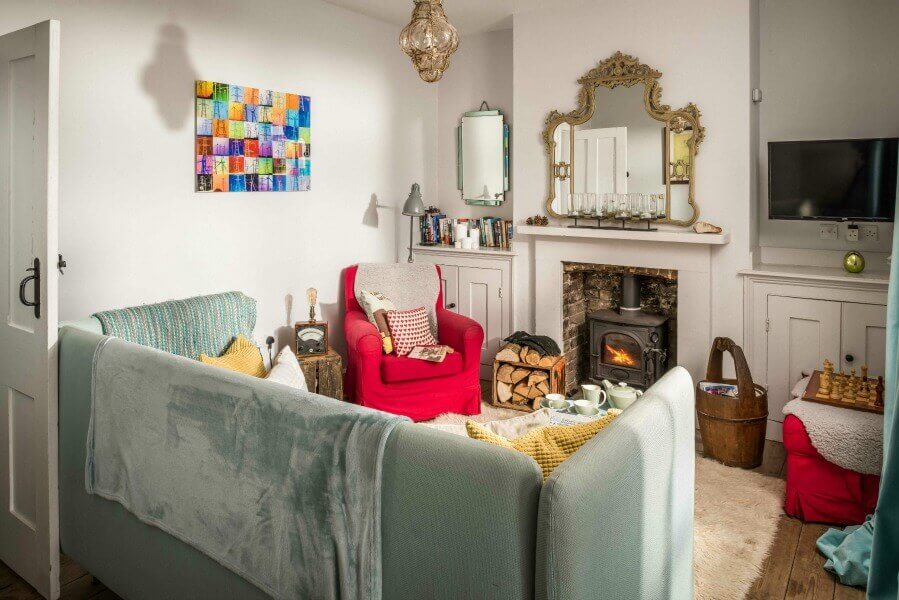 Bonfire Nights in East Sussex
From small community events to giant light-up-the-sky displays, bonfire nights in East Sussex are always an unforgettable experience!
Ready to join in with the fun?
Our cosy cottages in Camber Sands offer the perfect base to enjoy the festivities. They're just a few minutes' stroll from the beach, and an easy 10-minute drive to the celebrations in Rye. So book your accommodation today.