Part fishing village and part shingle beach, Dungeness is a unique destination and a popular spot for photographers and holidaymakers alike. This stark landscape has an otherworldly beauty and is an offbeat coastal area that's truly one of the most unique locations in the UK.
Dungeness is home to the world's smallest passenger railway as well as the largest shingle beach in Europe, and it's a haven for wildlife and over 600 species of plants. It's no surprise that this area of Kent is such a popular destination – here are five reasons to visit Dungeness and activities you should do when staying here.
Bird spotting at the RSPB Nature Reserve
The RSPB Nature Reserve is a popular spot with wildlife enthusiastic, home to a spectacular array of domestic and migratory birds and new species introduced every season to look out for. From reed warblers nesting on the sand in the spring, lapwings flying over the fields and cuckoos, to waterbirds like pintails, smews and tufted ducks in the winter, you can be sure to find a great selection of birds in the reserve whatever time of year you visit. There are also several trails to hides that overlook the wetland areas. Kids and adults alike will love exploring the reserve, so it's a great family-friendly activity.
Fish and chips by the sea
Fish and chips is a classic for any seaside break, and Dungeness offers some of the best in the country. Head to The Pilot Inn which is famous for its fish and chips, and is located just moments from the shingle shore where you can enjoy your meal with amazing views and a beautiful soundtrack of the waves. The Pilot Inn's history dates back to 1633 when it was created using timbers from a ransacked Spanish ship, so you're visiting a slice of history in the process too!
Take a ride on Kent's Mainline in Miniature
The Romney, Hythe & Dymchurch Railway is famous for being one of the most magical ways to take in the county's scenery. It's a one-third full-size steam locomotive which travels the 13.5 mile stretch between Cinque Port in Hythe and Dungeness, taking around an hour to complete the full journey. There are stops along the way, such as Dymchurch where you can head to the village centre for cafes and shops, and New Romney Station which has the Toy and Model Railway Exhibition which kids will love.
Visit the historic lighthouses
There have been five high, and two low, lighthouses in Dungeness since the 1600s, and they have long been the highlights of the area. The Old Lighthouse, in particular, is open to the public and you can climb it to take in the amazing coastal views. Opened in 1904, it spent over half a century protecting seafaring vessels on the English Channel. The Old Lighthouse was constructed using over 3 million bricks and stands at over 46 metres tall, with light seen for over 18 miles. Although it was decommissioned in 1960, it remains a Grade II listed building and is a popular tourist attraction and museum. It's well worth a visit for the beauty of the structure itself, but also for the historic element and the panoramic views of the English Channel it offers.
Take to the waters for adrenalin-fuelled activities
When you're visiting a coastal location like Dungeness, it only makes sense to get involved in some water-based activities. This area of the UK is perfect for watersports, whether that's kitesurfing, sailing and yachting, or wakeboarding. It's a great day out and perfect for a hot summer's day – you'll be able to take in the bracing seaside air, learn a new skill and have fun while taking in the brilliant seaside views.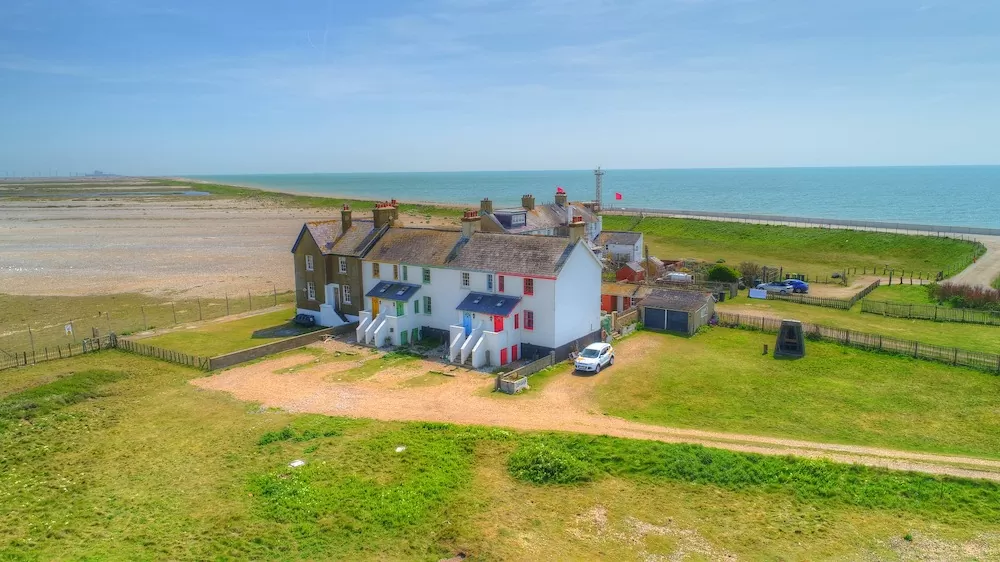 Where to stay when visiting Dungeness
Our Coastguard Cottages offer a vintage-era warmth and picturesque seclusion, all while being located just 10 minutes along the coast from Dungeness itself. They're the perfect respite while you're exploring this area of the south coast, with all the amenities you'll need for a relaxed stay in between the host of fun activities this area has to offer.
If you'd like to learn more about our coastal cottages or you'd like to book, why not send us a message today and we'd be happy to help.