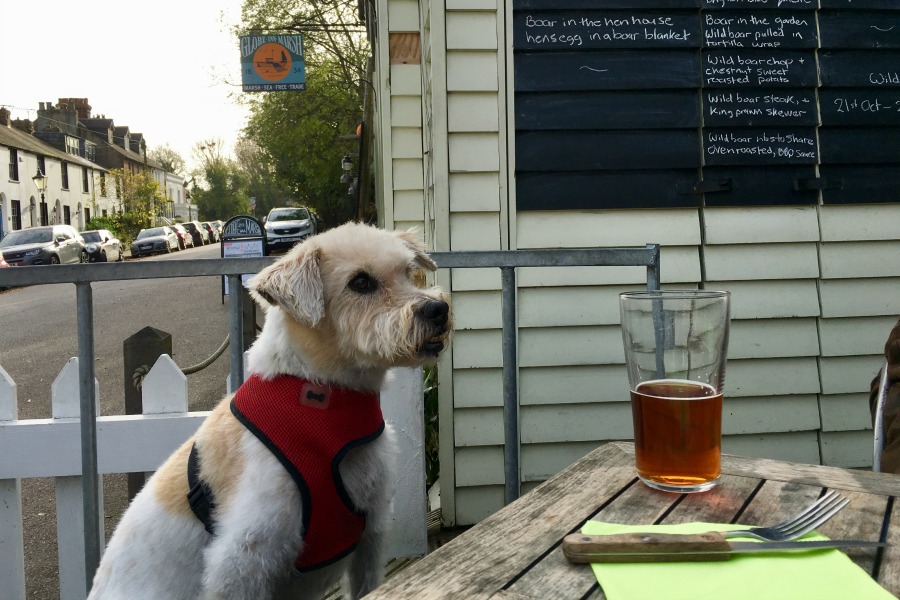 Hate leaving your pup at home? We understand. At Beside the Sea, we have our own four-legged companions. Oscar, has left us now and we have Dougal, and they have both played more than a part in helping us discover dog-friendly pubs in Rye.
Our best nights on the town are spent with a dog snug under the table at one of our favourite pubs in Rye that welcome dogs. So to honour our best pal, we've put together a list of our top five pubs where pups are just as welcome as their human companions.
Where are the best dog-friendly pubs in Rye?
From historic inns perched on cliffside gardens to charming High Street haunts, our five favourite dog-friendly pubs in Rye were chosen for their mouthwatering food and drink and welcoming attitudes towards four-legged guests. Take it from Oscar: these five are tail-wagging worthy.
The Standard Inn
Adored by locals and visitors alike, this low-key eatery is renowned for its friendly service, stellar beer list, and delectable pub food. Come for the chorizo burger, made with Sussex beef, or the catch of the day.
And be sure to slip a scrap under the table—dogs are more than welcome at The Standard Inn, both inside and in a charming outdoor courtyard. There's a good chance your four-legged family member will be greeted by several local pups upon arriving, including the inn's resident border terrier.
The Globe Inn Marsh
Rustic decor, handwritten accents, and charming staff give this dog-friendly Rye pub the quirk locals love it for. Come for breakfast and dig into a knapsack—an egg dish stuffed with smoked cheddar and ham and served with chutney and crusty bread. Or come in the afternoon for a fish pie or a liquid lunch—a tempting cocktail lists offers choices like a hot toddy or gin swizzle.
No matter when you pop in, your pup is welcome to accompany you, both in the cosey interior and the outdoor terrace.
The George Tap
A hefty draught list? Check. Wine from local English vineyards? Check. This High Street taproom is the ideal spot to stop in for an afternoon pick-me-up or evening out. And your four-legged companion will love settling in under the table and catching the rays that shine in through a wall of windows.
While you're sampling your way through Sussex ales and tart ciders, be sure to grab a bite. Try the George burger with chips for classic pub fare, or opt for something sweet like salted caramel or banana souffle.
William the Conquerer
Tucked on the Rye Harbour, this pub offers a side of history and scenery while you dine. Look out over the river and watch the boats go by, or choose a seat on the outdoor patio to spot wildlife gliding, swimming, and flying around the River Rother.
The pub itself is renowned by locals for its warm service and Greek flair. You can choose from classics like burgers and fish and chips, but you'll also find Mediterranean options such as moussaka. Bring your pup and treat him while you dine: dog-friendly kabobs are available for order at the bar.
Ypres Castle Inn
The view of the sunset over marshland and rivers from a table in the garden is enough of a reason to visit Ypres Castle Inn. But in case you need a few more, there is also locally sourced seafood, exciting seasonal dishes, and live music on the weekends.
Bowls of biscuits on the bar means your pup will love this pub just as much as you do. Be advised: Ypres Castle Inn can only be accessed by walking the historic Gun Garden steps—stone stairs that go down the cliff and to the pub.
Find dog friendly places to stay
Now that you know which dog-friendly pubs in Rye to dine at, it's time to figure out where you and your four-legged companion will stay while you're visiting. Our Pawesome Pads, like Driftwood and Sea Breeze, offer a home-away-from-home as you and your furry family member explore the scenic beaches of Camber Sands, tranquil countryside, and, of course, the dog-friendly pubs of Rye.
Related articles on dog friendly East Sussex