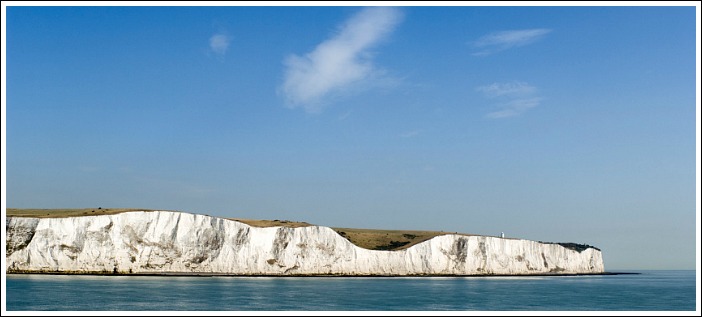 White Cliffs country is unique place where coast meets country, beauty meets history and England meets the Continent. France is so close you can see its streetlights at night, and the climate is more French Riviera than English south coast. Walking, sailing, cycling, sightseeing… and best of all, its all within a short drive from White Sand and Coastguard's Lookout

Dover, the Port of Kings and the UK's Gateway to Europe, Dover greets millions of visitors a year with its iconic White Cliffs and magnificent castle.
Immerse yourself in history at Dover Castle and experience the royal court of Henry II or travel deep into the White Cliffs and visit the newly refurbished wartime tunnels. After a spot of lunch, take advantage of a free-guided walk and explore one of the many walks and trails with a volunteer greeter. For the more adventurous, take to the water. Try water activities or see the sights of Dover from a boat. Before heading back to White Sand, try one of the great places to eat and relax, with a great range of locally sourced produce, you won't be disappointed.
Deal, a town of extraordinary character, and nowhere is this more clearly seen than from the end of its pier. This seafront of historic old buildings, every one a different shape, size and colour, tells a tale in which Nelson, King Henry VIII and Julius Caesar played a part.
The colourful seafront plays host to a wide choice of excellent pubs and restaurants. Wander through the high street and explore fantastic small, independent shops and delicatessens, which rival The Brighton Lanes!
You're never far from a Castle here – Henry VIII liked Deal so much he built three! Only two of Henry's Castles now remain, Deal with its distinctive 'Tudor Rose' shape and Walmer which is now an elegant stately home with beautiful gardens.
Head along to Sandwich, one of the best-preserved medieval towns in England. Its narrow streets of half-timbered houses describe centuries of history, and its quirky and independent shops give it such a unique character, unlike any other town. Take a tour of the 16th Century Guildhall or follow the town trail, much of it runs alongside the River Stour. From here you can take the River Bus and see the seals or a short walk from the town centre are the beautiful Secret Gardens.
Just make sure you have booked enough days to fit it all in!