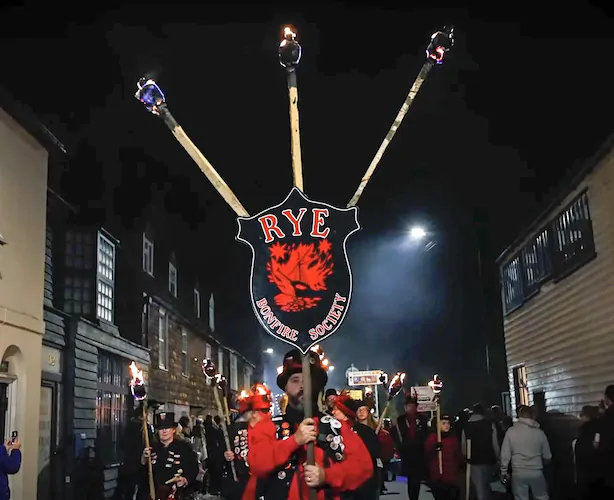 As November's chill wraps us in its brisk embrace, the enchanting town of Rye is set to come alight with a historic spectacle that's bound to set your hearts aglow. Picture yourselves wrapped in the warmth of a Knoops hot chocolate, the air sweetened by the scent of toasting marshmallows, all while a symphony of fireworks dances across the night canvas above Rye's time-honored cobblestones.
Mark Your Calendars for November 11th!
The evening of November 11th is when the magic truly happens. There's no other place you'd rather be than Rye, where every street corner tells a story, and every echo sings of yesteryear's adventures. A parade like no other, brimming with life and color, will pulse through the veins of the town, accompanied by the heartbeat of drums and the fiery trail of torches. Watch in wonder as local societies, dressed in their most eye-catching garb, vie for your awe.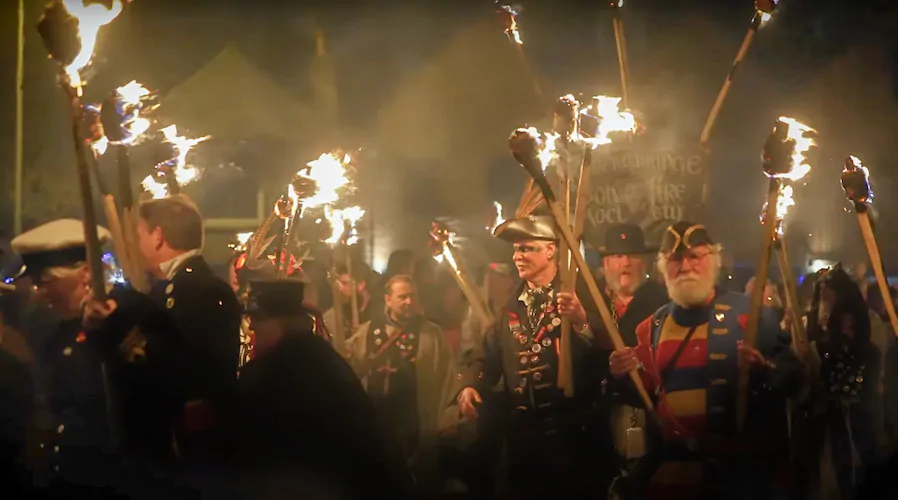 A Parade Straight Out of Legend
As the evening's excitement bubbles over, creatures of myth take the stage. A majestic dragon, the Scorcher's flames, and a boat cloaked in fire parade before your eyes, turning the night into a canvas of wonder. This fiery procession snakes its way to the Salts, leading to the towering 'Normous Bonfire', its flames leaping towards the stars, setting the stage for a fireworks spectacle that will paint your memories for years to come.
Echoes of a Valiant Past
This isn't just any bonfire night; it's a homage to the town's bold history, perhaps even older than the tales of Guy Fawkes. It's a salute to the courageous souls of 1378, who in a bold stroke reclaimed their beloved church bells from the French, setting the night alight with their daring. The tradition of parading burning boats through the town is more than a spectacle; it's a step back into the shoes of those audacious heroes.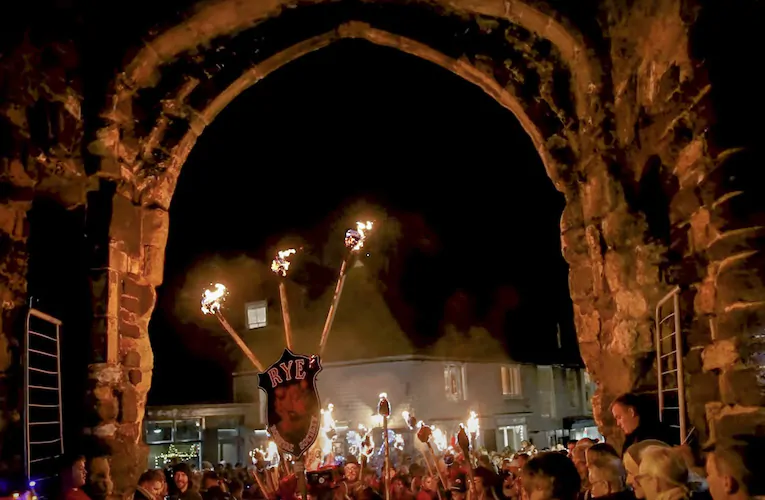 Step Into a Medieval Dream
If your hearts long for a night where history is not just told but vibrantly lived, where the community's warmth stands defiant against the night's frost, Rye Bonfire Night awaits you. As the flames flicker and fireworks ascend, let Rye's medieval mystique sweep you off to an era of lore and valour.
Remember, the spellbinding tale unfolds on the night of November 11th. Don't just observe history—immerse yourselves in its fiery embrace.
To delve further into Rye's bonfire night legends and festivities, we cordially invite you to explore the Rye & District Bonfire Society's official page for all the fiery details and why not make a weekend of it by staying in one of our cottages!
Stay toasty, and see you under the sparks of history!