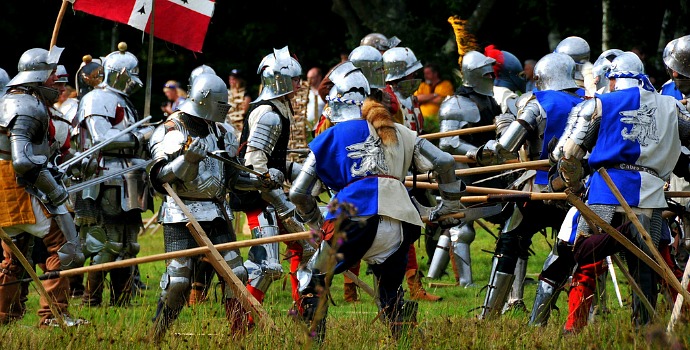 On August Bank Holiday weekend Herstmonceux Castle near Hailsham in East Sussex will again be host to the Medieval Festival. This Event is Britain's largest three day celebration of the colourful Middle ages and attracts over one thousand Medievalists from throughout the United Kingdom and more than twenty-five thousand visitors from around the world.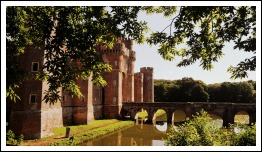 Also, you can see Europe's finest bowmen gather to compete for prestige and prizes at the Festivals longbow competition. There will even be a chance for the public to have-a-go with a longbow aided by instruction from expert archers.
The walls of the magnificent 15th Century moated castle will resound with battle cries, and the air will hang heavy with the smell of black powder as over three hundred men and women in period costume attack and counter attack with full cannon support in an effort to siege and storm the castle walls. There will be sieges of the castle at 11am and 3pm each day.
Following the battle the recreated Medieval Village high on a plateau looking down on the Castle is in full celebration. People of all ages gather from miles around to experience the very best of medieval life. The music of strolling minstrels, the shouts of craftsmen and merchants selling their wares. If you have ever wondered how hogs roasted on open fires might taste or what the effects of ale swilled from a hefty tankard might be, here's a chance to discover.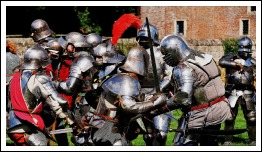 In this magical setting, Knights, Men-at-Arms, Longbowmen and Ladies-in Waiting will gather to display the skills and style of the age of Chivalry. The drama and force of hand to hand combat as lustily swung broadswords make contact with chainmail or iron helmet will bring history to life as you watch.
There are activities and entertainments for the whole family to enjoy. Don't miss the Fire-Eaters and Falconry displays or the antics of Medieval Puppeteers with twelve foot stick puppets. The children will be captivated by the Rune Storyteller, parents can browse through the period craft stalls and the delightful walled gardens. 
The Medieval Festival at Herstmonceux Castle is the complete day out for the whole family.