The Surf Shack
Holiday Cottage in Camber Sands
The Surf Shack
A bijou residence, The Surf Shack is settled in the grounds of our coastguard cottages, an idyll coastal bliss. Built with love, this luxury self-catering cabin is the perfect romantic bolt-hole with amenities such a woodburning stove, Nespresso coffee machine and superfast WiFi.
A sun-trapped outside space, bbq and the sound of the waves reign during the summer months, while in winter the white washed wooden glamour of Surf Shack's interiors offer a snug retreat to hide from blustery winds. Rough-luxe, this cabin on the coast will entice all who stay to up sticks from their city slicks and escape to Camber forever.
Inside
With patio doors and velux window flooding the open plan layout with natural light, The Surf Shack's king-size bed is as soothing as it is stylish and for those of you that don't like to share a bed, you have the option of using the king-size sofa bed. The white washed interior creates a cocoon of comfort where long lie-ins sipping coffee beneath the weight of the duvet with the log burner roaring is the most tempting way to spend each and every morning, while the en-suite bathroom with spectacular beach mural is the perfect space to wash away those coastal adventures.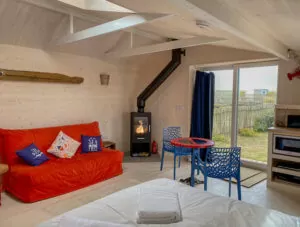 Outside
Surrounded by SSSI, The Surf Shack's garden is a peaceful spot, spend days here gently soaking up the good life. Come nightfall, snuggle up in front of the fire and spot shooting stars fly across the heavens before collapsing into the enormous bed, not a sound murmuring beneath the outside other than channel breeze and the sound of waves.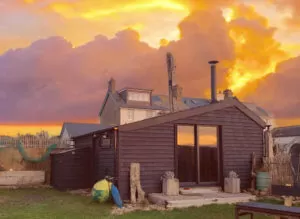 Practicalities
Bedroom
Kingsize bed
Bathroom
Shower, w.c and basin
Kitchen
Microwave oven, kettle, toaster, coffee machine, portable induction hot plate, fridge with small freezer compartment.
Entertainment
broadband / smart HDTV / log burning stove
Outside space
Charcoal bbq / garden furniture
Parking
There is off road parking for 1 car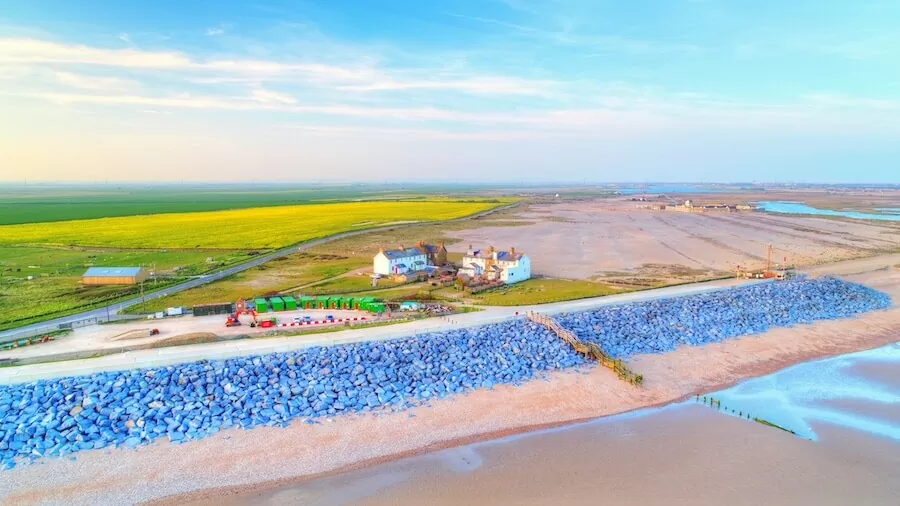 Other things to note
The Shack is located near to the Lydd Ranges, a military firing range (its also a nature reserve).
It has been used for military training for over 150 years and is part of the Dungeness, Romney Marsh and Rye Bay Site of Special Scientific Interest (it is home to incredibly rare plants and animals)
Because the range is used for live firing access is sometimes restricted – red flags are flown during these times, access is prohibited along the foreshore.
When firing is not carried out, it may be possible to walk along a designated path along the shore.
Throughout 2021-2023 the Environment Agency (EA) will be working on improving the existing coastal defences between Jury's Gap and Dungeness and so will be utilising the compound to the right of the cottages (the area with the green containers on the photo) this will mean that the construction vehicles will be using the promenade to access the ranges on the MOD land.

Dog friendly Surf Shack
Dogs love to have a good sniff around a beach – space to run, water to splash in, interesting smells to discover and plenty of other dogs to play with. So when you bring your four-legged friend to Coastguards, it's good to know that the dog friendly beach is right on your doorstep. They will be in hound heaven!
This dog friendly holiday shack is the perfect place to bring your faithful furry companion. A beautiful beach at the back door, lots of great places to go for walks, and even dog friendly pubs so that you can both enjoy a relaxing drink after a day of sniffing about the atmospheric Romney Marsh!

Eat & Drink
Good food is an important part of a great holiday, so rest assured of eating well during your stay. From the simple pleasure of fresh fish and chips to local produce menus that the many character-filled taverns and restaurants serve. Whether you prefer cosy inns with roaring fires to luxurious beach restaurants, you will be spoilt for choice.
Being close to the sea and surrounded by farmland it's little surprise that the food served in some of these fabulous buildings comes from only a few miles away. The famous Romney Marsh Lamb, Rye bay Scallops and Dover sole all feature on the menus as well as traditional English pub dishes using locally sourced ingredients such as Rye Bay fish, fruit, veg and meat from the local farms along with our award winning sparkling wines to give you a taste sensation.
Fancy yourself as a chef then colourful farmers markets, and delis are where you will be able to source all you need to produce your own gourmet meals in the kitchen of The Surf Shack.

What to see and do at The Surf Shack
Nestled on the border of 1066 Country and The Garden of England with their stunning coast and countryside, ancient towns and historic sites, a holiday at Coastguards Cottages can be exactly what you want it to be.
Seasonal Activities
Spring and summer evenings are best spent gathered around the BBQ after a day of exploring the coast and countryside. Autumn, the 'season of mists and mellow fruitfulness' (to quote Keats) is a time for fantastic seaside sunsets bursting into turquoise and pink, and the countryside sprinkled with gold and auburn. It's also a time of food and drink festivals, and a time to scare yourself silly on a ghost walk in Rye!
A winter break at Coastguards Cottages is an unsurpassed experience. Revive your senses with an invigorating walk, then warm your toes in front of the log burner with a good book and a glass of wine.
Walks & Hikes
Keen walkers will be in hiking heaven with the diverse natural landscapes to explore on your doorstep, such as Romney Marsh with its colourful history of invasions, threatened attacks and smuggling. As one of the most important nature conservation sites in Europe, this patch of pristine wetland covers a whopping 100 square miles and is packed with wildlife, including birds, plants and insects.
From the back of Coastguards, follow the beach to Dungeness, a shingle foreland on the tip of Kent. Home to a nuclear power station and two lighthouses, and designated a National Nature Reserve, Dungeness is often described as 'the end of the earth'. Be sure to check out Prospect Cottage, where filmmaker Derek Jarman once lived – its prettiness presents a jarring and fascinating contrast to its hauntingly desolate surroundings.
The Royal Military Canal Path runs for 28 miles along the entire length of the Royal Military Canal from Seabrook, Kent to Cliff End in East Sussex. The route treads a path between the vast openness of the Romney Marsh and the old cliff line with its wooded hills and quiet villages.
Kitesurfing
If that sounds too tame, we also have the kitesurf centre just five minutes' walk away. When you think about it, strapping yourself to a small plank of wood while a huge kite pulls you through the water is probably bonkers. But then again, they said similar things about snowboarding too – and look how much fun that is!
Day Trips
Ideally situated for day trips into or out of London, the region's beautiful gardens and vineyards, historic castles and picturesque medieval towns and villages offer so many attractions that you will no doubt be tempted to stay on longer.
Our Guide On Camber Sands & Surrounding Areas
Book with us Directly, Richard & Sophie
We're not a faceless agency, nor an owner who lives miles away. Camber Sands is our home too, we live and work here. When you book one of our cottages you will be dealing with us directly. Plus we'll be right here whenever you need us during your stay.