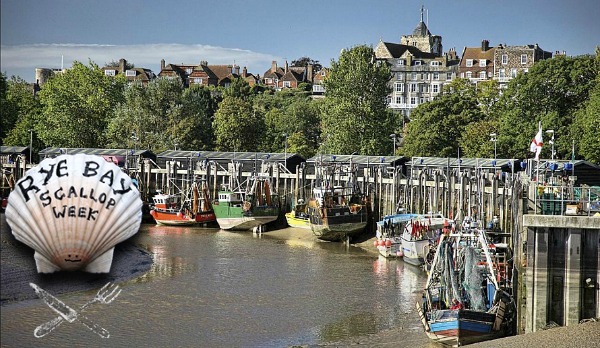 Rye Bay Scallop Week 2018
If you love food and lets be honest, who doesn't then a visit to Rye – a treat itself – between the 24th Feb-4th Mar will put you in foodie heaven, as the annual Rye Bay Scallop Week 2018 gets into full swing.
The Rye Bay Scallop Week celebrates the area's most delicate and delicious harvests, with many different events, and the town's top restaurants and pubs will be creating inspiring and imaginative dishes featuring Rye's world famous scallops.
In medieval times, Rye Bay fish (herring, mackerel, cod, sole, plaice and whiting) were reserved for the king's table, and the area remains a foodie haven where those in the know flock for Romney Marsh lamb, local cheeses, fresh fish and the fruit and vegetables that prosper in the gentle southern fields and orchards.
A mainly restaurant-based event when the local delicacy is at its plumpest and most succulent. The Rye Bay Scallop Week 2018 features cookery schools, scallop themed menus and scallop shucking demos. The week culminates on the final day with the hotly contested 'What a Load of Scallops' race with competitors racing barrows of scallops, through the cobbled streets of Rye, to win the coveted wooden scallop plaque.
These yummy molluscs get their name from the French word "escalop" which in english, means "shell" and quite a lot of those scallops harvested by the Rye fleet are shipped to France, so make the most of this scallop fest!
Free-moving scallops – bivalve molluscs found in all the world's oceans – do not attach themselves to ropes or rocks like mussels or oysters, and their white flesh (or muscle) and coral roes are protected by distinctive fan-shaped shells, the ancient emblem of St James. They are the pilgrim mussel, the coquille St Jacques, packed with vitamin B12 and a rich source of omega 3 fatty acids, potassium and magnesium.
In other words, they are great for your cardiovascular health; and they also deliver selenium, helping to neutralise the negative effects of free radicals.
With taste rather than health uppermost in most people's minds, around 15,000 Rye Bay scallops will be served during Rye Bay Scallop Week 2018. Hundreds more are bought, bagged and carried home by the weekend customers queuing at the Rye Bay Fish stall on Simmons Quay.
Rye's small boats return daily from the deep, clean and high-salinity waters of Rye Bay, rich in minerals washed from the Wealden soil, guaranteeing that the scallops are sold within hours of being caught. Gently cooked by chefs, they might be paired with chorizo, black pudding, chilli or lime. Out on the boats, though, breakfast bacon yields just enough salty fat to fry them golden in minutes. Another fisherman's recipe suggests poaching them briefly in milk, cracking over some pepper and eating with bread and butter. These shellfish are softly firm, creamy and sweet: good enough to be sliced fine and eaten raw.
The Rye Bay Scallop Week 2018 is a very popular event and accommodation gets booked up very quickly so don't miss out on this fabulous feast by booking your beside the sea holiday cottage now!

For more details on menu's and restaurants taking part in the Rye Bay Scallop Week 2018 along with what scallop themed feast they are offering, visit the Rye Bay Scallop Week 2018 site www.scallop.org.uk