The Kite Loft
Holiday Cottage -
The Kite Loft
At The Kite Loft, stroll just 5 minutes to gorgeous Camber Sands beach to collect nautical treasures from the shoreline. Once your bucket is full of shells and other souvenirs, come home to a classic beach home with everything you need for a relaxing holiday beside the sea.
The Kite Loft is pet and baby-friendly and occupies an ideal spot in the quiet development of White Sand, just 5 miles from the cobblestoned smugglers' village of Rye and its collection of restaurants and pubs. If you bring a vehicle, there is dedicated off-road parking.
Just 5 minutes stroll to gorgeous Camber Sands beach
Dining & Lounging
The Kite Loft is decorated in a modern style with lovely nods to your coastal location. Stairs up to the property lead to the open-plan lounge/dining area, where a feature bay window brings in natural light. Four guests can sink into comfortable sofas whilst enjoying some family films or favourite TV programmes.
The dining area's large table and chairs are great for feasting, entertaining and socialising during your stay. There's even a high chair for the littlest guests to join.
Catering your holiday is easy and enjoyable, with a fully equipped, modern kitchen boasting dishwasher, microwave, ceramic hob & fan oven, fridge/freezer (60/40 split). The kitchen also has a washing machine for keeping beach clothes clean.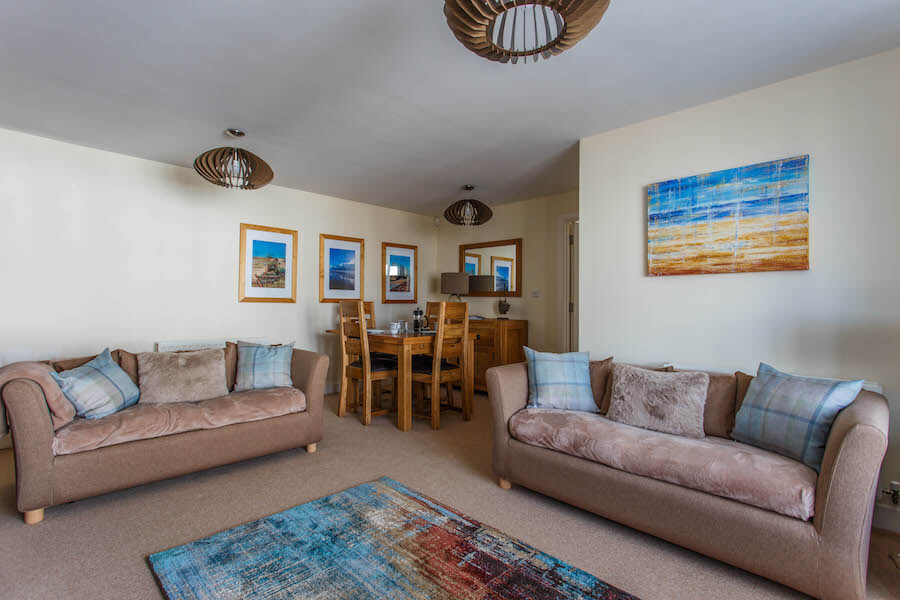 Bed & Bath
With one king bedroom and one with two twin singles in each, The Kite Loft is the perfect place for a family, two couples, and other groups of four. Unpack with ease, thanks to plenty of storage space in both bedrooms. All linen and towels are included for your stay.
A full bathroom with bath and shower completes the rooms at The Kite Loft.
Outdoors
Though this home does not have a deck or garden space, it is well-placed for accessing the beauty of Camber Sands beach (5-minute walk) and the lovely, wildlife-filled pond within the White Sand development.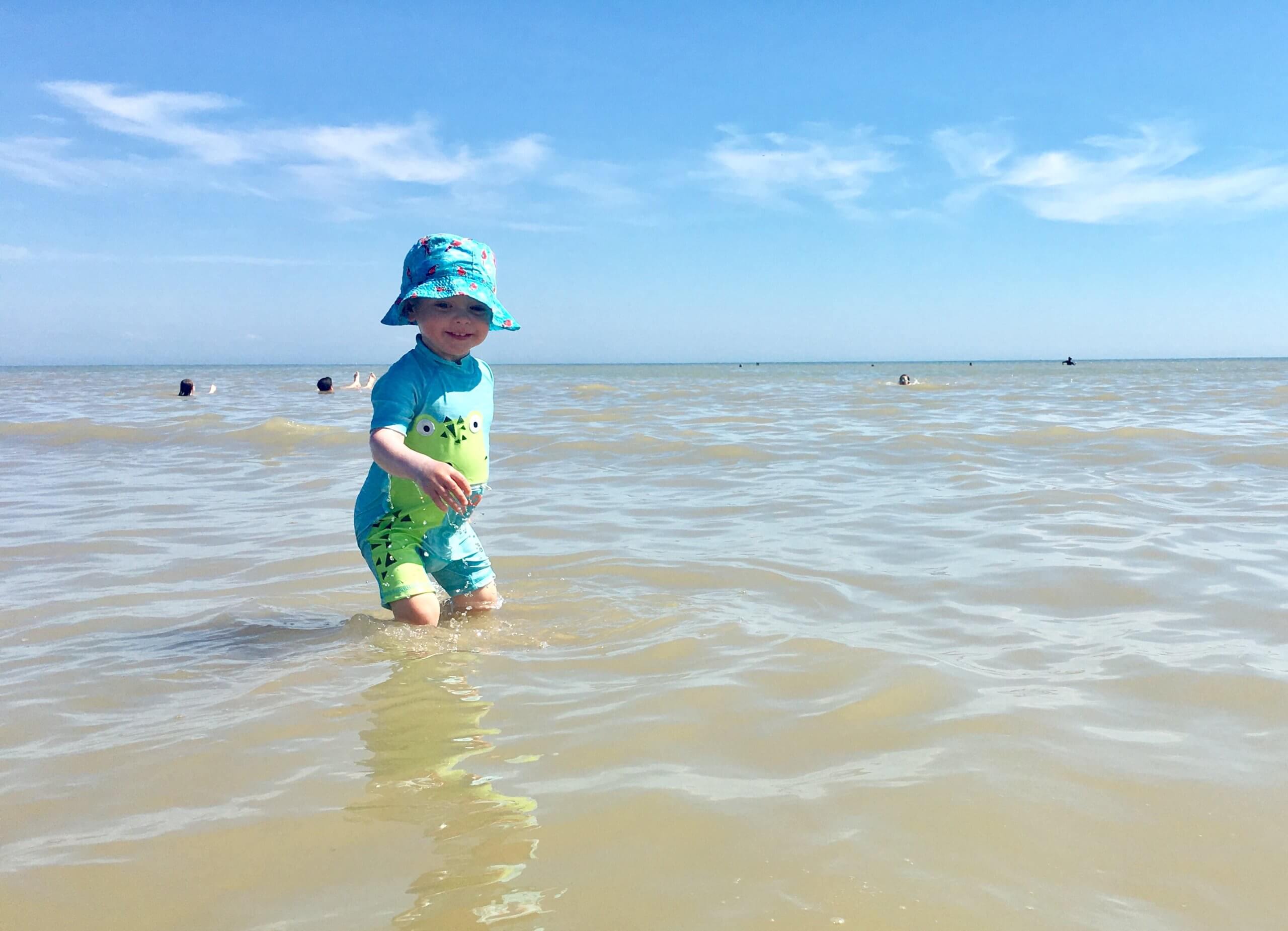 Pet Friendly Kite Loft
Dogs love a big sandy beach – space to run around, sand dunes to explore, water to splash in, interesting smells to discover and plenty of other dogs to play with. So when you bring your four-legged friend to The Kite Loft, it's good to know that the incredible dog friendly Camber Sands beach is right on your doorstep. They will be in hound heaven!
Our dog friendly Camber Sands holiday cottage, The Kite Loft here at Whitesand is the perfect place to bring your faithful furry companion. Camber's huge sandy beach on your doorstep, lots of great places to go for walks and even dog friendly pubs so that you can both enjoy a relaxing drink after a day of sniffing about on the dunes!

Eat and drink
Good food is an important part of a great holiday, so rest assured of eating well during your stay. From the simple pleasure of fresh fish and chips to local produce menus that the many character-filled taverns and restaurants serve. Whether you prefer cosy inns with roaring fires to luxurious beach restaurants, you will be spoilt for choice.
Being close to the sea and surrounded by farmland it's little surprise that the food served in some of these fabulous buildings comes from only a few miles away. The famous Romney Marsh Lamb, Rye bay Scallops and Dover sole all feature on the menus as well as traditional English pub dishes using locally sourced ingredients such as Rye Bay fish, fruit, veg and meat from the local farms along with our award winning sparkling wines to give you a taste sensation.
Fancy yourself as a chef then colourful farmers markets, and delis are where you will be able to source all you need to produce your own gourmet meals in the kitchen of this Whitesand holiday cottage.

What to see and do
Being nestled on the border of 1066 Country and The Garden of England with their stunning coast and countryside, ancient towns and historic sites, your stay here in Camber Sands offers a vast array of activities and attractions to suit all interests.
Discover the beauty on the doorstep of Whitesand, wending along lanes past sheep dotted fields, orchards, vineyards, cobbled streets and castles. Be enriched by England's loveliest counties, alive with their exciting past: visit beautiful town of Rye with its history woven with seafaring tales of naval battles, violent storms, lifeboat heroics and smuggling and her neighbouring Cinque port towns. Canterbury with Chaucer's pilgrims, Rochester with Dickens. See where a monumental battle famously reshaped the nation, follow the maritime adventures that have shaped our shore from Roman invasion to World War II.
Over the centuries East Sussex & Kent coast, have been the invader's gateway to Britain. Being the closest point to mainland Europe, these two counties have witnessed some of the most important moments in this country's history.
With such a rich and varied past it's really no surprise that this corner of the country is teeming with places of historical significance. From ruins to castles, from ancient woodland to prehistoric coastline – we have it all in abundance.
Whether you prefer the adreneline rush as you leap into the air, kite-surfing or hurtle down zip wires through country parks to the more relaxing walks along the many path and cycleways, or just relaxing on one of the many beautiful beaches, there's is something for everyone.
For those of you who like a bit of culture, visit the many museums and galleries found throughout our historic towns. You'll find vast collections of historical importance, fine art, landscape photography and theatre productions set in some of the most atmospheric locations.
Being only one and a half hours from London you can also make the most of what the capital has to offer, take in a show in the West End, shop in Oxford Street or visit the many iconic sites
With the blend of tradition and culture in Rye and the beauty and tranquillity of Camber Sands, The Kite Loft is ideally positioned to enjoy the very best this unique corner of England has to offer.
Guest Book
Our Guide On Camber Sands & Surrounding Areas
Speak to us directly, Richard & Sophie
We're not a faceless agency, nor an owner who lives miles away. Camber Sands is our home too, we live and work here. When you book one of our cottages you will be dealing with us directly. Plus we'll be right here whenever you need us during your stay.