Your widget will appear here.
Marram Cottage Camber Sands
Named for the grasses that cover the nearby dunes, Marram Cottage is a beach chic hideaway in the award-winning White Sand development. From its white picket fence and weather-boarded exterior to its grassy garden, this holiday cottage offers a picture-perfect setting for your next beach escape.
Seashore spirit can be found throughout this elegant yet low-key cottage—think driftwood floors and coastal decor. Enjoy a relaxed lounge and bonus garden lounge, where you can greet the morning sunlight curled up with coffee on the outdoor sofa. Three bedrooms and provided travel cots provide plenty of flexible sleeping space for the group.
With Camber Sands beach just a short stroll away and historic Rye nearby, you can expect a riveting holiday full of sunlit strolls by the surf and cosy evenings in renowned pubs.
Marram Cottage Summary
Sleeps 6 + 2 infants
Baby Friendly
No pets
Large enclosed lawned garden
Wifi wireless broadband
Amazon Echo dot for voice-activated music, weather updates, etc, plus chats with Alexa
Bose Ipod dock
43in Smart 4K Ultra HD HDR LED TV
JVC Sound bar
Wii console
DVD player with a selection of DVD's
Marram Cottage Camber Sands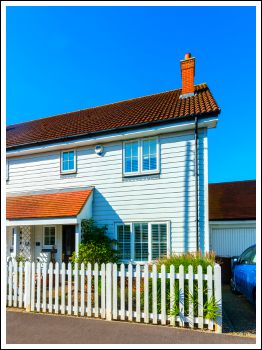 Dining & Lounging
With a recliner and wraparound sofa with plenty of fluffy throw pillows in chic patterns, the lounge is a total chill-out space. Choose a favorite from the DVD collection to watch on the 4K Ultra HD TV, and get nice and toasty around the electric fireplace.
Sunshine abounds in a charming kitchen, where there's plenty of space to chop and prep on wood countertops and a full suite of stainless steel appliances for preparing feasts at home. Pick up something fresh from the fisherman's or farmer's markets, then enjoy your culinary creations at an inviting table for six in the open dining area.
Grown-ups will love sneaking out to the bright garden lounge for nightcaps or morning coffee while the little ones laugh and play outdoors or in the living area.
Bed & Bath
After a day in the surf, sprawl out on a super king-size bed with mattress topper in the master bedroom. An en-suite shower room offers complete privacy for your morning routines.
A cheery second bedroom features a full bed and special seashore accents, while the third bedroom is ideal for the little ones with bunks. Wash off the sand in a family bathroom, featuring a shower/tub combination.
Bringing extra guests? There's plenty of room to set up travel cots between the three bedrooms. Don't worry about packing them—we provide them for you!
Outdoors
Grassy, green, and all yours to enjoy—the private garden is bound to be a big hit among tiny tots and adults alike. Let younger guests run and play in the lush grass while you share BBQ meals around the all-weather rattan dining table & chairs or a bottle of wine on the patio lounge.
With lush landscaping this spot feels like its own private getaway.

Whether you're looking to build sand castles with your children or help them explore fascinating rock pools, Camber Sands offers the country's most spectacular sandy beach and paddling-friendly waters right on the doorstep of Marram Cottage.
Holidays with young children and toddlers means lots of bulky luggage, high chair, travel cot etc, so to ease the load Marram holiday cottage has been specially equipped with everything a parent would need when bring your baby on holiday such as a high chair, stair gate, & two travel cots.

Eat and drink
Good food is an important part of a great holiday, so rest assured of eating well during your stay. From the simple pleasure of fresh fish and chips to local produce menus that the many character-filled taverns and restaurants serve. Whether you prefer cosy inns with roaring fires to luxurious beach restaurants, you will be spoilt for choice.
Being close to the sea and surrounded by farmland it's little surprise that the food served in some of these fabulous buildings comes from only a few miles away. The famous Romney Marsh Lamb, Rye bay Scallops and Dover sole all feature on the menus as well as traditional English pub dishes using locally sourced ingredients such as Rye Bay fish, fruit, veg and meat from the local farms along with our award winning sparkling wines to give you a taste sensation.
Fancy yourself as a chef then colourful farmers markets, and delis are where you will be able to source all you need to produce your own gourmet meals in the kitchen of this White Sand holiday cottage.

What to see and do
Being nestled on the border of 1066 Country and The Garden of England with their stunning coast and countryside, ancient towns and historic sites, your stay here in Camber Sands offers a vast array of activities and attractions to suit all interests.
Discover the beauty on the doorstep of White Sand, wending along lanes past sheep dotted fields, orchards, vineyards, cobbled streets and castles. Be enriched by England's loveliest counties, alive with their exciting past: visit beautiful town of Rye with its history woven with seafaring tales of naval battles, violent storms, lifeboat heroics and smuggling and her neighbouring Cinque port towns. Canterbury with Chaucer's pilgrims, Rochester with Dickens. See where a monumental battle famously reshaped the nation, follow the maritime adventures that have shaped our shore from Roman invasion to World War II.
Over the centuries East Sussex & Kent coast, have been the invader's gateway to Britain. Being the closest point to mainland Europe, these two counties have witnessed some of the most important moments in this country's history.
With such a rich and varied past it's really no surprise that this corner of the country is teeming with places of historical significance. From ruins to castles, from ancient woodland to prehistoric coastline – we have it all in abundance.
Whether you prefer the adreneline rush as you leap into the air, kite-surfing or hurtle down zip wires through country parks to the more relaxing walks along the many path and cycleways, or just relaxing on one of the many beautiful beaches, there's is something for everyone.
For those of you who like a bit of culture, visit the many museums and galleries found throughout our historic towns. You'll find vast collections of historical importance, fine art, landscape photography and theatre productions set in some of the most atmospheric locations.
Being only one and a half hours from London you can also make the most of what the capital has to offer, take in a show in the West End, shop in Oxford Street or visit the many iconic sites
With the blend of tradition and culture in Rye and the beauty and tranquillity of Camber Sands, Marram is ideally positioned to enjoy the very best this unique corner of England has to offer.
At Beside The Sea Holidays we like to keep things simple, the price you see is the price you pay, no hidden charges or booking fees.
Beside The Sea – refreshingly different.
Prices include bed linen, towels, all utilities, pre-arrival and departure cleaning and welcome pack.
Marram Cottage Guest Book
"Best Holiday Cottage we have ever rented" April 2016
We recently booked a short weekend trip to Camber staying at Marram Cottage.
We were meant to be six people – but with two ill and staying at home – we were down to four.
On arrival the place was spotless. Way more spacious than the photos suggest and really lovely decoration and extra touches.
There was a welcome pack of juice, cake, biscuits and wine which was a great welcome.
You know those cottages you go to and you spend ages looking for a remotely sharp knife, or someone has to drink out of a mug as they only give you 3 wine glasses?
This is not that place. They have thought of everything – and there is surplus of all items – so you can really pick and choose. There was nothing we couldn't find.
My 3 yr old daughter loved the toy chest and books and especially collecting the shells and listening to the sea – there are plenty around the house.
We wish we could have stayed an extra night so really hope to return at the end of summer or autumn.
"Marram Cottage was the perfect getaway" Dec 2015
Great service from Beside the Sea. Richard and Sophie were excellent, very helpful and very quick to respond to all emails. Excellent service.
Our short break over Christmas at Marram Cottage was the perfect getaway. We really all felt at home as soon as we arrived. The house was extremely well equipped and everything was to a high standard and quality. The house was also decorated beautifully with a real Christmas tree and lots of decorations around the house. If you want 'home from home' then Marram Cottage is the answer!